International endurance athlete, performance coach and motivational speaker Anna-Marie Watson sat down with Ultrarunner Magazine after of her latest challenge, The White Horse Project! Multisport and mountain enthusiast, Anna-Marie dived into her running journey after a nine-year career in the military.
Taking part in some of the toughest Ultras on earth, such as the Marathon Des Sable and UTMB, Anna-Marie shares with us some of her career highlights, gives us an insight into military life, her values as a coach, why COVID caused an enormous amount of change and how she got through it, one step at a time.
Anna-Marie…
During the winter of discontent and never-ending blizzards, where the world ground to a halt, I arrived into the world six weeks premature. The north-east of England was my home for the first eighteen years, though my parents relished travel. Family holidays were much looked forward to whether camping in France, travelling through India or trekking in the Himalayas. The wanderlust for adventure was engrained at an early age!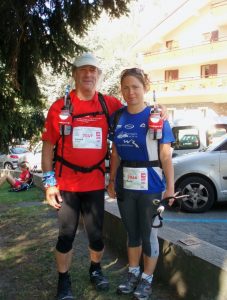 My dad was an avid fell runner during the 80s and 90s and he has been a huge influence on my love of running. We spent many a weekend in the Lake District, home of the stunning Cumbrian fells, where he would take part in races such as the Borrowdale and the Langdale Horseshoe, sporting a dodgy moustache, a tiny pair of shorts and a vest top. I vowed never to join in with his crazy endeavours along the highlands, though I seem to have forgotten my promise at some point along the way, and have now gone a few miles further!
"Running gradually become an enormous part of my life. I love the feeling of freedom and pure escapism as you pop your trainers on to head out onto the trails. Nature awaits with the wind on my skin and the sound of birds. Life pauses for a moment, the mind empties and blood courses through my veins as you continue on the hunt for that perfect moment of flow."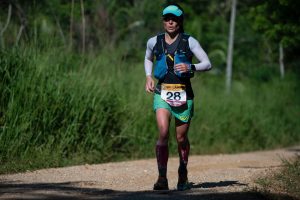 My passion for nature and the great outdoors was one of the many reasons for joining the military after university. I had absolutely no desire to sentence myself to a career where I would be caged within four walls or cooped up in an office job. The British Army offered the chance to explore the world, adventure training and the Royal Logistic Corps, presented a variety of career path options. I dipped into transport management, leadership development, food services advisor and communications.
Support the whole team who put all this together
This is premium stuff! Subscribe from ONLY £3.99 for ALL online content!.
Login if you have purchased
Subscribe
Get right to the heart of ultra-running featuring interviews and podcasts with world class athletes, extraordinary race directors, ultra-running coaches, nutritional experts and in depth race reviews from around the globe!
Get your access now
Read this Article
If you've pre-ordered your Ultra Runner Mag you'll have access to 5 Articles whilst you wait for it to arrive.