International endurance athlete, performance coach and motivational speaker Anna-Marie Watson sat down with Ultrarunner Magazine after of her latest challenge, The White Horse Project! Multisport and mountain enthusiast, Anna-Marie dived into her running journey after a nine-year career in the military.
Taking part in some of the toughest Ultras on earth, such as the Marathon Des Sable and UTMB, Anna-Marie shares with us some of her career highlights, gives us an insight into military life, her values as a coach, why COVID caused an enormous amount of change and how she got through it, one step at a time.
Anna-Marie…
During the winter of discontent and never-ending blizzards, where the world ground to a halt, I arrived into the world six weeks premature. The north-east of England was my home for the first eighteen years, though my parents relished travel. Family holidays were much looked forward to whether camping in France, travelling through India or trekking in the Himalayas. The wanderlust for adventure was engrained at an early age!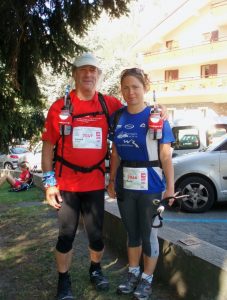 My dad was an avid fell runner during the 80s and 90s and he has been a huge influence on my love of running. We spent many a weekend in the Lake District, home of the stunning Cumbrian fells, where he would take part in races such as the Borrowdale and the Langdale Horseshoe, sporting a dodgy moustache, a tiny pair of shorts and a vest top. I vowed never to join in with his crazy endeavours along the highlands, though I seem to have forgotten my promise at some point along the way, and have now gone a few miles further!
"Running gradually become an enormous part of my life. I love the feeling of freedom and pure escapism as you pop your trainers on to head out onto the trails. Nature awaits with the wind on my skin and the sound of birds. Life pauses for a moment, the mind empties and blood courses through my veins as you continue on the hunt for that perfect moment of flow."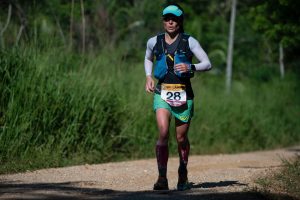 My passion for nature and the great outdoors was one of the many reasons for joining the military after university. I had absolutely no desire to sentence myself to a career where I would be caged within four walls or cooped up in an office job. The British Army offered the chance to explore the world, adventure training and the Royal Logistic Corps, presented a variety of career path options. I dipped into transport management, leadership development, food services advisor and communications.
"As a child, I remember sitting in my French class at school and when I should have been focusing on studying verbs and translations. Miss Dixon would despair at my fixation on the trees outside the classroom window. I preferred to spend watching the branches sway in the wind waiting until I could get outdoors. I still have a strong connection to nature and when I am indoors I position myself near a window. Nature gives me a sense of security, safety, and calmness. I am embedded in it and a part of it."
I served in the British Army for nine years and during my career, I deployed on three operational tours, two in Iraq and one in Afghanistan. One of my favourite memories was just after I had commissioned my first unit as a junior Troop Commander. We deployed to Norway as part of a NATO exercise, doing Arctic Warfare training with the Marines. I thoroughly enjoyed my time in the military though, I always I knew it was not going to be a full career. After nine years I felt that it was time to leave and start the transition into civilian life, which involves a huge amount of change!
There is a common assumption that soldiers are extremely fit, though for me, this definitely was not the case. I spent a large amount of time on operations or exercises and living in Germany, I spent a considerable amount of time socialising in the bar. There are many valuable and transferable skills that I picked up during my military service, for example, foot care, looking after your kit, mindset, logistics, preparation and the importance of sleep. However, I had no knowledge how to train as an ultrarunner.
"I was still serving in the British Army in 2007 when I raced my second ultra – the CCC (Courmayeur-Champex-Chamonix), part of the UTMB series. Literally, by the skin of the teeth, I made my way around the course, hitting every single checkpoint as they closed. However, it was not until I left the Army in 2009 that I started to gradually increase my focus on training."
I have been working with a coach for seven years and also qualified as a running coach myself through the England Athletics Coaching in Running Fitness (CiRF) programme. There are many different specialist areas; being able to design the macro and micro levels of a training plan, understanding running technique, the importance of recovery and the key fundamentals of hydration and nutrition, as examples. I believe speedwork is an essential part of the weekly training programme, and although I have never classified myself as a 'speedy' person, I find it an essential part of my weekly training programme. I really enjoy heading out on the mountain trails for hours and my body seems to cope with endurance exceptionally well.
"There is something about the passage through the landscape and the journey through time that is so liberating! During longer distances, moving through the dawn and dusk liminal zone where the sunlight makes way for the moonbeams or the lunar lamp rises, guiding you along the trails and into the dawn, until you greet the sunrise once more. It's simply otherworldly. A magical experience that exhilarates the mind, the body, and the soul!"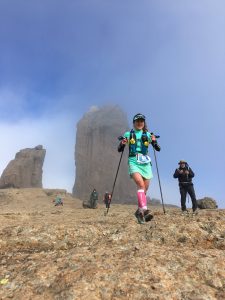 International endurance running career highlights…
In 2000 at Gatwick airport, about to travel back to the Royal Military Academy Sandhurst, to complete my officer leadership training course, my attention was caught by a group of broken looking people. They were stumbling around in their flip flops with bloodstained feet, wrapped in bandages. My curiosity peaked; what on earth had they been doing? I began to chat to some people within the group, regarding their endeavours.
And thus, I discovered the legendary Marathon des Sables! The concept seemed utterly bonkers! First of all, why would you want to do it? And secondly, how was that physically possible? Six marathons in six days across the Sahara Desert. It sounded like the very definition of insanity! However, fast forward fifteen years; I placed 2nd Lady, 47th overall, during the 30th anniversary of the Marathon des Sables. It was beyond my wildest dreams!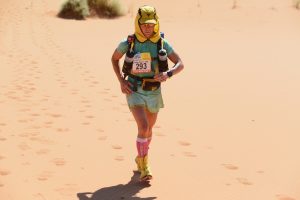 "I like to retell this story when I engage in conversations with anyone whenever we discuss goals and what we want to achieve in our lives. We all have so much potential, yet often get stuck in a bit of a default mode. Sometimes, it can be impossible to see the bigger picture on our own. When pursuing a goal, the outcome might not be immediate. It may take five, ten, or even fifteen years, of steady and focused progression, but commit to that longer aspiration and dream big!"
I left Newcastle to study at the University of Manchester, then after completing my studies headed straight into the Army. I have pretty much lived as a global nomad for the last twenty years and the one place that has felt like home during this time is Chamonix. My family has had an apartment there since 2000 where I would spend holidays and Christmas time, out in the mountains, surrounded by my family. It is truly a special place for me!
When the Ultra Trail De Mont-Blanc (UTMB), first started in Chamonix, I observed these athletes from afar with awe and wonder. They seemed super-human, almost super-heroes. The physical endeavour was simply too much to comprehend and seemed impossible.
Yet, fast forward, to 2017 and I'm stood on the start line! Just being there evoked huge emotions, especially as the signature song 'Conquest of Paradise' by the Greek composer Vangelis, vibrates around. Simply being stood on the start line was a massive achievement! I had no idea how the next day would unfold, though I knew that I would finish! I had trained so hard to be there, over the preceding two years, perfecting my preparations for that moment.
The start is pure chaos. Over 2,500 athletes released at the same moment and raring to go. During the 2017 event the weather was horrific with temperatures plummeting below minus 10. The experience was remarkable and crossing the finish line was a dream come true. The next day I stood on the podium, having placed in the top ten Ladies (7th) and 93rd overall. It was more than I had ever dared to dream possible. I will never forget it!
Coaching…
The true power of coaching rests in the ripple effect. Many 1-2-1 conversations take place, but each discussion adds up and spreads across people's networks and through communities. I believe coaching is a collaborative venture between myself, my clients and my athletes. I have learned, unlearned and relearned so much knowledge and a veirty of skills, many times over. I am continuously inspired, watching their journey as they go out into the world and achieve, as they transform as individuals and, in turn, inspire others as part of that ripple effect!
"My clients are phenomenal! I get to be a part of their journey. I listen to their experiences and share in their work and life stories. The good, the bad and the ugly. I find that a huge honour!"
From the offset I was determined that my coaching would be professionally accredited, so I participated in some of best programs in the world! I believe this lies at the heart of my ability as a coach, to ensure I was qualified to serve my clients and athletes. I find it often comes back to basic communication skills, such as listening, which is key. During my military career, as an example, it was essential to really listen to my soldiers, to ask the right questions, and make sure that I was setting the space, having the presence so that they felt comfortable, enabling them to be open and honest. I would prefer to head onto the vehicle park or in the kitchen, anywhere away from my office where they would feel at ease. I think it is important to set the conditions for a meaningful coaching conversation to take place. It is all about connection and really believing in that individual.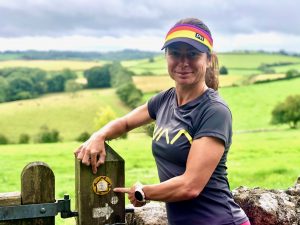 COVID and the road ahead… 
I have found the impact of the global pandemic hard, both mentally and emotionally, as a lot of people have. I experienced a few wobbles along the way, mainly due to missing face to face, human connection. When England when into the first lock-down, I was living in Wiltshire, my parents are out in Chamonix, and my brother is in Jersey, so I have not seen them for eighteen months. My network is global, and after living overseas, moving twenty times in the same number of years, I have found it quite lonely. I have amazing friends who live all over the world, and in normal times I would fly over and visit them, though during the past year, that has not been an option.
From a business perspective I have moved my leadership coaching sessions into the virtual world and feel extremely fortunate that I was able to make this transition.  Beyond coaching though a screen, I rediscovered fiction books and pottery, I launched a podcast with Alex Burn, a fellow coach and outdoor enthusiast; Coaching outdoors, and I slipped into a simpler life at a slower pace. My ultrarunning training felt somewhat pointless without my usual race calendar, though the joy of running from my doorstep offered me a welcome escape each day!
"Pre COVID, I'll admit my work, life and ultrarunning training was fairly intense. Sometimes, I would take on a too much, bouncing from meeting to event and back again, often travelling abroad a couple of times a month. It was only during my yoga or meditation practice that I would pause and be still. The period of lockdown has forced me to stop and appreciate the world on my doorstep. I've also spent time reflecting on my connection and contribution to the world."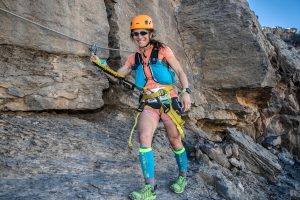 "Life is about how we can support one another. We can hold a mirror up to our own lives and explore our values and beliefs, then ask the question how these are shaping our behaviours and communication with others. The quest to become more self-aware, by observing how we move through each day and ultimately, strive to grow and evolve as humans."
I do not have all the answers, if any. Who knows what life will look like after the pandemic? Indeed, will there even be a post COVID world? or will living with COVID become the new 'normal?'. I cannot see into the future, only experience, and savour the present and I choose to make the best of it!
"I watched the seasons change and felt the delight brought in with the spring, as the blossom gradually appeared on the trees. There is so much wonder and awe to be discovered in the small and quiet things that we can overlook or miss during busier times."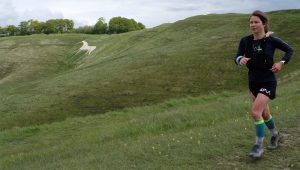 The White Horse Project… 
On Saturday 22nd May, at 05:00 I set off from Westbury White horse. 22 hours, 23 minutes and 54 seconds later, I returned back to the same point after covering:
~ 101 miles / 162 km
~ 2,155m elevation gain
~ 82 x stiles
~ 8 x cups of tea & 2 x strong coffees 
~ 3 x herds of curious cows
~ 3 x pairs of La Sportiva trainers
~ 0 x hot spots or blisters!!! 
"The White Horse Trail connects the 8 x white horses (Westbury, Devizes, Alton Barnes, Cherhill, Broad Town, Hackpen, Marlborough & Pewsey) located within the county of Wiltshire. These hill figures have a fascinating history and it's been interesting learning how each one was carved into the landscape."

"My crew were phenomenal looking after me and Danielle Sellwood from FindIt Film captured the journey along the way. Our aim is to create a film to capture this unusual journey passing through Wiltshire visiting the historic 8 x white horses touching on my mental & emotional roller coaster ride as an athlete unable to compete, contemplating how my identity has shifted and what the future may hold."
We have partnered before, creating 'Superhero', which shares my thoughts on ultra-running – link here.
Make sure to head over to the Ultrarunner Magazine podcast where you can listen to Anna-Marie's interview in full! Going into greater detail about her approach to coaching, mindset, and headspace of a successful Ultrarunner, as well as a few top tips regarding getting through those low points on an Ultra, nutrition, kit, and preparations! Talking about the importance of multisport and her endeavours at the Ironman championships, this episode is not to be missed!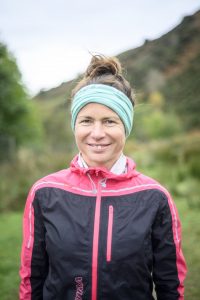 Article by Sophie Hunt and Anna-Marie Watson