800km For Charities 
After 12 days of running, it seemed like a pity to not complete the remaining 200km to reach my initial goal of running 1000km in two weeks. 
But at that point, I knew that 800km was what my absolutely fatigued body could take, and what my tortured mind could sensibly accept. With a mix of exhaustion and exhilaration, I ended my charity endeavour in late 2020, completing 800km in a span of 12 days. 
2020 had been an unprecedented year. The Covid-19 coronavirus had led to the cancellation or postponement of many sports and competitive events, including the Tokyo Olympic Games. Battling against the pandemic, many countries had closed their borders, banning foreigners from entering. As such, it was not feasible for me to continue with my annual practice of running an ultramarathon overseas for charity. 
"However, an opportunity to participate in a local fundraising activity presented itself in the form of the annual Singapore Exchange (SGX) Bull Charge Run. The event was based on a virtual concept, as Singapore was enforcing a 5-person limit on all social gatherings. It was also not open to the public; I had received the invitation from SGX in June, which left me just 4 months to prepare. But I welcomed the challenge and promptly applied for two weeks of leave from work in November in order to run for a good cause."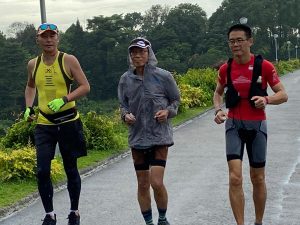 Why 1,000km? 
The Singapore Exchange had committed to donate to various charities S$5 for every kilometre ran by a participant, and to match the amount raised from other donors, dollar to dollar.  
With this in mind, my wife Deborah decided that a target of 1,000km would be appropriate, as it would correspond with a donation of S$5,000, a nice round number. 
"At least 1,000km", she said. "if not, no S$5,000 to donate, you know?"  
"After careful calculations and based on my past runs, I concluded that a distance between 800km to 1,000km would be within my physical limits. However, 1,000km would more challenging and rewarding, if I managed to get that far within 14 days."

"Looking at my past endeavours, 1,000km might not have seemed too absurd; after all, I had made headlines in 2015 for running 2,500km over 50 days — 50km each day —as part of celebrations marking Singapore's 50th year of independence, alongside setting another national record."  
Since I had the ability, I thought that I should try even if there was a high possibility that I would not be able to complete 72km each day for 14 days- to reach a total distance of 1,000km. Still, I was pretty confident of realising at least 800km in this period, and that would be good enough to set a record of the longest distance virtual charity run over two weeks. 
Among some of the bigger risks that I had assessed for the run was Singapore's humid climate – it is not uncommon on this tropical island to encounter days with 100% humidity levels. I still remember how I had suffered under the scorching heat and suffocating humidity during the 2,500km run half a decade ago. This time, slightly older but under similar environmental conditions, it was hard to imagine how as a 67-year-old man, I could overcome such critical challenges. Moreover, there was nobody I could approach for tips on how to tackle such a run. No one in Singapore had ever undertaken, or even tried to take on something similar. 
"Some fellow runners called me crazy for making the attempt at my age. If you don't try, you won't know, was my reply. In any case, for me it was less about the success, than about mustering the courage to give this my best shot." 
And so, I went for it.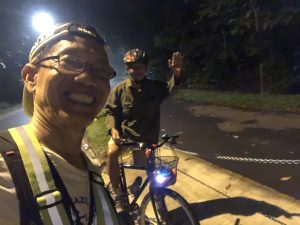 Challenges, Obstacles, and Giving My All 
For all my calculations, one thing I did not anticipate was just how little time I would have between runs to recover. 
Back in 2015, my fellow ultramarathoner, Yong Yuen Cheng, and I were able to complete our daily distance of 50km relatively quickly, leaving us with adequate time to rest and recover for the next day. On average, we took about 5 to 7 hours for the 50km each day.  
Even though I had clocked 70km within 10 hours during my training sessions, I was considerably slower during the actual run. Despite a strong first two days, where I did an average of 72km per day in under 13 hours each (78km and 66km respectively), I ended up taking 14 or 15 hours daily to finish the same distance in the coming days. 
"I would run from the evening to the next morning in order to avoid the heat as much as possible. Early attempts to start my runs a few hours sooner in hopes of clocking a farther distance were scrambled by the effects of insufficient rest. I simply could not keep my eyes open. Even flailing about, trying to make myself more active, was not working. Sure enough I was moving faster, but somehow my eyes refused to cooperate with the rest of my body." 
I remember walking dangerously fast with my eyes closed for a stretch, before deciding that it would be best for me to take a nap. Deborah was driving the support vehicle then, and recalls having to hurriedly empty the van of cooler boxes and refreshments to make space for me to sleep.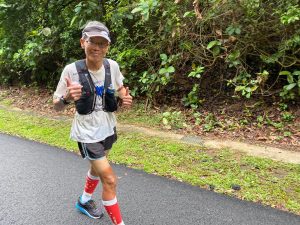 Soon enough, I would encounter another obstacle: pushing myself at a faster pace than I was able to sustain. After power walking for the first 8km one day, I felt like I had the capacity to go faster, and began to run at a relatively fast pace. I kept it up for almost 3km before getting wrecked by pain. 
"I had painful, swollen legs after that, and was only able to walk, adjusting my landings so that I could put less pressure on my shins. But I did not let the setback faze me. I simply adjusted my pace and kept on clocking the kilometres, albeit more slowly."

"My philosophy is this: pain and discomfort are just temporary. If one could tolerate them for some time, they will be gone soon enough. But what one accomplishes, remains for the rest of one's life. 

This is why I try to do as much as I possibly can. 

When I take part in an event, I always give 100% of what I have. If I still have some energy left after crossing the finish line, I have not done my best."  
Like many other runs this year, I was allowed to run in my own time, tracking my results and uploading them online, to be tabulated in a virtual leaderboard — which I went on to top.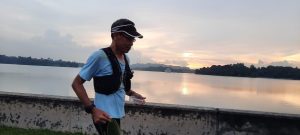 Stumbling upon Ultramarathon 
I was a sportsman from young, competing in inter-school running and triathlon competitions, and all through my time in National Service, which is mandatory in Singapore. 
I represented Singapore in the World Triathlon Championship in 1987 in Perth, Australia, and completed the Ironman Triathlon World Championship in Hawaii two years later in 1989. 
"But it wasn't until 2005, when I was 52, that I became an ultramarathoner, almost by accident. Then, Nanyang Technological University, my alma mater, was approaching its 50th anniversary. I came up with the idea of a race around Singapore to mark the occasion." 

"The 168km run, which brought together runners from all around the island, had a charity element to it as well — bursaries for students in need."
Back then, ultramarathons were relatively niche, not just in Singapore but also globally. But the University was nonetheless able to gather a handful of interested participants. At the end of the event, I had come in first, entering the Singapore Book of Records with a time of 24 hours and 42 minutes. 
This led to me becoming a pioneer of sorts on the local ultramarathon scene.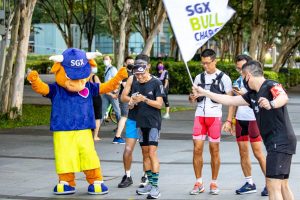 Running for charity 
"I was asked what running means to me. It is a gift, and a lifestyle. I think that everyone should try – not just running – but exercise in general; it should be a part of our lifestyle."  
Still, ultramarathon events such as the SGX Charity Run are exceptional, and will be followed up by weeks of completely no running so that my body can fully recover. 
"But from the past decade or so, my list of exceptions is growing. They were all memorable, though some stood out for being more torturous than usual. In 2013, I ran 217km through the Death Valley desert in California, USA. Temperatures there exceeded 50°C on some days. I was sure that I could have served up a few meals if I had put a pan on top of my head during the run. At the age of 60, with no successful meal cooked ala ultra, I managed to at least finish the Death Valley run in 42 hours and 45 minutes, coming in 58th position out of 96 runners." 
There are no less than 10 races where I have completed distances above 200km. 
So, what pushes me to make these fairly-regular exceptions? 
Just like how I stumbled upon ultramarathon racing, using my athletic endeavours to raise funds was also an area where success came unexpectedly. 
In 2004, one of the Members of Parliament for the local grassroots community where I had been serving as a grassroots leader, suggested that I use an upcoming marathon to raise funds for a community project. The idea was to hold a fundraising dinner, where attendees would be asked to pledge donations of S$50 or S$100 if I completed the marathon. 
I recall being incredulous with the S$15,000 result. Just one fairly simple run, and that not-so-small amount could be raised?  I never thought that one day I could just do a marathon and raise S$15,000 for charities. 
"That first fundraiser led to other charities approaching me for help at their events as well. Since then, all of my ultramarathon running has been dedicated to various causes. I estimate that over the years, I have raised over S$2 million for various organisations and causes." 

 "When you do something good, something extraordinary, people will support you."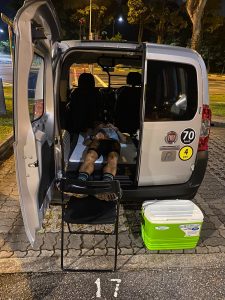 It is a blessing to be able to count Singapore's Emeritus Senior Minister Goh Chok Tong as one of my supporters. He once told reporters, "As long as Nghee Huat can run, I will support him." 
 In this vein, I have no plans to hang up my shoes anytime soon. One day, I might be unable to run anymore, or perhaps there might not be much contribution for my running to charity. Then, I might reconsider. 
But since I am still able to run, why should I stop? 
Happy Wife, Happy Life 
"As it goes with all my runs, Deborah initially hopes to take a hands-off approach and ends up doing the bulk of the support work." 
For the SGX Bull Charge Run last year, she was given a proper telling off by our son for coming up with the golden number of 1,000km and trying to end her involvement there. 
However, when push came to shove, Deborah played in fact a core role in the support team that rallied around to help me achieve the extraordinary feat. Like me, she had not anticipated the full extent of how challenging the attempt would be, even for her. 
"It's quite tough for me," she told a reporter after the run, "because when Nghee Huat settled down to rest after each run, I would still have to prepare for the next day. "So I sleep even less than him." 
But she kept her spirits up, finding energy and joy in our shared goal to reach the end point of the challenge. 
Deborah summed it up as such:  "I am a person who disliked exercise, but I married him. So now my journey with him is, we have to get used to each other."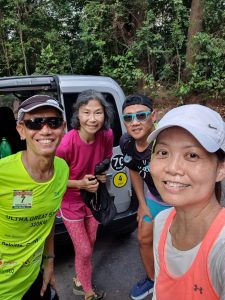 New friends and supporters 
Providing backup for Deborah were the many friends and supporters who turned up to support me in my attempt. 
One of my neighbours, 77-year-old Allan Lee, agreed to cycle alongside me for segments of the run to help me keep my pace. 
Lynn Yap, a 49-year-old lady who had not met me prior to the charity run, accompanied me on three of my 11 runs, and was there at the finish line when I hit 800km. 
"These new friends and supporters boosted my morale and helped me to carry on when my own physical and mental reserves were low. For their support, I remain ever grateful."  
There were also lengthy stretches which I journeyed without company except that of my wife's. On these lonely stretches, she would join in to walk with me, because it would be dangerous for me to be "sleepwalking" on the trail in the dead of night. 
I recall her encouraging me to push on. "We just go, two of us, and we'll just do it," she urged. "Even though you can only walk, I will walk with you."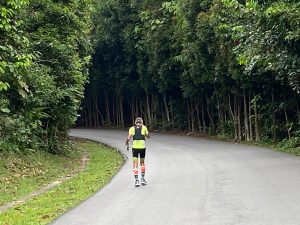 Reaching 800km 
My SGX Bull Charge endeavour attracted local press coverage. On the 11th night of my run, I met a reporter and we power walked just over 6km together, making easy small talk. The reporter parted ways just after midnight, when three of my friends arrived to accompany me. 
These were school teachers, who were intending to walk-run with me through the night before taking a quick nap and heading to school early the next morning. 
As it turns out, that same day, I pushed on through an additional 20km, on top of my intended 50km distance, bringing the total count to exactly 800km. 
It had taken me over 16 hours to cover these 70 kilometres. 
After 12 foot-blistering, sleep-fighting and limits-testing days (and nights), I crossed the 800km mark with two pacers by my side in the late afternoon on Nov 12. 
"Delirious from the exertion, I waved my arms victoriously while calling out "huat ah!" (a Hokkien-dialect saying indicating good fortune) as I proudly showed off the numbers on my GPS watch as evidence that I had made it to 70km." 
If You Don't Try, You Won't Know 
"With 800km completed and donations from all over, including generous amounts from a close friend and businessman, Kenny Tan, and his business associates, we raised more than $50K. Topped up with the dollar to dollar matching from the Singapore Exchange, some $100K was contributed to charities." 
In commendation of the effort, I was presented with a record of setting the longest virtual charity run of 800km in 14 days by the Singapore Book of Records.  
As with all my runs, my faith in Jesus Christ marks every step. To him be the glory. 
Article by Lim Nghee Huat for Ultrarunner Magazine