Sabrina Verjee has successfully broken the Wainwrights record in 5 days 23 hours and 49 minutes, beating the previous record of 6 days, 6 hours and 5 minutes set by Paul Tierney in 2019.
Not only that, Sabrina is the first person ever to finish in less than 6 days! Supported by her husband, friends and sponsors, she started the 214 Wainwrights route on Friday 11th June 2021 and put in a truly remarkable performance.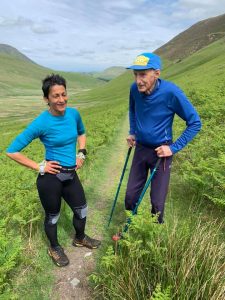 "Fell running legend and former record holder Joss Naylor MBE visited Sabrina on route which gave her a good boost. Joss is so full of admiration for what Sabrina has accomplished and was "so, so happy for her" when hearing of her latest record."

"His view, after he read about Sabrina's Coast to Coast in the horrible weather, was that "she is one tough nut". Plus he is happy as it now throws down a gauntlet to the lads to get going!"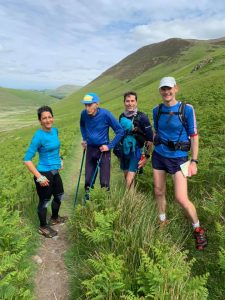 This was Sabrina's 3rd attempt at the Wainwrights which takes in all of the 214 Lakeland fells covering around 325 mile distance and approximately 36,000m ascent. 
Sabrina ran the course in 2020 and became the first woman to run the Wainwrights non stop. She attempted it again in May 2021 but was forced to abandon due to an asthma flare up caused by the brutal weather.
Congratulations Sabrina, outstanding running!