Salomon SAS is a French sports manufacturing company headquartered in Annecy, France. It was founded in 1947 by Francois Salomon in the heart of the French Alps and as we know is a major brand in outdoor sports equipment.
Salomon make equipment for pretty much every kind of outdoor pursuit you can imagine from skiing, hiking and trail running. Their premium level of this equipment they call S/LAB.
The Salomon S/LAB Ultra 10 Vest is inspired and created by Francois D'Haene (he won the UTMB in 2012, 2014, 2017 and 2021, plus many other races) so it's fair to say he knows his stuff.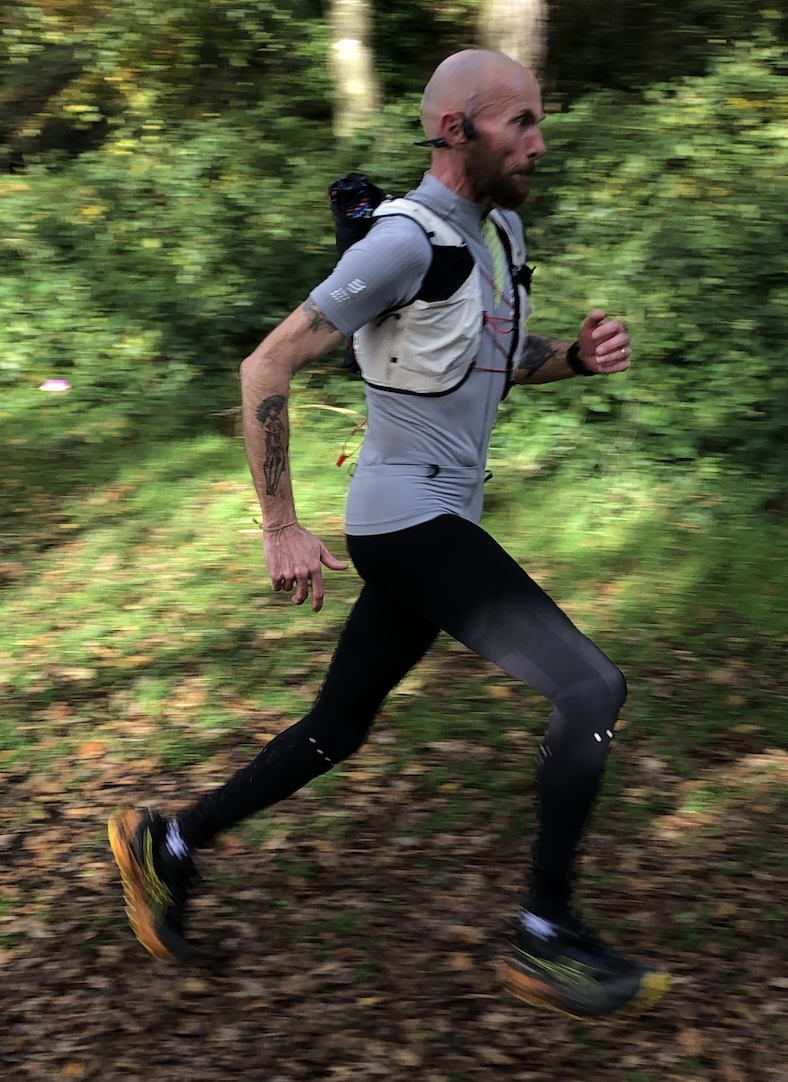 It has easy-access front pockets in front of the two 500ml soft flask (included) pockets, symmetrical zipped rear pockets, two zipped pockets above the flasks, a large rear main compartment and a smaller pocket mounted on the rear of the back compartment. All zips are YKK zips.
It also features sensifit panels to ensure a a snug and precise fit for optimised stability and long distance comfort.
Instead of having clips to do it up it utilises quick link, which also allows for easy on the fly adjustment of the sternum straps.
It is also custom quiver compatible with the custom quiver connecting system, I'll detail more on this in a bit.
It comes with elastic gear carrier pole holder elastic loops, the vest has several points where these can be placed according to your own preference if wanted.
There is a small emergency whistle tucked into the right side front zipped pocket. I have to be honest it took a bit of looking to find it as it's really small.
All of the vest edges that can come into contact with the skin (neck, arms and base) have a really soft elastic binding piping that cover the contours for comfort and finish.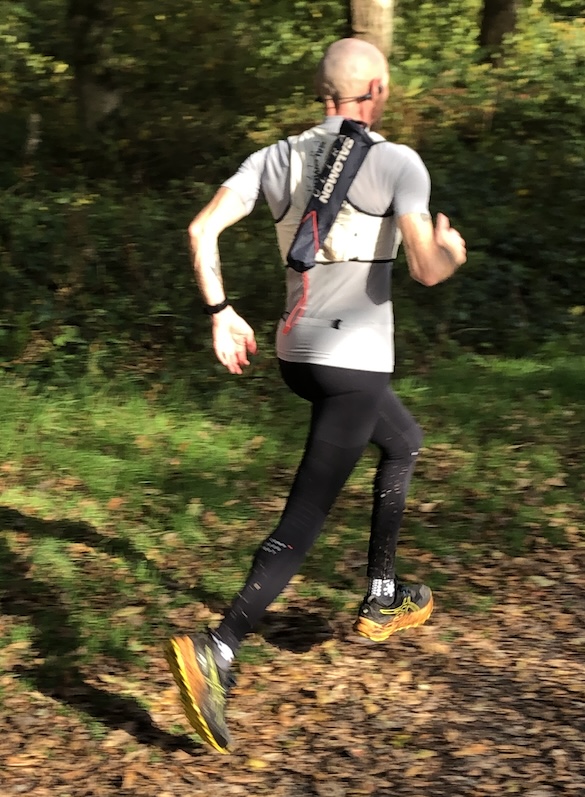 I have been running in this vest since September and have clocked up a lot of miles in various conditions, which means I could try different kit configurations. Therefore I have given it a really good test for fit, comfort and quality.
The fit is excellent, even with a full load of all the mandatory kit and the compulsory extra Hobnob biscuits.
There is no gapping or sloppiness that I have come across so no chaffing. The sensifit panels really do stretch and allow for good freedom of movement. In changeable conditions the quick link system allows for rapid changes in fit and the addition or removal of layers in a simple and effective manner. The pockets allow for nice easy access even while maintaining a good pace and the placement of them is intuitive so there's no having to look about trying to find the zip or fumble about for the opening. 
As with all vest systems you do get hot underneath them but it wicks any moisture away from the body quickly. This does bring one small point in the fact that the back compartment isn't lined in any way so the mesh backing does allow anything stored in there to get wet as your effort level goes up. Anything stored in there does want to be in a dry bag or similar. The Ultra 10 isn't waterproof so this is pretty much a forgone in this country anyway.
I mentioned earlier that the S/LAB Ultra 10 is designed for ultra-specific racing (shorter distances are apparently available) and is compatible with the Salomon custom quiver system. The custom quiver is a purpose-made pole carrying solution that attaches to the S/LAB Ultra 10 via dedicated attachment points on the shoulder and bottom seam of the vest that can be fitted or removed in seconds. Just think of images of Robin Hood with his arrows on his back, that's how it sits.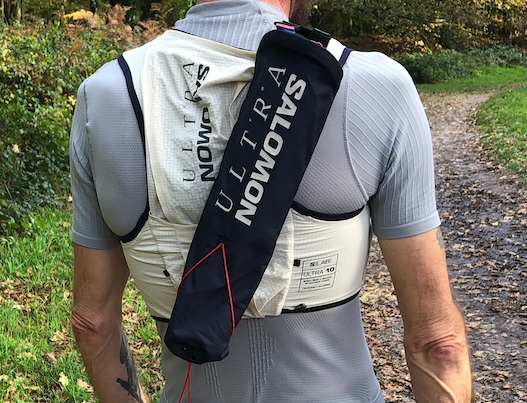 The custom quiver has a large, easy-access structured opening, drainage holes in the bottom, is ultra-lightweight (30g) and has a compression lace that holds the poles and quiver in place.
Deploying and stowing the poles is quick and simple, and after a little practice I found that you can do this as you approach an ascent and get them away again without having to break stride and the system holds them nicely against the back without bounce or unwanted movement, even when descending technical ground.
This does bring me to the one disappointment with this otherwise high quality system. It has got a weak point in the quality of the stitching on the loops at the bottom of the S/LAB Ultra 10 vest that are for putting the quiver compression lace through. The loop has a habit of coming away from the vest when used, it happened to me two miles into the first run and a quick look on the Salomon website shows that it has happened to several others in the exact same way. This in a vest that is from their premium range and has a price to match it is a bit of a lapse in quality control. I did get around the problem with paracord and a sewing machine but Salomon might want to address this failing in future versions.
Review by Steven Coles
Salomon
S/LAB Ultra 10 Set Race Vest
£179.99
Salomon S/Lab Ultra 10 Set Race Vest
Born from a decade of shared vision. François x Salomon. Designed to surpass even the highest product performance standards in ultra running, S/LAB ULTRA 10 is so lightweight and comfortable you'll forget it's there.