Buzz Power was born of two family passions: a love of beekeeping and running in the great outdoors, founded in Suffolk by Bee Keeper Tony and his son and seasoned marathon runner, Ed, Buzz Power produce a honey-based sports gel; "Natures Super Fuel!". 
 A study by The University Of Memphis (Exercise and Sports Nutrition Lab) found that honey is one of the most effective sources of energy! Ultrarunner Magazine was keen to test the gels out and share our findings!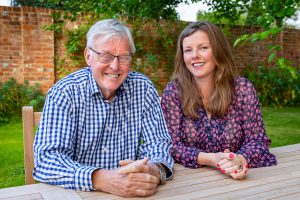 After a good chat about the product on the phone with a lovely lady named, Hannah, I was advised that in order to get the most from Buzz Power, I should take it around 15 minutes before exercise and then to top it up according to my weight.
As far as customer service goes, I was made to feel that no question was silly and Hannah was very knowledgeable and was willing to help me understand the product. I've also had a good look at the website which explains the bodies natural energy store depletion while taking part in sport, how we process carbohydrates and how, when and why we, as runners, take Buzz Power. I would personally give top marks for that!
In addition on the website, you will find a page about the health benefits of honey. While reading the information I certainly got the feeling that these people really do know their product, inside and out and that is worth a lot!
The fact that this gel is 100% Maltodextrin free interests me a lot. Maltodextrin is a heavily processed, high glycemic index sugar which is found in most similar products on the market.
Honey is very gentle on the stomach which in theory means that long-distance runners can happily take these gels on their training runs or ultras and not have to worry about 'runners tummy'.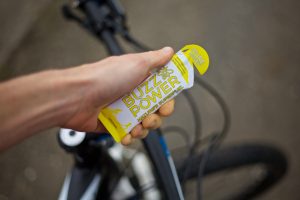 The Buzz Power gels arrived very quickly in a small cardboard box, lined with striking yellow tissue paper to complement the yellow and white packaging of these gels. At first glance, they're eye-catching! They definitely stand out!
I tested four gels in total and as advised I took my first gel around 15 minutes before leaving the house for my four-hour run and then took one at reasonable time intervals after that. I was a little nervous at first as I have a very sensitive stomach, like quite a few distance runners, and I've tried many gels in the past which have mostly made me sick.
The texture is much thicker than a standard gel which means there is very little chance of it leaking all over, this immediately sets it apart from competitors and I'd say it is a major plus point.
It packs a fully loaded honey punch so if you're not a lover of the taste, I wouldn't recommend it. For me, it was perfect as I've always enjoyed the taste and I instantly knew that this is very high-quality honey which is really important.
The first hour flew by, I felt strong, comfortable and was maintaining a slightly faster pace than normal. I think I may have left the second gel a little too late as my next hour was more of a struggle but as an ultra runner will know, we adapt and overcome on the go, so I shortened the gap to 50 minutes apart which seemed to do the trick.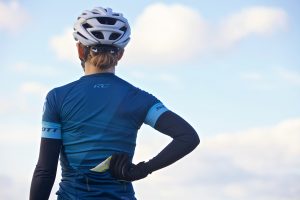 During the remaining two hours, my pace was back up once again and my energy levels didn't drop at all (despite my anticipation) after three hours. I had water with me as I usually do but didn't eat any thing else, and I experienced no stomach issues from the gel, which is exactly what I would look for in a sports nutrition supplement.
I checked the statistics from the run when I got home and it showed that I was still running in the same heart rate zone as usual for this distance which to me, means that I feel the product was a success.
I would recommend Buzz Power to any honey-loving runner! It tastes great, is easy to use and certainly made me feel stronger during the long run.
You can follow Buzz Power over on Facebook, Twitter, and Instagram.
Written by Rachel Grant