James Forrest, 37, of Cockermouth, Cumbria, climbed Ben Nevis, Scafell Pike and Snowdon – and walked every mile in-between them – in 16 days, 15 hours, 39 minutes and 51 seconds.
The inov-8 ambassador walked 17 marathons in 17 days to complete his 500-mile journey on foot, setting what is believed to be a new self-supported record.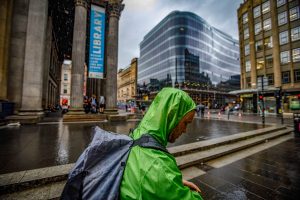 The previous self-supported record of 19 days, 18 hours and 35 minutes was set by Tina Page in 2017, while the overall record – with a support crew – is held by ultra-runner Tom Mountney with 9 days, 11 hours and 39 minutes. In 1979, Olympian Ann Sayer completed a slightly longer coast-to-coast route via the three peaks in 7 days and 31 minutes.
James, an outdoors writer, almost had to abandon his attempt at the foot on Snowdon. After 16 days of walking, he succumbed to sunstroke in a searingly hot Llanberis and suffered a bout of vomiting.
However, narrowly avoiding an eleventh-hour failure, he regained his composure and made it up and down Wales' highest mountain to complete the long-distance challenge.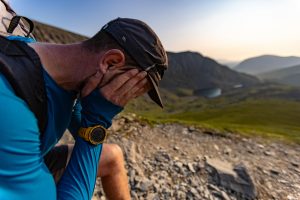 He said: "It has been a rollercoaster of an adventure: dizzying highs and crushing lows, with hardship and euphoria in equal measure, but I've absolutely loved challenging myself and pushing my boundaries. 
"The simple process of walking is incredibly therapeutic and works wonders for my mental well-being, better than any drug a doctor could prescribe.
"I've seen so much in just 16 days, experiencing the real breadth of the UK's landscapes, from sprawling urban jungles and industrial wastelands to remote mountains and far-flung coastlines. I thought I'd hate the built-up sections, but I found myself relishing the variety. The journey felt like an authentic and real insight into life in the UK."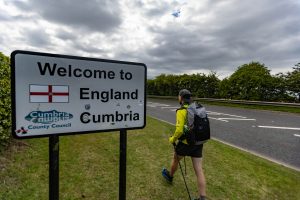 James set his clock running at Glen Nevis Youth Hostel, at the foot of Ben Nevis, and proceeded to bag Scotland's highest mountain. He then headed south via the West Highland Way, Clyde Walkway, Annandale Way and Cumbria Way to Scafell Pike, before taking on the Lancaster Canal path and Wales Coast Path to Snowdon. The finish line was in Victoria Terrace in Llanberis, reached after descending off the summit of Snowdon.
Hiking alone with no support crew or pre-arranged help, James carried all his kit and camping equipment in a backpack. He re-supplied with food en route and stayed in hotels in more urbanised areas.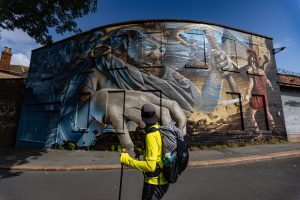 Lee Procter, inov-8 Global Communications & Ambassadors Manager, said: "What another incredible achievement by such a fearless hiker, who knows exactly how to get to grips with the most difficult of challenges. We're immensely proud of James and his latest record-breaking feat, wearing special new inov-8 boots that will soon be launched to the public."
James, a former bored office worker turned adventure enthusiast, is no stranger to big challenges!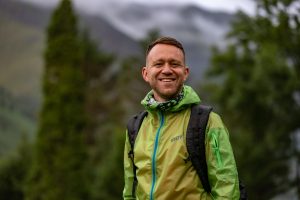 From 2017 to 2019 he climbed 1,001 mountains across England, Wales, Scotland, Ireland and Northern Ireland, including all 282 Munros, and in 2020 he set a now-beaten self-supported record for climbing the 214 Wainwright fells in the Lake District.