On August 1st, 2021, just in time for his birthday, Disney RM set off in an attempt to complete the Bob Graham Round … Barefoot! The 66-mile Bob Graham, which incorporates 42 fells and 89,900ft of ascent is famous for time record attempts, with many endurance athletes having had a go at completing the Round in 24 hours or less, but typically with their shoes on!
With a history of Barefoot challenges under his belt, such as Snowdon and the three peaks, Disney RM set his sights on the Bob Graham as the next step in his barefoot running journey! Ultrarunner Magazine caught up with Disney for a Q & A about his latest challenge!
What was the motivation for taking on the Bob Graham Round barefoot?
Covid related restrictions and lockdowns meant that by the time British restrictions started to ease up, I had turned my attention to the Bob Graham Round, it seemed like a natural next step, a way to level up!  I didn't have my mindset on a fastest known time (FKT) record, I just wanted to complete the route, that was my only intention. I went in for the route, not the round.
Why barefoot?
Why not barefoot!!! Leaving your shoes behind and going for a run is not something that I would push on anyone (I am not a pushy person, at all), but I would encourage everyone to just give it a try, at least once, even if only for the experience.
In the '60s, Nike brought about the boom in the elevator heel block, and it really took off. From that, our posture, our striking patterns, our stance, and such, have been affected. The negative side of the heel block has been researched greatly and from that, we see knee problems, hip and shin issues, ankle injuries etc.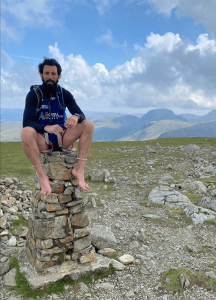 Naturally, we are designed to run/walk/jog without trainers on our feet, through billions of years of evolution, we are not born with protection on the feet to the ground. Yet today we run with a cushioning that not only protects us from the hard impact of running on the ground but also takes our mind away from it. When we run, it is said that we hit the ground with three times our body weight, let's say you are 90 kilograms … that's 270 kilograms of impact on the road/ground. When you are striking with that much force on solid ground, all that separates the body and the high level of impact is an inch of rubber, when that fails and/or doesn't do its job properly, something is going to break! Will that be the ground or the human body?
There is plenty of benefits from running barefoot! You don't get blisters and corns, your feet have the room to widen and span out as they would naturally, free from the cramped conditions of the running shoe. It can often feel as though you are 'floating on the ground', so to speak, as your forefront striking as opposed to heel striking and it becomes an almost gliding movement.
You become connected to the earth, not in a spiritual sense, but physically connected to the ground and the terrain you are running across. You immediately notice the difference between man-made surfaces such as tarmac and the natural sands/grass/trails and just noticing that increases and improves performance. There is a great deal to be taken away from running barefoot.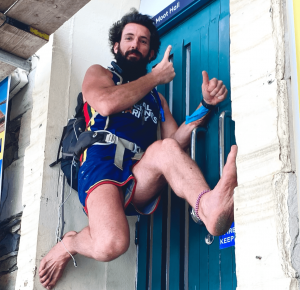 The challenge – planning and preparation …
At this point in my running career, I'm an experienced runner, so factors like nutrition, what clothes to wear, what to carry in my pack and so on, are all just a 'given' to me now.  I know that kind of thing off the top of my head. These might be tweaked and adjusted here and there in accordance with the time of year, the season, the temperature, how I feel on the day and such, but for the most part nothing in these really change too much.
The preparation mostly just involves the route and getting used to the sections during a few recces. I spent three weekend's (2 days each) going around the Bob Graham Round route, just getting familiar with it and problem solving any issues that came up.
Did you have a support crew for this challenge? …
Unfortunately, no. I didn't have a crew on this attempt. I did have some support on the 5th leg and a mum, her son and daughter and their dog on the very first summit of leg 4, as well as a chap that ran with me for a while, while he was training for the Bob Graham next year.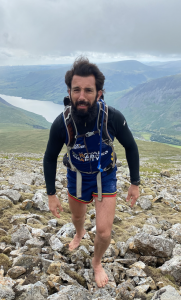 How did you feel the morning of the attempt?
I do not tend to get anxious before a challenge, nor overthink it (that I am aware of), it will be what it will be! I try to get a good sleep and always aim to give my very best performance, but I will begin when I begin, and I will finish when I finish and realistically that's all there is to it.
The Bob Graham attempt!
Leg 1 – the grass isn't always greener! …
The first leg was fine, no real dramas. Although, at the very end of the first leg I came to an area that led on to a gravel section. The gravel path spans over 200 metres into a residential area and I had walked down about 30 metres of the hard gravel path when I thought to myself, 'why didn't I go into the neighbouring fields?'.
I tried to get on the 5/6 ft wall that ran along the path and as soon as I did my right and left foot started to cramp! Eventually, I got my way into the field next door but only to be met with an inch of freshly cut straw, not the soft grassy land I had seen in my minds eye!
I made my way through and into the second field and it was exactly the same! Coming up to the third field I was met by a dead end and barbed wire.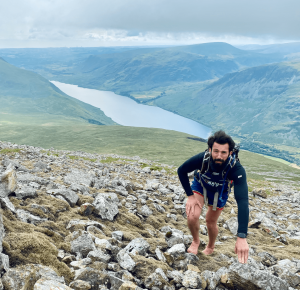 There were some houses in the distance, and I began to make my way over towards them in the hopes that I could get someone to let me cut through their garden and out onto the residential roads. I saw a girl in a conservatory, and I shouted over, her mum stood up and went to get her partner.
The dad came over and I told him what I was doing and explained the situation I had gotten myself stuck into. He said to me. "Normally I wouldn't let you cut through, but I was also in the Royal Marines and for you, I will allow it". We laughed at what a small world it really is as I came to the end of leg one and onto my meet up point with my partner!
Leg 2 – Covid cramps …
As I went through the very first ascent on leg 2, I started to struggle with cramping again! If I am brutally honest with myself, I believe this is because when Covid the rules and restrictions prohibited certain challenges, my training began to taper off.
I had been under the notion that my training should be 4 months but realistically I should have given myself 6 months at least, as my body just wasn't as conditioned as it should have been or as it had been in the past. Every time I was picking up speed, I was getting cramps and in hindsight, I think the knock-on effect to my training was the reason why.
The last 15 minutes of leg 2, on the final fell, is down a river path that leads to a road, and it is the most brutal section of both leg 1 and 2. It was my first experience with such brutal terrain, it was awful! I had been cramping up and knew that this would be the case for the remainder of the entire route and because of that I knew I would not be able to move through the night, thus the 24-hour possibility was out the window. With that realisation, I moved forward with a new goal of 3 days, legs 1 & 2 on day one, leg 3 on day 2 and legs 4 & 5 on day three.
Leg 3 – Disgusting …
I knew that leg 3 was going to be the biggest and most arduous day of the challenge, knowing the type of terrain I would come against, I was aware of the level of challenge I would face. The most appropriate way to summarise that leg is … disgusting!
Due to the cramps, I did not even try to run the first half of the section, but rather power walk my way through.  The major concern, from one fell to the next once you reach Rosetta Pike and attempt to make your way through to Bowfell, is that the verticals are on a completely different level!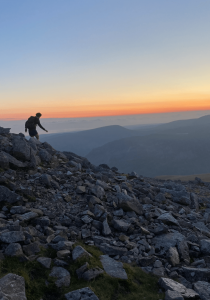 OS Maps has a track that takes you through the section in a zig-zag direction through a screed, I had downloaded an alternative map to the left of that one onto what would be a ridge with a re-entering later down the line. I had recced my route with footwear on but on the challenge and barefoot I found it really mossy, slippery, wet and constantly intertwining I was left wondering if I had taken the right turn throughout, once you have committed though, there is no turning back.
Eventually, I took the OS Map route up the scree, but that isn't to say that it was any less problematic, I was still out of my comfort zone and in a spikey situation!
I contacted my partner and asked her to meet at the top of Scafell Pike, she doesn't like mountains and so it was a push to get her up one, however in an epic act of support she made the climb, and I could see her figure stood at the summit as I closed in! I knew that I wanted to take her up the back route of Scarfell from Scarfell Pike because it is known for being problematic in daylight, let alone in the dark.
Day three is when I had decided to take on Scafell on its own because I didn't know how long it was going to take and I completed it with no issues at all.
Leg 4 – Optimistic…
I was confident that I could fit legs 4 and 5 into day 4. I knew it was going to be tough terrain but despite the numerous warnings I had received from others pre-challenge it was not too bad. I mean, it wasn't easy going but it didn't turn out to be as rough as I had anticipated.
I could have combined leg 5 into day 4, however, knowing that the finish would be at 1 am if I powered through and with it being a charity event, I figured there was not much point keeping going as no one would be around at that time in the early hours for the finish. I decided to add a day 5 to the challenge.
Leg 5 – Easy peaks …
I had no problems on day 5, leg 5 and flew around the last three peaks and made my way onto the roads.
At the finish line, I was met by a chap called Mathew Scott, another bearded barefoot runner, with whom I share the same name and who also said that he would be attempting a barefoot Bob Graham! Our similarities were so great, that when I started my own attempt people kept messaging him, thinking that it was him doing the challenge. Mathew said that he felt like he had to meet me and so headed to the finish to do just that.  It was really cool!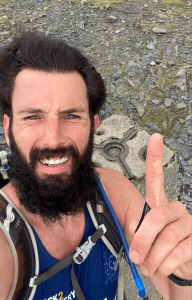 Highlights …
The biggest highlight was when it was over! The barefoot Bob Graham was hands down my most painful challenge to date and that was unintended. I never anticipated the level of pain that the terrain would provide my naked feet!
Any injuries? …
My feet are fine except for two puncture wounds caused by a thistle!
Generally speaking, when you expose your bare feet and the collective 400,000 nerve endings to the earth you typically find that it is the man-made stuff that gives you the most problems, even with the rocks and boulders, the natural landscape and terrain aren't as painful as track, tarmac or concrete. The worst bit of Scafell Pike as an example was the tourist steps that had been covered in grit, it was like pin needles digging into my feet the entire way down!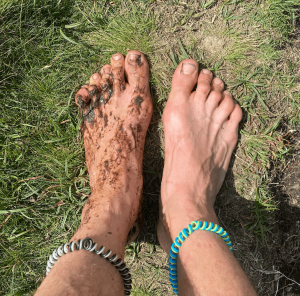 My main injury was actually on my arm, where I now (probably) have a permanent five-inch scar from barbed wire! I had tried to jump over a wall to avoid going over a road, however unclear what rocks lay hidden under the grass on the other side of the wall, I jumped but didn't fully commit to the jump and kept my arm on the wall, subsequently dragging the barbed wire through my forearm!
Describing the Barefoot Bob Graham as your most extreme challenge in terms of pain, would you ever do it, or anything similar to it, again? …
I wouldn't rule it out!
Interview by Rachel Grant
Article by Sophie Hunt