Damian Hall claimed an FKT (fastest known time) on the Wainwright Coast to Coast route, breaking the 30-year-old record, which had been set by Mike Hartley in 1991. Arriving in Robin Hoods Bay 39 hours and 18 minutes after setting off from St Bees in Cumbria, Damian snatched the record by 18 minutes!
Damian sat down with Ultrarunner Magazine to discuss his 185 mile race across the country, chasing Hartley's record. Hall explains the inspiration behind the attempt, how he feels about the man behind the record and examines his battle with Hyponatremia along the route.  Damian also picked up litter along the way, led a mini beach clean the night before starting the run, and made his challenge 'carbon negative'.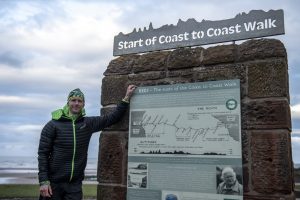 Motivation
After the Pennine Way attempt, I was on the hunt for a new challenge, something similar to get stuck in to. With divine timing, Matt Neil, one of my pacers and long-time friend, suggested the Wainwrights Coast to Coast. I hadn't thought of it prior to his text message, but quickly noticed a nice symmetry to the Pennine Way. I had walked the route back in 2007 when I was in my early thirties and before I became a runner, as I had with the Pennine Way, when I was writing a guidebook for the route.
I decided to look up the record, discovering that it was another Mike Hartley FKT, producing double the excitement and increasing the rationale for getting myself out there and doing it!
We are blessed in Britain in that we have tons of trails. An athlete can go for a record on any number of them, but coming across a location that has Mike Hartley attached to it is an incredibly exciting prospect. The man does not set soft records!
Mike Hartley is remarkable and a true inspiration for me. Generous with his time and in his spirit, Mike has come out to see me on both the Pennine Way and the Coast-to-Coast attempts, which I find incredibly touching. Before each challenge I have phoned Mike, asking for information, wisdom and guidance, which he never hesitated to bestow.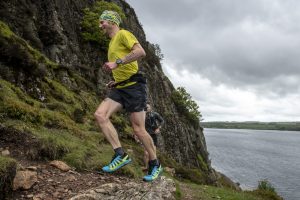 The Route
Mike has held the FKT on the Coast to Coast for 30 years, but no matter how much time elapses, I don't think that it's ever easy to hand over the record. So with the help of James Thurlow from open tracking and Northern traverse, we poured over the route, making a real effort to do things properly and to run exactly the same route that Mike took 30 years ago.
Support the whole team who put all this together
This is premium stuff! Subscribe from ONLY £3.99 for ALL online content!.
Login if you have purchased
Subscribe
Get right to the heart of ultra-running featuring interviews and podcasts with world class athletes, extraordinary race directors, ultra-running coaches, nutritional experts and in depth race reviews from around the globe!
Get your access now
Read this Article
If you've pre-ordered your Ultra Runner Mag you'll have access to 5 Articles whilst you wait for it to arrive.