Dani Blackie set off from Minehead, Somerset on April 14th, 2021, becoming the first solo female to complete the South West Coast Path. Finishing the 630-mile route in Swanage, some 18 days and 14 hours after setting off! NHS heart specialist and trail enthusiast Dani, took some time out to chat with Ultrarunner Magazine about her latest challenge!
"Long-distance running presents the opportunity to be outdoors for days on end at times. The stresses of the busy day-to-day melt away from the mind and body as you become fully immersed in the beauty of mother nature. Lost in the trails and her surroundings, centred only on the present moment, trainers hit the earth, one after the other, and you are carried away into escapism, freed from concern for a little while."
Completing my first marathon in 2011, the 'marathon bug' engulfed me rather quickly. My passion for long distances continued to snowball with each marathon that I ticked off! Eventually, I landed in the 100-marathon club! Balancing the work-life-running trio, in a healthy way, we must optimise our free time and what better way to maximise the moments that we steal for ourselves than with adventure?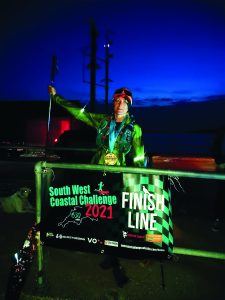 In 2014 I spent some time out in New Zealand, exploring the trails and making up my own events, going rogue, as I dove deeper into the foreign habitat. Remote areas meant that having your wits about you was, more than ever, a vital tool in your survival pack! Not forgetting to leave a note for the ranger (so that they know when you expect to return, and when to worry) is just as important as the careful preparation of your survival kit, hydration and nutrition.
I have run through many sections of the Coastal path during my time, competed in numerous races along the various segments that make up the entire route of the South West Coast Path. Marathon number 100 happened along the Jurassic coast! It is an incredibly special place to me, and I have enjoyed every step that I have taken along the way. When I learned that no female had ever completed the entire route on her own before, I could not let that rest. I decided that it was time to take things up a notch, to that next level, joining up the familiar sections and linking all 630-miles together, to go after the FKT (Fastest known time).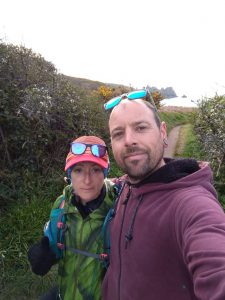 I knew that it was going to be a beast out there but getting the girls on the map was all the motivation that I needed to load up the partner, get onto the path and have a crack at the record for the ladies!
The South West Coast Path is a 630-mile route that begins in Minehead, Somerset and runs along the Coastline of Exmoor, continuing along the coast of North Devon into Cornwall, and weaving along the mouth of the River Tamar as it continues into Devon. It then follows the Dorset coastline before finally ending at Poole harbour. – The South West Coast Path Association.
Most runners, traditionally, move 'clockwise' through the challenge on the South West Coast Path. However, I chose to run the route anti-clockwise because there was something incredibly romantic about travelling home to Dorset, even if that meant more wind miles!
My rationale for running against the 'norm' was partly down to understanding that towards the end, I would be very tired and knowing the home trails exceptionally well, I figured that would serve me during those final miles. Psychologically, it sat better to eliminate the more punishing sections first. Battling through the extra laborious stretches early on was exhausting but it was nice to have them over and done with, while still relatively fresh!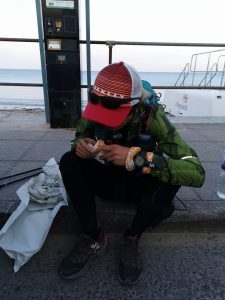 The total mile count is 630, yet I think I ran something closer to 662 due to diversions around rockfalls. At the point in which my watch said that I had achieved my goals, I still had a day or two left to run, leading to an epic melt-down! It was the biggest low point for me during the entire attempt.
I had done what I had come to do, but diversions created extra mileage meaning that I had no choice but to endure and accept that, to keep moving towards the finish line. 'The path is as long as the path is' was my mantra of acceptance.
The schedule was, in all honesty, completely unrealistic! I had to re-evaluate the plan on the run, as I had set my time goals in direct competition with the males who had stomped the grounds before me. There was no benchmark for a female, and while I am positive that there is a woman out there, who is more than capable of going against (and crushing) those 'man-made' times, for me, I had to adapt things. I came to an arduous section, between Westward Ho and Hartland Keys. I had been running through the night and onto the clock arm of the early morning, passing through and beyond midnight with 57 miles behind me, and it became clear, that to succeed, I would need to rewrite the plan!
With the new schedule, I carried on making my way to the finish line, one section at a time, more comfortable to digest, mentally, than looking through your mind's eye at the bigger picture. I used a GPS tracker during the attempt that I had got from Geo tracks, who kindly sponsored me a second one for the motor home that my partner, Matt, and I had hired. It was a brilliant idea of theirs to place one in the van, an approach that turned out to be much more beneficial than we had anticipated.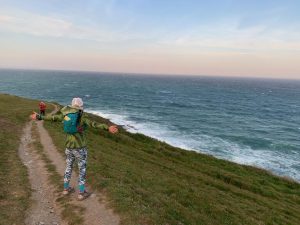 Faulty electrics and constant water leaks in the motor home provided many difficulties with food supplies and use of the shower. My poor partner was filling up the van relentlessly but to no avail, as the water would not stop leaking out. I was only able to take three showers in eighteen days as the leaks were constant and top-ups made no significant difference. Defective electrics took out our fridge, generating more stress for Matt, as he tried to source food in some extremely remote areas.
However, the greatest battle regarding the van was access to the coast. There were numerous sections of the route in which the vehicle was unable to gain passage, making navigation a nightmare and applying extra mileage before I could meet support, often miles out from the pre-planned destinations due to the restricted access. However, with a GPS tracker on my persons and one in the van, I was able to see how far away Matt was and that made those issues more manageable.
My support crew, my partner, had the more difficult role on the South West Coast Path; troubleshooting, problem-solving, adapting, and dealing with tricky and ever-changing navigation and logistics. He was amazing! I had an easy job! All I had to do was run! Support crews are absolutely the unsung heroes of Ultra challenges!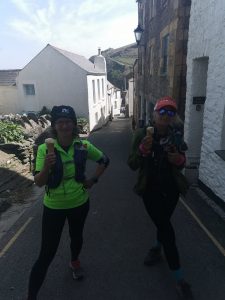 Luckily, being unable to access the van when scheduled did not interfere with my nutrition too much. I had gone into the challenge with the idea that I would not be too dependent on the motor home, using the checkpoints as a top-up and not an occurrence that I was heavily reliant on. My pack was full of everything that you would need for survival out in the mountains. I had a hefty stash of Tailwind (caffeinated in the mornings and switching to un caffeinated through the evenings), a bottle of fruit juice and a bottle of water, always, in addition to loads of nut bars, sandwiches and crisps. I wanted to be able to sustain should the unexpected occur, as it did!
In hindsight, reflecting on nutrition, I should have focused on that area much more. I lost over a stone during the attempt, which is far too much. Towards the end, I was forcing down spoon fulls of peanut butter, trying to get as much fat in as possible so that my body would remain strong enough to complete the path.
When you are out there on the trails, battling the elements alone, a friendly face is always a welcomed sight! People came out to share some miles with me, dipping in and out, helping me remain connected to the outside world, from inside my Ultra-bubble!
As I turned a corner on a trail in Seaton, I saw a body lying on the grass. As I got closer, I realised that it was my good friend, resting and recording a video. At first, I did not believe what I was seeing! I thought it was a trick of the brain and struggled to consider that he was real, but it was no mirage, he had decided to come out to surprise me, and surprise me he did!
I was heading out each day on around five hours of sleep, which I found okay. I work for the NHS I am no rookie when it comes to coping with sleep deprivation! At times, my mind would play little games, making foot placement and reaction times to obstacles slightly slower than usual. Overall, however, the number of sleeping hours did not bother me too much.
Waking up each morning with more miles ahead of you, irrespective of those you left behind the night before, on a loop, I suppose that can become physically and mentally draining. My technique is to focus on the checklist, what I must do, ticking it off and moving on to the next job at hand. Going through the morning cycle; wake, wash, eat, dress, strap the feet etc until, eventually, you are out the door! The initial 100-metre warm-up walk helps the legs to kick into gear and before you know it, you feel like running!
The halfway mark saw me in a spot of bother with my shins and ankles. Each time I placed a foot down, it felt as though someone was chopping away at them. It was quite painful. Matt became concerned, though I think most of his distress came from thinking that we might be stuck out there for three years, as I made my way to a finish at turtle speed, too sore to run but too stubborn to stop!
I managed to troubleshoot and get to the bottom of the issue, luckily resolving it with a pair of flat 'moon boots'. I had guessed that some of the muscles in my feet had not been playing their part. I used a flat boot and a 4-mile morning walk to even things out and it did the trick! After four or five days, I was able to move at my usual running speed! I was keen to get going again (I think Matt was comforted by that).
The original time had gone out of the window with the melt down on day eight, but working to the new time, as per the revised plan, I began to focus, mentally, on each moment as it came and went. Thinking from section to section as opposed to looking at the challenge in its entirety because that approach can be overwhelming!
The final five miles through Swanage were a bit 'wobbly'. I had not eaten enough; I was ravenous! Forty-plus miles behind me, I was depleted of energy, the support van 3-miles further out than I had prepared for. I had an impromptu snack, a can of cola and a bag of chips, it was exactly the pick me up that I needed! Once the food was down, and my energy started to build up again, it dawned on me that with five miles left, I was going to make it. I was really going to do this thing!
Three miles to go! A group of people came out to run me across the finish line and it was such a cool experience! The finish was a strange psychological tug between the excitement of having set a record and being sad that the attempt was over. How often will you get to do something like that in your lifetime? It was upsetting to leave it behind.
I believe that everyone should have an adventure like this, at least once during their lives. No challenge is too big! No dream unattainable! If you can see it and you want it enough, then you will achieve it! Success is a relative term defined only by the individual. An example, some of my close friends are very poorly, and some mornings they manage to get up and make a cup of tea, that is a success! Going at your goals to the absolute best of your abilities and achieving your personal targets is a success. Never be afraid to try something hard! We never regret the things we have done, only those things that we wish we did but never tried!
In addition to 'putting the girls on the map' during her South West Coast Path challenge, Dani also raised money for two charities; The South West Coast Path Association and the animal welfare charity, The Save Me Trust, (giving wild animals a voice!). The fundraising page is still open and if you wish to support the worthy causes you can do so by clicking here. Dani's interview can be caught in full over on the Ultrarunner Magazines podcast page!
Interview by Rachel Grant
Article by Sophie Hunt