Lanarkshire man to become first-ever blind runner in upcoming GB Ultra event, Glasgow to Edinburgh Ultra.
Scott Cunningham MBE, who lives with a vision impairment, will be running 56 miles in aid of charity Guide Dogs UK, as without their support he says he "would not be here today".
On Saturday 7 October 2023, 30 years to the day Larkhall resident Scott lost his sight completely, he will be taking part in the Glasgow to Edinburgh Ultra – running a huge distance of 56 miles. Scott will become the first blind person to undertake this challenge, guided by his close friend David Mooney.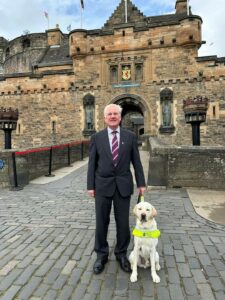 Scott said: "I've done a few charity endeavours over the years but this one will be very special indeed. Every penny being donated will go to the charity who gave me my life back, from my first guide dog Ike back in 1995 to my current guide dog Lincoln. I have been so lucky to have enjoyed an active and independent life, which is all thanks to Guide Dogs UK."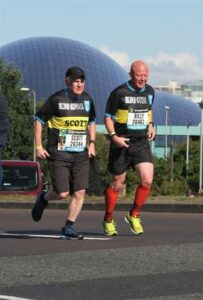 Last year, Scott suffered an unexpected heart attack and questioned whether he could ever run again. He explained: "I owe my life to my partner Janice for getting me to hospital in time and to the amazing consultant who delivered the emergency surgery and saved my life with the four stents. The care I got over the period from the NHS was world class and I am eternally grateful.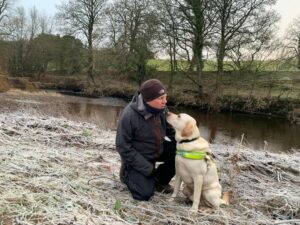 "To be where I am now, feeling so fit and healthy, is all down to their professionalism and being given the best care available. The surgery, and medication every day, have enabled me to enjoy running and life again… just in time to celebrate my alternative 30th, 30 years of sight loss, by raising much-needed funds for an incredible charity, Guide Dogs."
Scott is also taking on this challenge in memory of his late friend Jim "Kirky" Kirk from Larkhall. Jim inspired Scott to take up running seven years ago and was ever present in his fundraising activities, such as the London Marathon and many more. Paying tribute to Jim, Scott said: "I'll be thinking of Kirky every step of these 56 miles."
Those interested in making a donation can do so at the following link:  Scott Cunningham MBE is fundraising for Guide Dogs (justgiving.com)
More details on the Glasgow to Edinburgh Ultramarathon can be found on https://www.gbultras.com/glasgow-to-edinburgh-ultra/