"There is a chill in the air as the winds come in from the North East. Gloves and arm sleeves are required, or it'll be cold digits and goosebumps a' plenty! The only sounds, bar our own voices, come from the occasional passing car or truck. Varied birdsongs begin to fill the air as a handful of blokes nervously, jump up and down on the spot, whilst the seconds counted down until I start."
Friday April 30th 4 AM and I am on the start line of the Fife Coastal Path. The aim is to reach the end of it by midnight. I want to cross the finish line in under 20 hours, breaking Nicola Duncan's 2020 FKT of 23 hours and 17 minutes. It will take luck, strength, and guts to do it!  Far more of the latter than I had anticipated, come the end.
Conditions were forecast to be perfect! Martin Butcher had offered to start with me, which was a great commitment from someone that I had never actually met before, but there he was at the CO-OP in Kincardine at 3.45 AM waiting to meet me! Martin guided us to the famous archway starting point, where Andy and Skoosh (the Batman and Robin of crewing) counted me down from ten!
As Gregg Stevenson cheered us off, Martin and I leapt into action. Unfortunately, due to recent treatments, Gregg was unable to run with us but that would not stop him from popping up in various places, along the first 40 miles or so.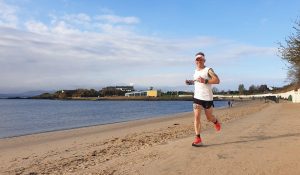 With Martin by my side, I felt as though I had my own personal podcast! He is so full of energy, and he knew every step of the first leg. Martin is also pretty loud and so I am sure that everyone from Kincardine through to Limekilns got an early wake up call! He was brilliant company and a fantastic way to get the day off and running!
Robert Turner took over from Martin, guiding me a few miles from Burntisland. I could run with Rob every single day and never get bored in his company. He is an incredible runner and an awesome human, with whom I share many of the same ideas. His only downfall; his intimidating handsomeness!
This is a publication all about Ultrarunning after all, and so I will insert an obligatory Adrian Scott mention here. The man is a muse, a magician, and a one-man encouragement machine! Adrian appeared at daft o'clock in the morning to shout, 'Hi!', giving Rob and I a huge boost of enthusiasm!
Whilst I was running with Rob, Kevin Banks sprang up in all kinds of random places, which was just as well because I had no idea where I was! He asked me if I was aware of the collapsed bridge in Aberdour, which of course I was because being the class act that she is, Nicola Duncan had already given me the heads up! Nicola offered some pointers and informed me of the downed crossing, pointing out that I would have to go through the station and re-join afterwards. I gleefully relayed this to Kevin when he enquired!
By the time that I reached Burntisland the sun was up, and the winds were nippy! Neil MacNicol guided me through the town and out the other side. Taking an Instagram worthy shot before rushing off to see her kids to school. From that point I was on my own.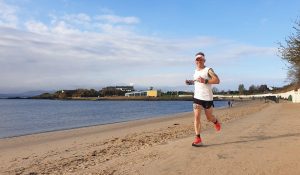 Shortly after, I began to feel 'ultra-sleepy', (defined as: when you become sleepy during an ultra). Symptoms include, wanting to just take a 'wee' nap, anywhere! However, I was 50k into a 185k run, so that was a bit of an issue. I had not slept great the night before but had slept well all week leading up to the event. Alas, these things will happen, it is Ultrarunning after all. Attrition is not optional, but mandatory!
A quick pit stop and some soup with Andy and Skoosh got me going again! I went through the villages and towns, a golf course, some beaches, and various trails (plus God knows how many places that I could not name or recognise!) The lack of recce time meant that I found myself on a bit of a mystery tour!
It is when using a GPX file on your watch that you realise how these types of paths, (much like John Muir Way) take some random detours to flow walkers and travellers through the main streets of the towns that you might otherwise skirt by.
The number of times I felt as though I came off the beach path to go up one street and down another, was more than I have fingers to count on! Yet, it was nice in that way. At the end of the day, these trails are gateways to places that help to bring in tourists, which is important for local trade. It is valuable when visitors get to see the delights on offer. The charm and quaintness of places like Elie and Pittenween are too nice to be missed, even if that meant that I had no idea where I was most of the time!
I was tempted to stop for a chippy at Anstruther, for a bite to eat at the world's greatest chip shop! However, the queue was so long that I would have missed out of the FKT if I had.
The stretch along the East Neuk is gorgeous but blimey that section is rough! From Crail to St Andrews, and especially Kingsbarns to the Old Town it is tough and energy sapping! It takes the word 'path' and stretches it to the very edge of its definition! The terrain is built of rocks, lots of rocks! There are beaches thick with sands and large stretches of it to run along.

The rushes on the sandy trails scratch your legs like nasty, sneaky, wee cats who have been trained to guard the trail viciously in incessant incremental discouragement. There is no tripping you up, just wearing you down, one scratch at a time, and when you think you have defeated the cats, then come more rocks! Clamber, scramble and 'Jack don't be nimble', on fresh legs it would not be a problem, but they get you seventy plus miles in, rhythm is not happening here!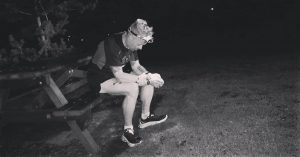 It was on this section that the sickness kicked in. Martin had called his friend Lee, who kindly met me in Kingsbarns and ran all the way to the East Sands. I will save you the vomit monologues, but suffice to say, I spew louder than Martin talks, so if you had to turn the TV up between 5pm and 11pm on Friday night due to a strange low, tremor-like howl of unknown origin, it was probably me giving back to the earth some of the coke, cookies, tomato soup, strawberries, coffee, water, and whatever else I had taken from it.
Having Lee with me helped me to get through these sections. From here in, it was simply a case of run until I spewed. Eat as much as I could, and repeat. I think I did this cycle about 10 times on the way in. This is where mindset in ultra-running comes in. I was zapped of energy. Up until this point I was confident sub 19 hours was on. I was ahead of plan and going well despite early attrition.
That luck came in the guise of support runners. I knew Devil of the Highland's champion Alison McGill was meeting me at St Andrews. Aside from social media, this would be a first hello. Something for me to look forward. I think her first words to me were a kind suggestion to wipe the tomato soup from my face. She had her friends James Hall and Mike MacDonald alongside her. I just slipstreamed them for the most part and every now and then bored them with my inane patter and sleepy-slurred banalities.
If Skoosh and Andy are the Batman and Robin of crewing, what does that make Jo Murphy and Iona Mackay as a run pairing? I am going with Beyoncé and Shakira. The two of them are just wonderful. One of running's greatest gifts to me has been the friendships I have found and formed. I am not sure I deserve them at times, but I am full of gratitude for them, regardless. Jo's gift to me on the run was the local knowledge, whilst Iona was kind enough to give me an earworm from primary one phonics, (Ah, Ah, ants on my arm! I have been getting flashbacks of that tune ever since!).
Billy Gibson, recent conqueror of the Fife Pilgrim's Way FKT, joined us at the end of a speed session to share some miles. Thankfully, he was happy to slow down. Then a couple of my Sky colleagues Stephen and Ryan met us in Tentsmuir. Being able to catch up with folks after the way the last 16 months has gone was a real highlight. and humbling experience.
The sun was beginning to set in beautiful context as we are heading through Wormit to Balmerino. This is almost exactly the 100-mile point, and there are some nasty climbs in the last 16 miles. It is from here the term 'coastal' is stretched to the limits of its definition also, as the course goes inland for the remainder.
James and Alison guided me through Balmerino. Then, I was on my own. Darkness was descending quickly, and I was in a forest trail without a headtorch and struggling badly. But I knew the suffering was coming to an end.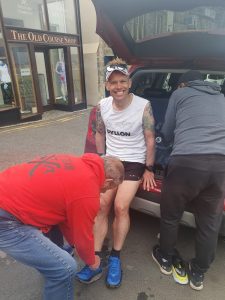 Then comes the sting in the tail. I managed to take on a Belvita biscuit, it was beautiful. I was going to meet Andy and Skoosh every 25 mins or so, on the way in and get a biscuit and drink. That was the plan. With 9 miles to go, Andy shouts out the 'bat-mobile', 'see you down the road'. Beep Beep! A horn over my left shoulder. It is Jo and Iona. To my left is a big hill. Norman's Law, and a pointy sign. My heart sinks. I know what is going to happen. The arrow on my watch points that way too. But hope is eternal, for a while.
I said to Jo, it is straight down the road, eh? I had just had three glorious miles of tarmac running and I was now 8 miles from the end. I was starting to project end times. Oops!
Jo, in the kindest of voices, pointed me up the hill and said good luck. My lack of course knowledge and prep kicked my behind here. I had no idea that I would not see Andy and Skoosh again for almost 7 miles. I had no idea the fuel I had was not sufficient. I had no idea how hilly and slippery this section would be after the rain the previous day. I had no idea how a car with steamy windows and what seemed like decent suspension had got to the top of the climb with the gates locked either side. And I was in no fit state to play 'chap door runaway' so kept going, keeping my panting to a minimum.
This section is probably beautiful in daylight. I could imagine some incredible views. It is well inland but the lights of the towns along the Tay were shining bright in the distance. I stumbled slowly, if I were a mobile phone, at that point, I would have displayed "low battery mode enabled" as I went up the rest of the hills and trails.
About 5k to go I heard bleating and lots of it! Then the eyes! I remember sitting in Rufus T. Firefly's pub in Glasgow many years ago and they had Black Sheep playing on screen, a film about cannibal sheep. Would being eaten by a herd of angry cannibalistic Ovis aries be a more palatable end than that last 5k? Maybe.
But I am an Aries too and that star sign serendipity perhaps saved me, or the fact that they frightened easily when I shone my torch their way? Either way, the sight of over 100 sheep powering away down the hill in a stampede was incredible, as was the sound. I can only imagine what those big Bison migrations you see in the US are like to witness in real life.
An exhausting endeavour of endurance was coming to end. I came off the final descent, threw my bottle at Batman, or was it, Robin? and ran on. By now I did not care. I just wanted it over. I knew I was well inside 20 hours, which was the primary aim at 4am that morning. Start and finish on the same day.
I could moonwalk across the finish like Michael Jackson I thought, except, I did not have the leg dexterity to do that, and I cannot moonwalk. Plus, I did not have a Panama hat with me! The speed I was moving at was more like Neil Armstrong's pioneering moonwalk.

And, then it was over. John Cassidy and Scott Fergus has come to witness the finish. And there was Andy and Skoosh. Garmin stopped. Tracker switched off. Official time 19:32:08.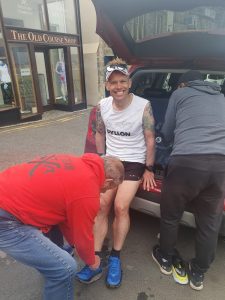 It would be easy to say that without the sickness I would have been quicker and that is true, however, conversely, without the support, especially in the latter stages, I would have been equally slower, so it nets itself out.
I am full of gratefulness for everyone who joined me on the course, either to wave, clap, say hello, give me a bit of encouragement or to run with me. It is really inspiring to me when folks journey to the end, or mates like Barry drive all the way over before work, just to say hi and catch a photo, you know you have connected with something.
Big props to Skoosh and Andy, as always. But apologies for the golf puns on Twitter from @skooshmaccuish. He was fading by the end; his account has been hooked and we will iron out his rough kinks in due course. He will need to pitch for this gig again one day. He is a fairway to go in the pun stakes.
Whilst I was doing a measly sub-20-hour FKT. My coach and podcast partner in crime Paul Giblin was running with Graham Connolly and killing the Cape Wrath FKT too. Sub 4 days by just 10 minutes on that route. Insane!
Nicola Duncan set the benchmark for this course and did it for an incredible cause. I did it for the endeavour, Nicola helped change someone's quality of life! Running is a force for good on so many levels, as her support to me and her charity work, last year, proves!
And, lastly, Louise, Euan and Caelan! Oh, and Nugget too. I have a new pair of socks for you to chew on.