Joe Grant is a mountain athlete living in Durango, Colorado. Born in the UK, Joe grew up in France and began running in his late teens as a way to explore wild places under his own power. He has now been running ultras for over 15 years, and has a diverse and extensive resume competing in trail and mountain running events around the world in places such as Colorado, the Alps, Mexico, Alaska, and Japan.
Beyond racing, Joe has pursued local, self-powered adventures around Colorado, such as the Tour de Fourteeners (biking and running all of Colorado's 14,000-foot peaks in a month), and Nolan's 14 (a 100 mile, point-to-point link-up of the Sawatch 14ers).
Most recently, he ran 500 miles from Denver to Durango along the Colorado Trail in a little over 8.5 days. Joe is also a writer and a photographer. He documents his work on his website www.alpine-works.com. 
Q & A with Joe Grant…
Joe, when did you start running originally?
"I started running in my late teens. I did play a lot of sports growing up, but was never really attracted to running in and of itself until I realized just how much I could see and do with my own two feet! I was most attracted to the minimal aesthetic of running, and using it as a vehicle to experience nature."
Is it 'only' running now or do you still enjoy cycling, climbing and more?
It's never been about "only" running for me. I love running, and practice almost daily, but there are so many ways to experience the world that limiting myself to a single form of movement would not fulfil my curiosity.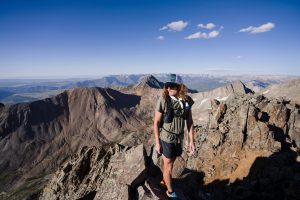 You were born in England, moved to France with your family and now you're living in Colorado. What's so special about it and why did you choose this place on earth to live?
My first time visiting Colorado was in 1995. I was 12 years old and spent a week in Aspen with my grandparents. The Maroon Bells (the mountains outside of Aspen) made a strong impression on me even at such a young age. I came back to Colorado (from France to Durango) for a year-long exchange program in college. I fell in love with the town and a woman. We got married and have made Durango our home.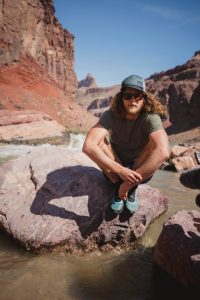 You have a very natural approach to running, easy and simple. May I ask: Why are you even racing?
"I'm very grateful for the opportunities I've had to race around the world. I've made lifelong friends, and have been fortunate to learn about different cultures and places through running's unique lens. The demands of racing require really honing in on the craft, perfecting the skills and endurance necessary to perform at a higher level, something that is less accessible when simply running for pleasure. I find there's great benefit to the discipline required to prepare and perform at an event. The lessons learned from this practice have also helped me in other areas of life."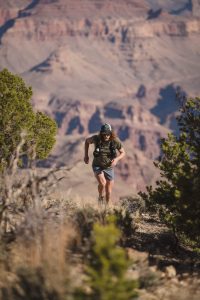 When looking at guys like you, running always seems to be so easy. Do you also have bad days, days when you're just tired and how do you handle that? Do you go for a walk, are there days you don't do anything?
"Of course! I've found that listening to my body and really being honest with how I feel is a staple to longevity. I do a lot of running at an easy pace, and never hesitate to walk or take a day off. Being too rigid, going too hard for too long, inevitably results in injury or burn out."
You've competed in a lot of long distance races like UTMB, TOR, etc. Are there any more goals, for example Tor des Glaciers or are there personal projects in your mind?
I'm planning on racing the TOR again this year if I can get back to Europe in September. The TOR is a race that suits my style, but a strong performance there has eluded me. I also haven't seen my family in France in a couple of years due to the pandemic, so this would be an opportunity to visit them.
"In a few weeks, I'll be fast packing a route I've created in the local mountains here in Southwest Colorado. It's about 400 miles long with a lot of elevation gain and samples some of the best terrain the region has to offer. I'm really looking forward to this challenge."
If someone starts Trailrunning and really struggles when it comes to longer distances and ascents: What would you say and recommend to do?
Progress takes times so I'd suggest building your training gradually and seeking guidance from more experienced runners. If the struggles persist over time, maybe doing shorter distances with less elevation is a better fit for you.
From what I know, you're also in the development team of Black Diamond. What's your approach and what's important to you?
"My approach is to help design products that are purpose built, that are durable and comfortable, and that perform seamlessly during activity. I want to have the right tool for the job, but also not have to be thinking about the gear when I'm out in the mountains and focus instead on what I'm doing."

"For me a good design should have a clean, unencumbered aesthetic, perform optimally for the specific activity, while remaining versatile enough to crossover for other uses. For example, the Distance pack is primarily a running pack, that also holds up for scrambling or other more technical missions in the mountains. To me, it strikes a great balance between its primary and secondary uses."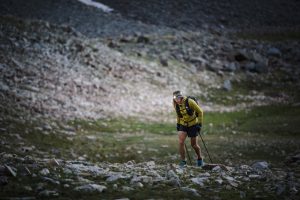 When it comes to preparation for a long race: Do you have a plan or is it just your feeling that gives you the direction?
"I mostly train by feel, but have a good sense of what I need to do to prepare backed by a lot of experience. Knowing yourself, the distance, the environment involves a lot of trial and error and it's a continual learning process. In longer races, there are a lot of variables."

"Weather conditions change, some little injury or pain might flare up, you can get lost, or have stomach issues, so being adaptable is a critical element to performance. Having a plan is definitely worthwhile, but it's also important to be able to pivot and improvise if circumstances change." 
What does a typical 'Joe Grant day' look like?
I usually get up between 5 and 6am and take the dogs out. Then, I make some coffee and read for an hour or so. After that my schedule is pretty fluid depending on what I need to prioritize for the day. Sometimes that means starting work immediately, responding to emails, doing some writing, or getting out for some training. I usually prefer to exercise in the morning, but I don't mind switching to the evening.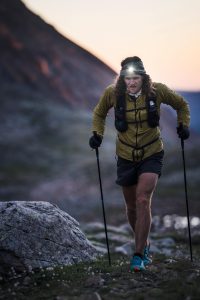 Where do you see yourself in 10 years? Still running or more doing photography, writing and making movies?
"Hopefully, all of the above, but maybe something completely different. I try not to project too far ahead. Life circumstances can change in an instant so I try to focus on what I'm doing now, not where I want to be."
Q & A with #Ultrarunner Joe Grant