In August 2020, Welsh ultrarunner Rhys Jenkins set a new fastest known time (FKT) on the Wales Coast Path, breaking the 2017 record set by the incredible James Harcombe.  Jenkins gave Ultrarunner Magazine insight into how he managed to smash a new record despite being behind the clock up until the final day, and what gave him the grit to keep on going during the gruelling Welsh challenge that "broke him many times over!"
"The Wales coast path is mother nature's roller coaster! It is so up and down; it is just brutal! It eats you alive and spits you out, but the views are stunning!"

"I probably won't ever be the richest person in the world, but when I do silly things like the Wales Coast path, pushing my body to breaking point over 870 miles, people tend to donate! The money that I manage to raise goes straight out to good causes, and that is my way of leaving my footprint in the world, albeit a wrinkled and smelly imprint, after running continuously for weeks on end!"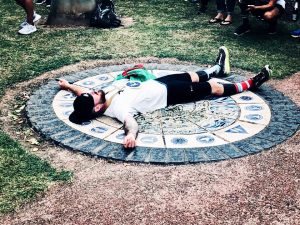 I have raised over £100,000 for various charities since 2010, £6,000 during my time on the Wales Coast path, and that is precisely why I keep doing these things. Of course, being hugely patriotic, the Wales Coast path was a bucket list item and I wanted to get across that finish line! I love adventure and the records are fantastic but the core reason, my 'why', my unwillingness to yield; that has always been charity, and I think it always will be.
"Going into challenges, mentally armed with my 'whys', I will always find the grit to keep moving forward. The motives for running crazy long distances in the first place, will always be more powerful than any reasons I might find to quit."
Raising funds to support charities financially is fantastic but it is equally important to raise awareness and the miles help to spread the messages. It is the stories that I carry with these challenges that people can connect with; the causes are something that can be felt. When I am tired and my body is close to breaking down, in those moments that I struggle or wonder if I can make it, I think of the people I am running for, I think of their stories and that gives me the extra grit that I need to hang on!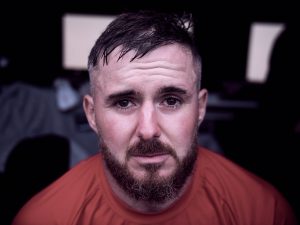 My amazing wife, Cerys, suffered childhood abuse and the NSPCC is an organisation that she has supported her entire adult life, a charity that we have been behind together ever since we became a couple. The Wales Coast path challenge helped raise funds to support the vital work, but furthermore, it helped to bring into the light a taboo subject.
"The abuse of children is an uncomfortable topic to discuss. It is extremely heavy and incredibly sad and heart-breaking! And so, no one really wants to talk about it, but the only way to bring the issue out of the dark is to pull it into the light through awareness. When you are talking about it, you are fighting it!"
During the challenge on the Coast, a surprising amount of people got in touch with my wife and I to share their stories about how childhood abuse had affected them. It was an unexpected but remarkable element of the challenge, people began talking.
As Cerys says, "just because it happened to you, it does not mean that it defines who you are", creating that awareness is a vital part of tackling the issue.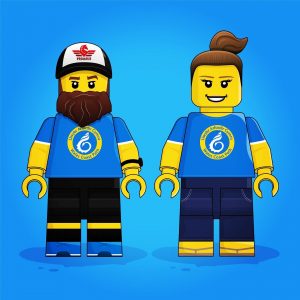 Maggie's cancer charity was another organisation that was supported through the generous donations made on the Wales Coast Path. My mum, Pat Jenkins, went through a battle with breast cancer and, thankfully, I can say that she is on the other side of that now, fit, and healthy once again! Maggie's did a fantastic job supporting her through that fight and I wanted to give something back to them.
The third cause that my challenge supported was CF Warriors. One of my best friends, Josh Llewellyn Jones, has Cystic Fibrosis and his main goal in life is to get kids with the condition into exercise. He does some remarkable and important work through his charity.
"Behind every step of the 870 miles of the Wales Coast Path was Cerys, Josh, and my mum Pat. When you are running for people like that, with stories like theirs, then any reasons you come up with to stop, will never be stronger than the reasons to hang on and make it to that finish line!"
Eight hundred and seventy miles of rural coastline with 55,000 foot of elevation (the equivalent of going up and down Everest 4.5 times) over 20 days, naturally, I encountered some real low points.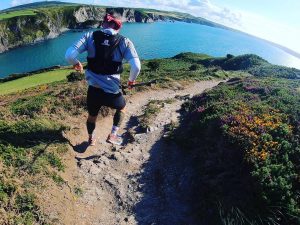 Looking to break the fastest known time (FKT) set by James Harcombe in 2017 (20 days, 12 hours, and 55 minutes), the plan was to cover forty to forty-six miles per day. At the end of day one in Rhos-on-Sea, I finished with forty-six miles under my belt. However, from day two onwards, I was losing miles and was behind the record all the way until the very end.
Wales is the only country with a coastal path that is fully connected. England is almost connected, and Scotland are in the works of connecting theirs, but Wales is the only country in the world right now, that has a complete connection from North to South.
"The Wales coast path is mother nature's roller coaster! It is so up and down; it is just brutal! It eats you alive and spits you out, but the views are stunning!"
Just outside of Swansea, on day 19, I was 25 miles behind the record. My support crew had a bit of a discussion, they were worried that I was not going to make it. There were lots of different voices putting down their ideas on strategy to get it done. It felt like people were doubting me, like they had written me off, and that was probably one of the worse feelings that I felt during the challenge.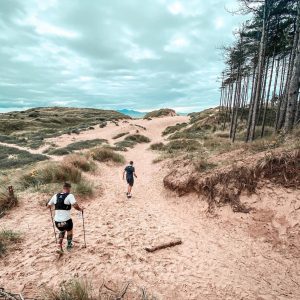 "Although, I do love a bit of doubt because: A. It took the pressure off me and B. it gave me that fire to go back in. I used it as motivation, spinning the negatives into positives in my mind, it just gave me another layer of grit to work with."
Mileage is always the biggest mental trick, it's a bloody long way! I try to cut the full distance down into manageable chunks. Forty, maybe fifty miles a day. We break that down into 10-mile stints, still pretty far, and so we chop again, down to seven and a half miles. I think that is fairly easy; anyone could run that distance if they wanted to and so I decided to have my checkpoints every seven and a half miles of the route. However, by the end of the Ultra challenge that seven and a half had turned into twenty-five miles before I would see anyone.
"In my mind I focused on checkpoint to checkpoint, knowing that at each one I would get some food and be able to relax, even if for only a few moments. Knowing that Cerys was at each checkpoint was a huge morale boost and my thought process throughout was, 'just get there'.

If you get behind schedule, like I did, you can hit this really bumpy road where everything feels painfully slow and that can rip you apart mentally. During those times I try not to overthink it and remind myself that it's just miles and numbers."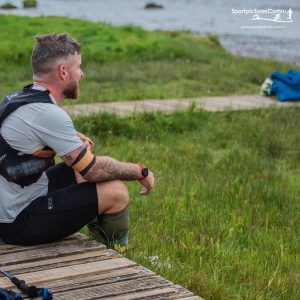 I have a lot of distraction techniques, I play a lot of games, and while it can be really boring playing games on your own, it works! Sometimes I pick Actors/Actresses and I try to think of twenty films that they have starred in and that can distract you for absolutely ages!
Receiving text messages, videos or facetime calls from friends and family while I was running really helped me get to the end of each day, it provided a great boost.
Even on the final day, I still had to cover forty-nine miles if I was going to break James Hurcomb's record. I was getting ever closer, but I could not count my chickens, it was in the balance. The last field that I would need to get through was a real ankle breaker, I had run it before and knew from experience how cruel it could be! My goal had always been to make it through that field, knowing that on the other side of it, there would be only three miles of nice flat trail and tarmac to get to the finish line. Easier to navigate and much harder to break my ankle, and even if I did, I could probably crawl for three miles.
After I made it out of that field without injury, a friend said to me, "you do know that the record is yours now?", and that is when it really hit me! That was the first time that I actually believed I would make it. It was incredibly overwhelming to know that the battle, over 20 days, was about to pay off! A lot of things could have gone wrong, a lot of things did! Yet, I had arrived at where I wanted to be and in the time that I wanted to, 20 hours, 10 days and 36 minutes! I had broken the record by just over two hours, but over 20 days, it was a very close call.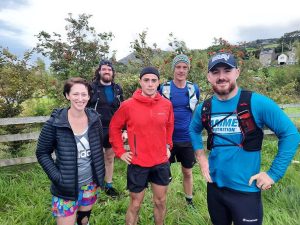 "Crossing the finish line, with the Welsh flag wrapped around my shoulders was absolutely amazing! During the challenge I had allowed my mind to wonder, I had permitted myself to anticipate, for fleeting moments, here and there, what that finish would feel like. I could not have predicted the surge of raw emotion that just took over me. I span around and punched the air and fell into Cerys; a natural and raw explosion of emotions that had built up over twenty days!"

"The Wales Coast Path broke me many times along the way, but I was able to endure and get through it, setting a new FKT and doing what I had wanted to do for the three charities. My strongest ability, as an ultrarunner, athlete and human being, is my capacity to just hang on! No matter what happens or how dark it gets, there will come a point where it probably won't get any worse, and if you can ride through that, just hang on, you will come out the other side with more grit, having gone through the experience."
When I ran 2000 miles across America with my brother, my best mate and two of our friends, I had only done a couple of races beforehand and I had thrown myself in at the deep end! We spent more time running it than we did planning it and sorting out the logistics. We stayed in motels, uncertain of where our next meal was going to come from, eating from the dollar menu at McDonald's every night. Somehow, we were lucky enough to blag a sponsor and they provided us with a load of kit that really helped us out and gave us a much better shot at being able to get across the finish line.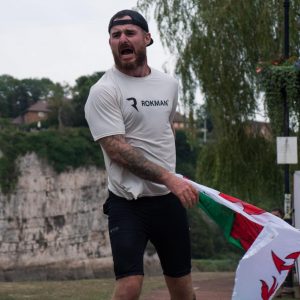 "We spent the best part of seventy-two days on the road making so many mistakes, that I would never make again! It was during that challenge across America that I learnt the majority of what I know today."
For the first six weeks running across America, we were broken! We had shin splints, blisters, bad knees and were practically hobbling our way through the states but we just held on! Gradually, we saw an upwards trend in how we were performing, and it became better from there. We were young and seeking adventure, we just had to keep on running and exploring America, which is pretty cool in itself.
"The more hits you go through in life, the more grit you gain and especially with ultra-running.  It is that mental strength that will get your body to the finish."

"Our minds and bodies are so much more capable than what we think. Your mind can pull you through the most incredibly tough places. As I have ran these races over the years, I have trained my mind. Each time that I have gone through some turmoil, I have come out with more mental strength. These types of challenges are physical and mental, in equal measure. You must be physically fit enough to achieve these things, but if you have not got that mental toughness then I would be surprised if you made it. You are going to hit a rocky road at some point, and you will need your mind to drag you out of it. You must pick yourself up, dust yourself off and be ready to go again and it is the mind that will do that for you."
That said, your ability to endure and your mental toughness levels would probably not really get you very far without an amazing crew behind you, it truly is a team effort. I just have to run and that's the easy part, it is all the other stuff that goes into these challenges that is super difficult, but fortunately, I had a remarkable crew supporting me, mainly, the chief whip and my incredible wife, Cerys.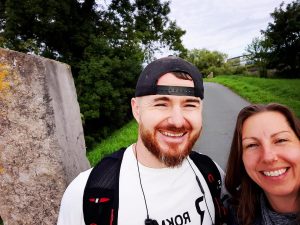 "Ultrarunning is a lonely sport but it is also a team sport, and it is the support network's that you have around you that will get you to the finish line!"
Coming towards the end of the Wales Coast Path I was in no fit state at all. I was like a child; I could not do anything at all except move forward. When I had started the challenge, the weather was horrific but for the last five days there was a heat wave in Wales.  Now, don't get me wrong, I will take the heat over the rain any day of the week, but out there, without water you could really get into trouble.
I planned to meet Cerys in Newquay; it gets quite busy in that area and the guys could not get the support vehicle down the crammed streets to meet me. They had no other option but to go four miles past the checkpoint. My body had been prepared to run 17-miles and those extra four really span me out, I was in a hell of a state!
I was out, under a branch trying to take shelter from the heat, when they sent someone down the paths to give me fluids. I remember the guy coming running around the corner and opening up his backpack, which was like a tuck shop! It was incredible. It showed me not only how fantastic and crucial my support crew were, but also how fragile I was. The smallest of changes can really kick up some massive issues. It took me hours to get back to the crew because I was in such a state, but on the other side of a hill (felt like a mountain at the time) they had a BBQ going for me!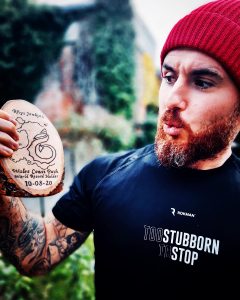 "Cerys was incredible! My biggest strong point is turning up and running these things but Cerys capabilities in arranging the logistics are phenomenal, she really enjoys it too, which is lucky for me! Cerys was head chief of everyone and everything that was going on. It became a very intense situation for her, sorting out food, fuel, putting out the fires that I was creating, and keeping in contact with everyone that wanted to come out to run with me. Cerys was one person playing many roles and I could not have gotten through it without her. She knows how to deal with me when I am frustrated and complaining, she knows how to calm me down and lift me up, she is remarkable."
ROKMAN documented Rhys's Ultra challenge along the Wales Coast path. You can watch the inspiring film: Lighthouse in the dark: A story of mental resilience by clicking here.
"Sport has taught me to be a nicer person. The number of nice gestures that have come my way through running are just unbelievable and I want to pay that kindness forward!"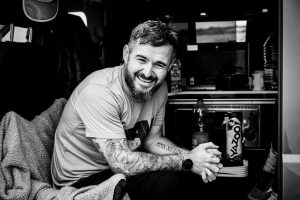 Until I started running, I had not realised just how far a smile can go. When you are feeling absolutely terrible and someone says "Hello… Good Morning!", it gives a boost, an adrenaline buzz and that really taught me something. Now, each time that I go out running in the streets, I try to say hello to people I cross paths with. I do not always get a response, but the majority reply, and it's just a nice exchange. Especially after all we have been through with COVID, it is more important than ever to be kind, a smile is easier than a frown!
You can continue to follow Rhys's incredible running journey and involved with his upcoming adventure The Three Peaks JOGLE , where Rhys will be running the length of Britain, from John O'Groats to Lands End, whilst summiting each of the highest peaks in Scotland, England, and Wales for the Lucy Faithfull Foundation.
Interview by Rachel Grant
Article by Sophie Hunt