Elisabet Barnes is an incredibly successful multi-stage ultra-distance runner, having won the gruelling Marathon des Sables twice among many other achievements. After winning the Marathon Des Sables (MDS) in 2015, Elisabet decided to take a risk and leave her busy London job to work as a full-time running coach! Ultrarunner magazine caught up with Elisabet to hear all about her incredible journey and pick her brain for a few top tips! 
Starting her running journey early on in life, Elisabet completed her first marathon by 2002, developing a love for long-distance running and a craving to improve her personal best (PB). In 2011 she started competing in Ultramarathons after hearing people talk about going beyond the marathon distance
In 2010 Elisabet's father sadly passed away, leaving her grief-stricken and reflecting on her own life. Elisabet recalls a 'wake up call', sensing that it was time to re-evaluate what she was doing with her life and what it was that she wanted to get out of it! Elisabet began looking for something that would "make her feel alive" and aid her in the heavy process of grief.
Elisabet stumbled across the MDS while watching a documentary on James Cracknell and instantly knew that the 250km dart across the desert was going to be an adventure that she was going to take on!
"I like the desert because it is so vast. It is comparable to the ocean in a way, it gives me an incredible sense of freedom".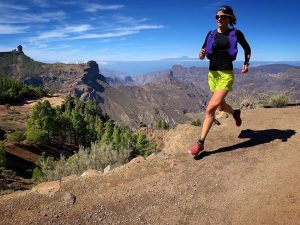 Completing her first edition of the MDS in 2012 with her then, husband, Elisabet recalls having the most wonderful time! "I kept referring to the experience as the best holiday that I had ever had; people must have thought that I had gone mad!". 
"The 2012 MDS was about so much more than running, it was an opportunity for real reflection, being cut off from the rest of the world, the daily routines and stress. Being able to live a really simple lifestyle made me realise that the smaller things that we worry about on a daily basis, really aren't worth the energy or stress". 
After a successful desert race in 2012, Elisabet returned to the MDS to see what more she was capable of. Having changed her living situation and her job, and having much more time and freedom to train, something that she hadn't had during her first attempt, Elisabet was keen to test her limits!
Training for her second attempt, Elisabet took on a number of Ultramarathons even setting a new record for Country to Capital!
"At the time, my friends were suggesting that I might actually win the MDS; I told them that they were just being silly!"
Winning every single stage of the MDS in 2015 when she took it on a second time, Elisabet recalls sports journalists scratching their heads as she was unheard of at that time. "Who is this woman and where has she come from?" she said as she thought back to the experience. The event leaving her with amazing memories as well as helping her to gain a platform and the chance to make something of her experience.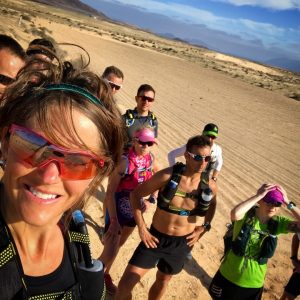 Taking every opportunity to race that she could, Elisabet took the bull by the horns, gaining more exposure as an athlete as she ran! At the time, working as a management consultant in London, Elisabet also built a running shop on the side, eventually arriving at the point where she took the plunge and left her full-time role in the city to carve a career as a coach, specialising in the multi-stage race and specifically; the MDS!
"My journey really started when my father passed. When it happened, I asked myself a question; If I died tomorrow, would I be happy with my life? The answer was no". 
Having qualified as a running coach through England Athletics, Elisabet put her skills, talents and knowledge to good use in her local running club, of which, she was a long-standing and dedicated member. Coaching long-distance athletes began to happen outside of the club setting and after winning the 2015 edition of the MDS, Elisabet gained even more credibility as both athlete and coach.
Elisabet decided to specialise in multi-day races as she feels that having experienced MDS in two formats, (running it for the experience and running to win), gives her a personal connection and a much better understanding of what to expect and how to prepare for such events!
Taking pride in having a 100% success rate with clients, training specifically for MDS, Elisabet knows how to break down the preparation for a whopping race, into small steppingstones, in order to help her clients find their work, training and life balance.
"The MDS is over uneven terrain, you'll be carrying a backpack and most people walk parts so a mixture of training, including going for walks, is very important".
Elisabet said that most people look at the race as 250km, which it is, but at the same time it isn't, because it is a multi-stage, so she ensures that her clients know that they don't have to go crazy with a high-intensity plan because that is how injuries happen. Her main priority is to get people to the start line injury-free and as mentally prepared as possible.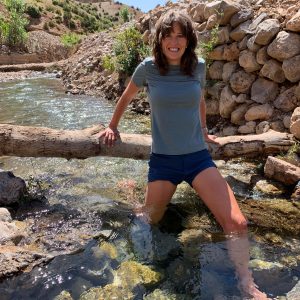 "I've seen people who have finished in absolute bits and others who have pulled out with nothing wrong but their mind".
With a huge focus on trying to expand personal growth within her clients, Elisabet understands that life is about so much more than just running and so she offers so much more than just a training plan!
Using a holistic approach Elisabet looks at a client's lifestyle in its entirety. Strengthening the mindset is just as important as physical conditioning, and Elisabet likes to take her clients through and beyond those mental barriers of what they think they can do versus what their bodies can actually do!
Recognising how people talk to themselves and helping them to adapt more positive self-talk is hugely important to her, aiding clients to build on their abilities to have a healthy, strong and positive mind, it is just as imperative as a healthy and strong physical body.
"Ultrarunning is a very tangible way of pushing your mental barriers, expanding your comfort zone and when you do that you grow as a person because of the realisation of being able to do more than you thought". 
A holistic coach with a focus on the individual, all of Elisabet's training plans are bespoke because "there is no one size fits all". The ability to see beyond the running, to adapt quickly, respond and adjust to the things that are not working and discuss life events that may be impacting a person, are just some of the reasons that Elisabet is able to boast a 100% MDS coaching success rate!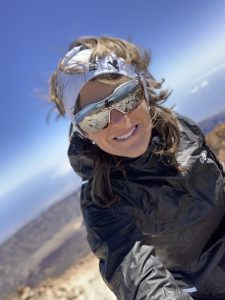 In addition to running and coaching, Elisabet also works as a sexologist and relationship therapist and holds a degree in Change Management, an education that helps her to reflect on all aspects of life, which in turn helps her to work with a wide range of clients, to change their lives on a personal level.
 "If you want to experience change, you have to be willing to take a risk".
As COVID has changed the way people travel, Elisabet said she has "jumped onto a trend and purchased a camper-van" so is very much looking forward to spending the winter in Southern Europe and hopes that her training camps will be able to go ahead in the Canaries next year!
To find out more about Elisabet's coaching click here!
Interview and article by Rachel Grant.