I first witnessed the magnificence of a mountain, as a six-year-old child. My family and I were on holiday and as we hiked our way through the rolling landscapes, and so my love affair began. I felt a sense of 'home' as the wildness, it provoked my curiosity and ever since I have sought adventure wherever that wonder takes me; typically, atop a mountain!
I was doing my Ph.D. in polar oceanography at university when I took a trip to meet with some friends in Bury. They were gearing up to do a 40-mile track race. Running had always been a part of my life.  I cannot think of a time when I did not run. As children, we run as an expression of play, joy, and wonder. We all do it inherently, but I never stopped, and I took my passion all the way through into adulthood. I ran every day, but at that point, in Bury, 40-miles would be the furthest distance I would run in one go. I gave into my inquisitive nature. Running track for the first time, I was selected to represent England in the 100K, UK championships. That is where my running career began.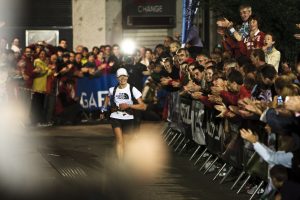 Apart from reading an article in a magazine about races such as the Ultra-Trail du Mont-Blanc (UTMB), I was not aware that such mountain races existed. I knew truly little of it. I was due to be finishing up my Ph.D. come the summer, and I thought taking on the UTMB was a fantastic excuse to get out into the mountains!
Support the whole team who put all this together
This is premium stuff! Subscribe from ONLY £3.99 for ALL online content!.
Login if you have purchased
Subscribe
Get right to the heart of ultra-running featuring interviews and podcasts with world class athletes, extraordinary race directors, ultra-running coaches, nutritional experts and in depth race reviews from around the globe!
Get your access now
Read this Article
If you've pre-ordered your Ultra Runner Mag you'll have access to 5 Articles whilst you wait for it to arrive.