The Saint Cuthbert's Way Ultra; race against the tide, is set on a way marked trail between Melrose and Holy Island. Runners must race against the tide on a 100km journey from Scotland through to England. Established in 2015 the route recently underwent a change in direction. Originally starting in the West and ending in the East, race directors at Trail Outlaws mixed things up this year, holding their first-ever East to West version of the event in recent weeks.
The 63-mile route incorporates 8,600 ft of ascent and 7,765 ft of descent, taking in the Northumberland Cheviot hills, a challenge not to be underestimated with a history of an approximate 30 per cent DNF (did not finish) rate. The change of direction still provides runners with the same challenge they crave, such as elevation, but now, in the updated version, competitors are treated to prevailing winds on their backs. As they make their way to Wooler and head towards Holy Island, runners can take stock of the incredible views towards the finish line, that in previous editions, had been a view of the Aidan hills from the Scottish border.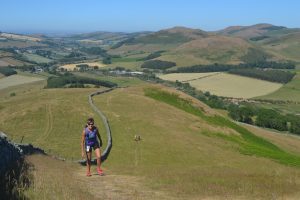 The Saint Cuthbert's Way Ultra; Race against the tide, has two distances for runners to choose from, 100k and a 45-mile option. However, the shorter version of the race misses out on none of the thrilling challenges that the 100k takes on. From hills to scenery, the 45-mile participants will certainly be put to the test before finishing in Wooler, just missing out on Holy Island, (where Saint Cuthbert is said to have ended up, after beginning his religious journey in Melrose, many moons ago).
Tim Bateson, Race Director at Trail Outlaws, in an interview with Ultrarunner Magazine, gave us a rundown of the 2021 edition!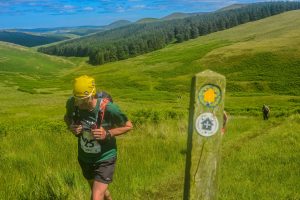 "As a UTMB qualifying race, the 100k version has 5 well-stocked checkpoints (CP) and 2 drop bags, keeping checkpoints to a minimum with an aim to not detract too many UTMB points. We want our events to be fun, but we also want them to be challenging, having fewer well-stocked CP, ensures a level of training and self-sufficiency in our runners."
"The first edition of the East to West version was set to go ahead last year, however, covid related restrictions meant that the race had to be postponed. Fortunately, we were able to go ahead this July and the event was a huge success, with only minor changes to implement related to covid guidelines."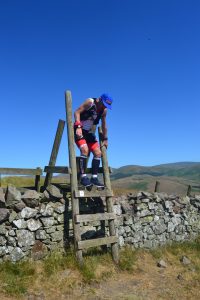 "The Saint Cuthbert's Way Ultra has always had a waved start, with the faster runners setting off before the slower runners. We did come against some complications with the race being in Scotland (where only small groupings of 6 were permitted), through to England (where bigger numbers were allowed). The key being to keep people in those smaller groups. The coaches were a fresh challenge regarding numbers, and we had to bring in portaloos as there was no access to buildings and public toilets in Scotland. However, once the race got underway it all felt pretty normal, which was great!"
"Feedback from the runners was fantastic! Everyone really enjoyed the race. We saw people coming in from the South of England, even from as far as America, to take on the race against the tide! Many said that it was one of their favourite races, however, I don't think that I can take the credit for that, being set in the most beautiful parts of England and Scotland, the phenomenal landscapes do the hard work, selling the event for us!"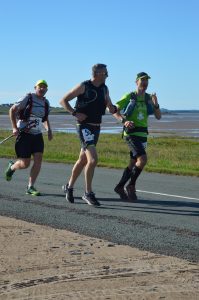 "The idea of racing against the tide seems to be a popular concept, giving runners more of an interest and motivation to come along and take on the challenge. This year we got our timings spot on … we have a holding area just before the section where you must wait for the tide to go out, but this year nobody had to be held! Unfortunately, 2 of our runners did not make the cut-off and the race was over for them, just 3-miles from the finish line. I think they were disappointed with that result. However, that is the challenge, and we cannot allow people to be on the Island if we can not get them off again, otherwise, you are stuck there for six hours!"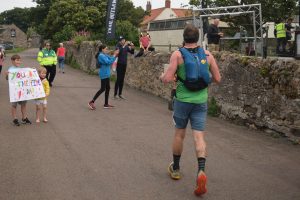 "Our first male finisher was John Melborne, who set a new course record (in either direction) of 10:26:52, a fantastic time by a really lovely Yorkshire man who came from down south to compete."
"Our first female finisher was Julie Bethune (also first F40) who reached the finish line with a time of 14:42:34. Julies family were there to meet her at the end and that was really nice to see, another welcome change as restrictions ease and lift, spectators are back!"
It was really fantastic running from both of those guys!

Next up for Trail Outlaws …
"I think that the past 18 months has been a nightmare for anyone who hosts events, be that races or pop concerts, it has been a terrible period. However, since we have been permitted to do so, Trail Outlaws have held a few events. The first one was dampened a little by my own anxiousness, but the following event, and each thereafter, has felt amazing! It is great to be back!"
"The next event for us is the Durham Coastal half marathon which we have taken over from the National Trust after covid related delays meant that they could not keep it on. We have transferred all the runners from last year and we are really looking forward to a very lovely race on the Durham Coastal path!"
Thanks to Trail Outlaws for giving us the lowdown on Saint Cuthbert's Way Ultra!
Interview & article by Sophie Hunt
Check out some of our other Race Director Interviews HERE