British Ultrarunner Russell Bentley took on the 47 summits and over 100km that make up the infamous Paddy Buckley long distance fell running challenge. The notorious circuit in Snowdonia, Wales has quite the reputation for punishing those who attempt to defeat it, even on a good day!
Russell Bentley headed out with American Ultrarunner, John Kelly, to take on the route mid-winter, in an effort to conquer the Welsh fells!
Bentley and Kelly took off from their start line running in opposing directions, aiming to meet again at the finish line. However, Kelly made it as far as the Llanberis checkpoint at 14:49:29 before pulling out of the attempt, leaving Bentley, who ran unsupported and counter-clockwise, to finish the challenge alone.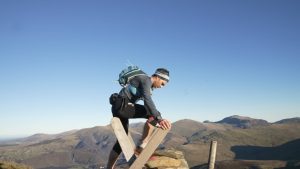 The UK Athletics coach, Bentley, told Fiona Outdoors that his inspiration to take on the Paddy Buckley during winter had come from reading an account, written by the phenomenal UK ultra-athlete, Damian Hall, Bentley said, "I was inspired to take on the challenge after reading Damian's excellent blog about his own winter Paddy Buckley record. I wanted to emulate Damian's round as best as I could!".

Damian Hall was among the first to congratulate Bentley on his incredible achievement, posting on his Twitter account, "Huge congrats to the talented @russell_runner (Bentley) on a new Winter Paddy Buckley Record, and unsupported too. I've seen the hard work he's put in, plus I couldn't be handing it over to an Acer dood. What a year he's had in the Welsh mountains".
Bently broke the previous record, set by Damian Hall, by more than an hour, completing the course in a remarkable time of 20:15:49 and claiming a new FKT (fastest known time) on the Paddy Buckley Round in mid-winter!
All of us at Ultrarunner Magazine would like to extend an enormous congratulations on his phenomenal achievement!
Keep tuned for our upcoming interview with Alex McMunn!
Article by Sophie Hunt, Ultrarunner Magazine.