By Dr Emily Cartigny (@em_cartigny_writes)
The Original Mountain Marathon (OMM; previously known as KIMM) is a cornerstone of the fell running calendar. Hosted (somewhat sadistically) at the end of October to "guarantee" bad weather, this classic is widely recognised as the ultimate test of mountain skills.
The event isn't only designed to challenge your legs, it also tests your ability to hold on to a map in 60mph winds, take a bearing with one eye closed to driving rain, communicate to a partner through the sound-proof shield of a coat hood, and finally to put up a tent when your fingers have turned to ice.
Since its conception in 1968, the event has remained largely unchanged, with the exception of introducing digital trackers and (one I am particularly grateful for) an upgrade of the toilets from a hole in the ground to Port-a-loos. However, in its 54th year, the Original Mountain Marathon event has chosen to introduce a new category to its prize giving: Family Generation Team.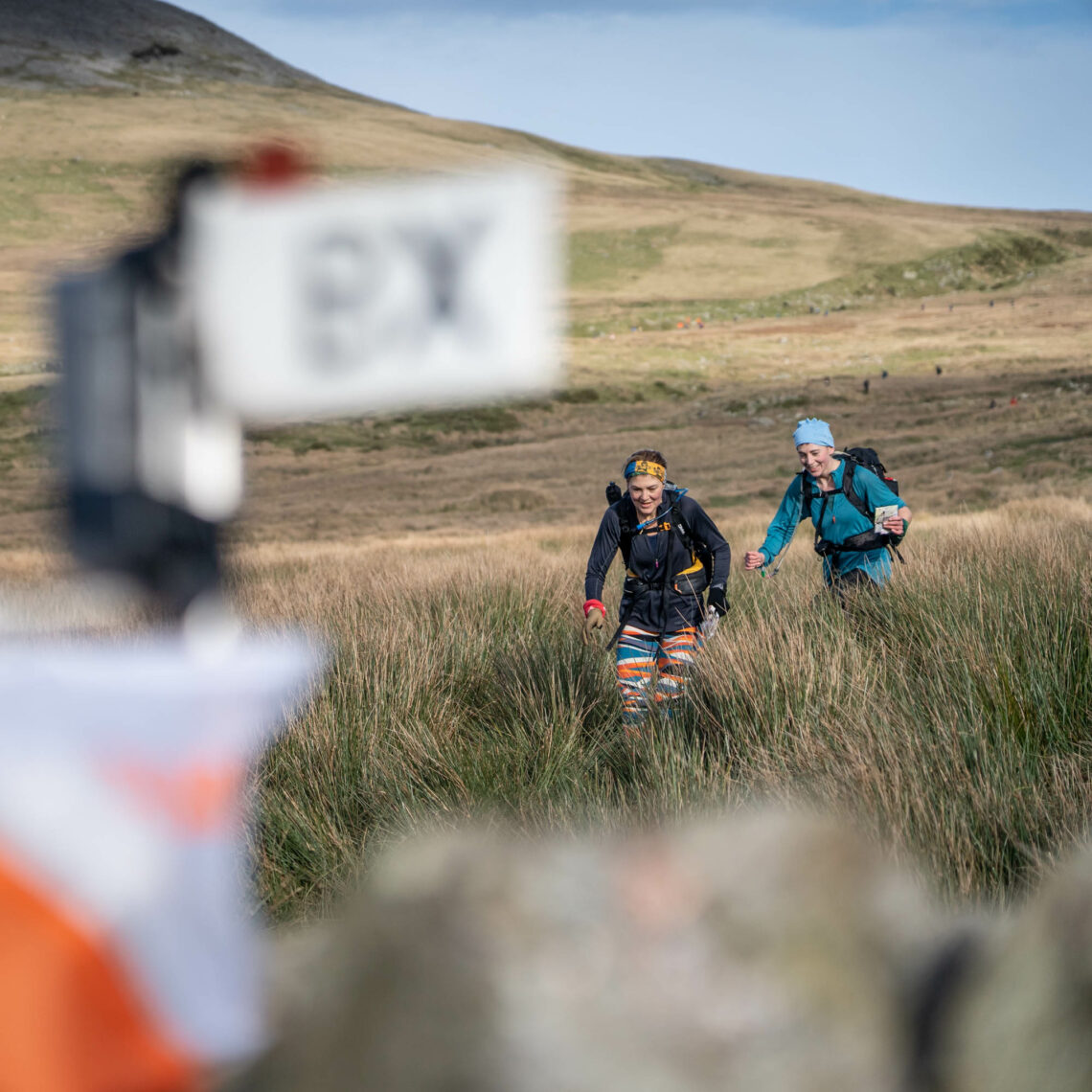 This accolade is awarded to the best-performing pair that contains two members of the same family from different generations (e.g. grandfather/granddaughter, mother/son). However, to classify, one member of the team must be under 21 years of age. OMM, the current custodians of the event, see this as a vital step to ensure the legacy of fell running, navigation, and mountain marathons. 
In the spirit of family generation, despite neither of us meeting the under-21 age bracket, I invited my own Dad to take on this year's OMM event in Eryri, Snowdonia. Although he's a seasoned fell runner and navigator, he would openly admit he's not an enthusiastic camper. I on the other hand will happily camp, it's my navigation skills that are questionable. Between us, this event could easily make us or break us.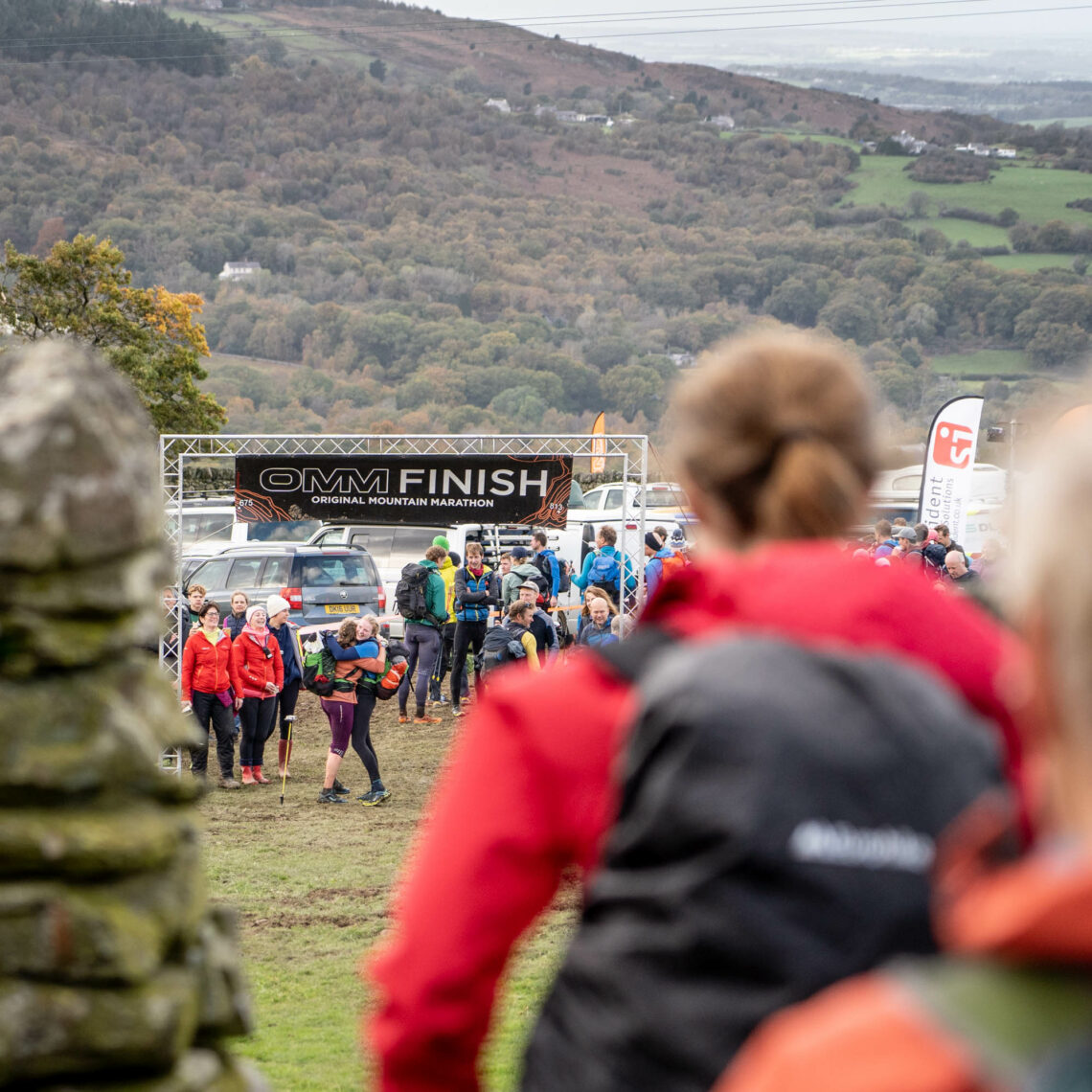 The orange-red hues of Autumn out-shone cool slate ridges, as over 1,800 competitors trudged to the fellside start line. Crossing the start line, you are handed your map for the day, hoping to arrive safely to camp before running down the clock. Through the course of the next few days, we picked our way through checkpoints that showcased the beauty and brutality of the Eryri mountains.
A particular highlight for me was the overnight camp location, nestled in between Glyder Fawr and Pen yr Ole Wren. Over the two days, we gave up trying to find a checkpoint in thick clag, sunk knee-deep in Welsh bog, and scrambled with hands and feet to collect points. Although this might not sound appealing, the whole experience quickly became some of my favourite days on the hill, which was only enhanced by sharing it with family.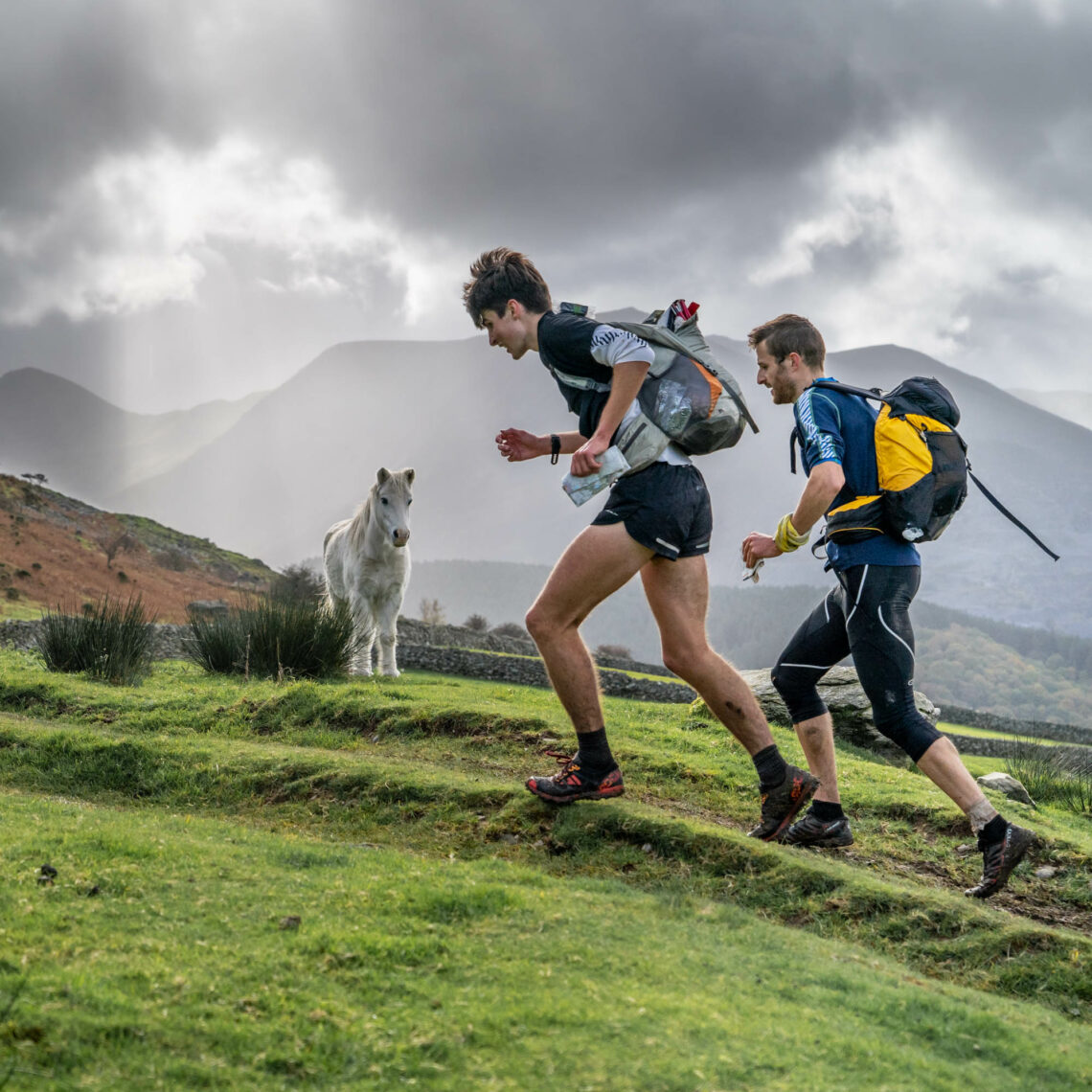 Like myself, Hugh & Andy McGregor took on the OMM this year as a parent & child team. They, however, are much more practiced than we are having completed 8 events together so far. Andy, who is 65, completed his first KIMM in 1979. He first competed with his daughter, who called it "type 2 fun" and instead passed the baton to Hugh. I caught up with them after the event and it seems they also spent 20 minutes searching for a checkpoint in the cloud. 
Hugh describes his Dad as a "fountain of OMM knowledge", a potentially niche but practical skill set. In an ever-changing world of GPS watches, and navigation apps the importance of passing on compass and paper mountain skills, the kind that can be relied upon in even the most soul-testing weather, cannot be underestimated.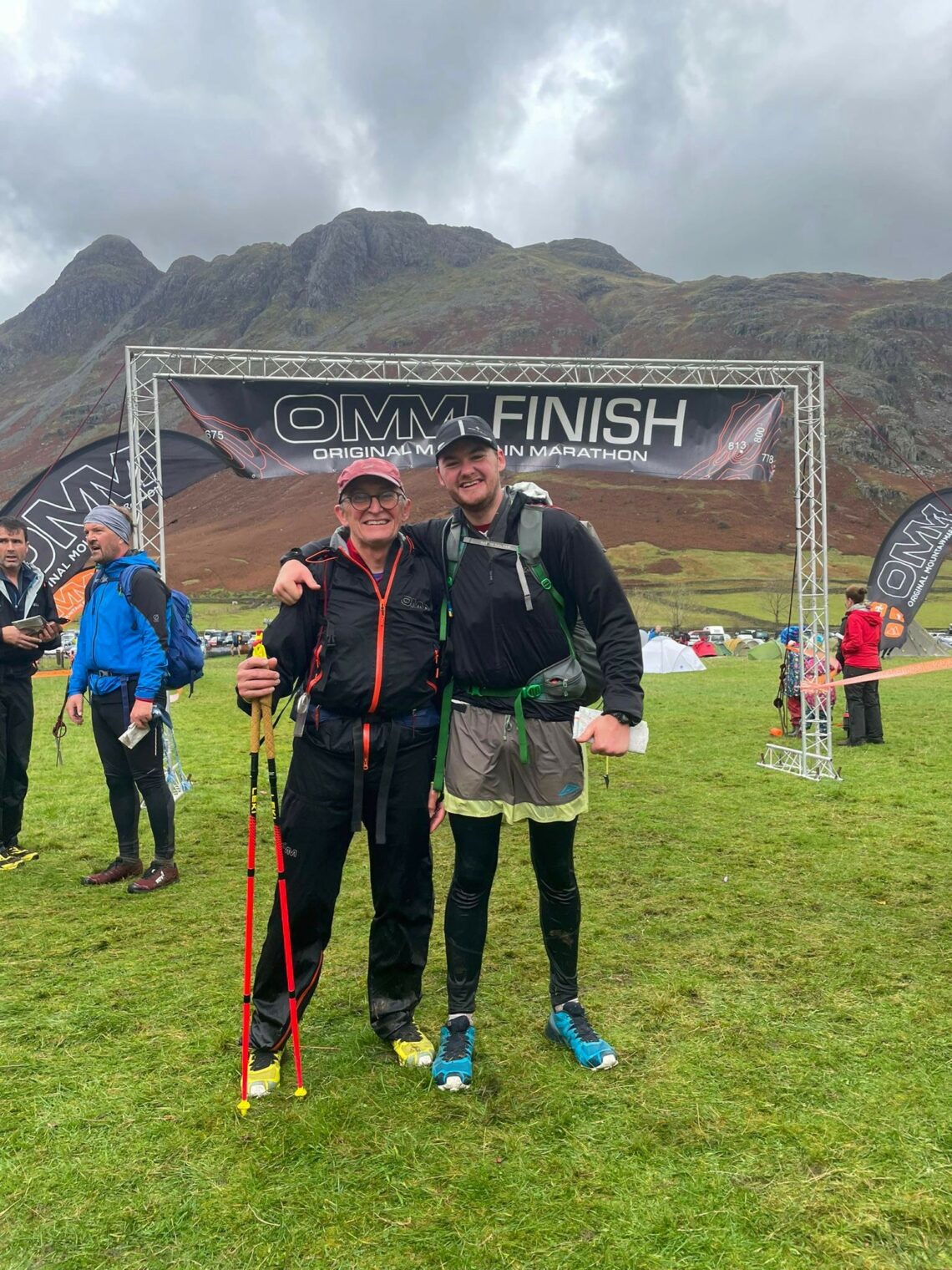 Andy's tip of carrying a gin tipple to the overnight camp is certainly one I'll take on board. However, using a Pot Noodle pot for your morning porridge to save weight and space, for me, is problematic. I'm not sure I could risk the lingering taste of Original Curry in my morning oats. 
I could share page upon page of similar stories, my own along with Hugh and Andy's are by no means unique. But, it is undoubtedly special to share the joys of the mountains with a loved one and see knowledge flow from one generation to another.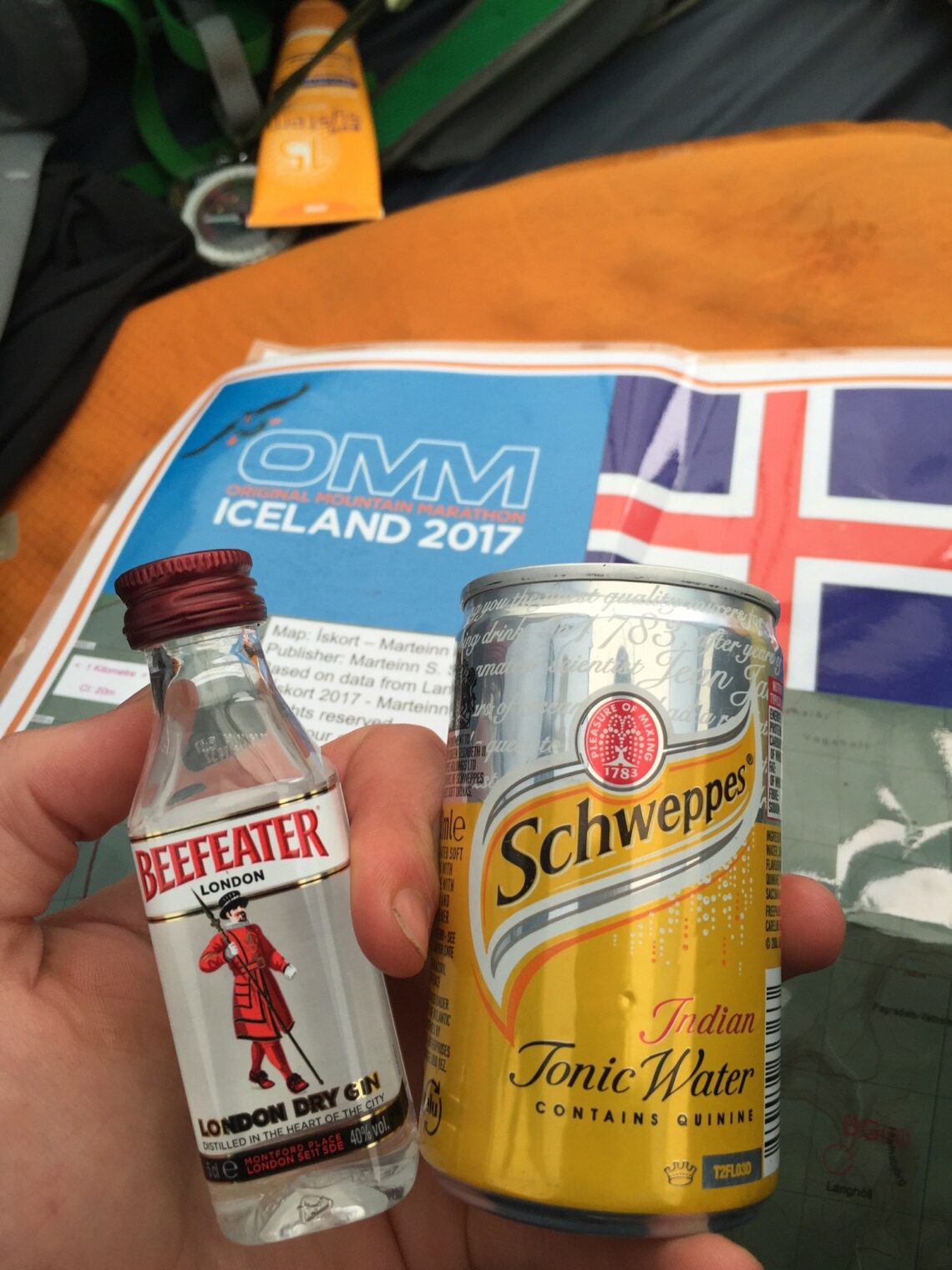 Within the Family Generation category, the Short Score (the aim being to collect as many points as possible) was hotly contested with 15 teams signing up and just 40 points (likely one checkpoint) between first and second place. Matthew and Seth Lawson (who had been given special dispensation to enter since Seth is only 15 years old!) were the pair to come out on top after two days.
While Seth, a promising young orienteer, took the lead on setting their planned route and ensuring they reached each checkpoint, his Dad, Matthew, used his endurance stamina to carry more of the load in his pack. A tactic Matthew describes as "an investment" for the inevitable future when Seth will be the faster of the pair and hopefully offer to carry his bag. 
It's not only the competitors who share a love of the OMM with their family, the volunteer teams, that ensure the event runs as smoothly as it does, have also passed their OMM knowledge from generation to generation.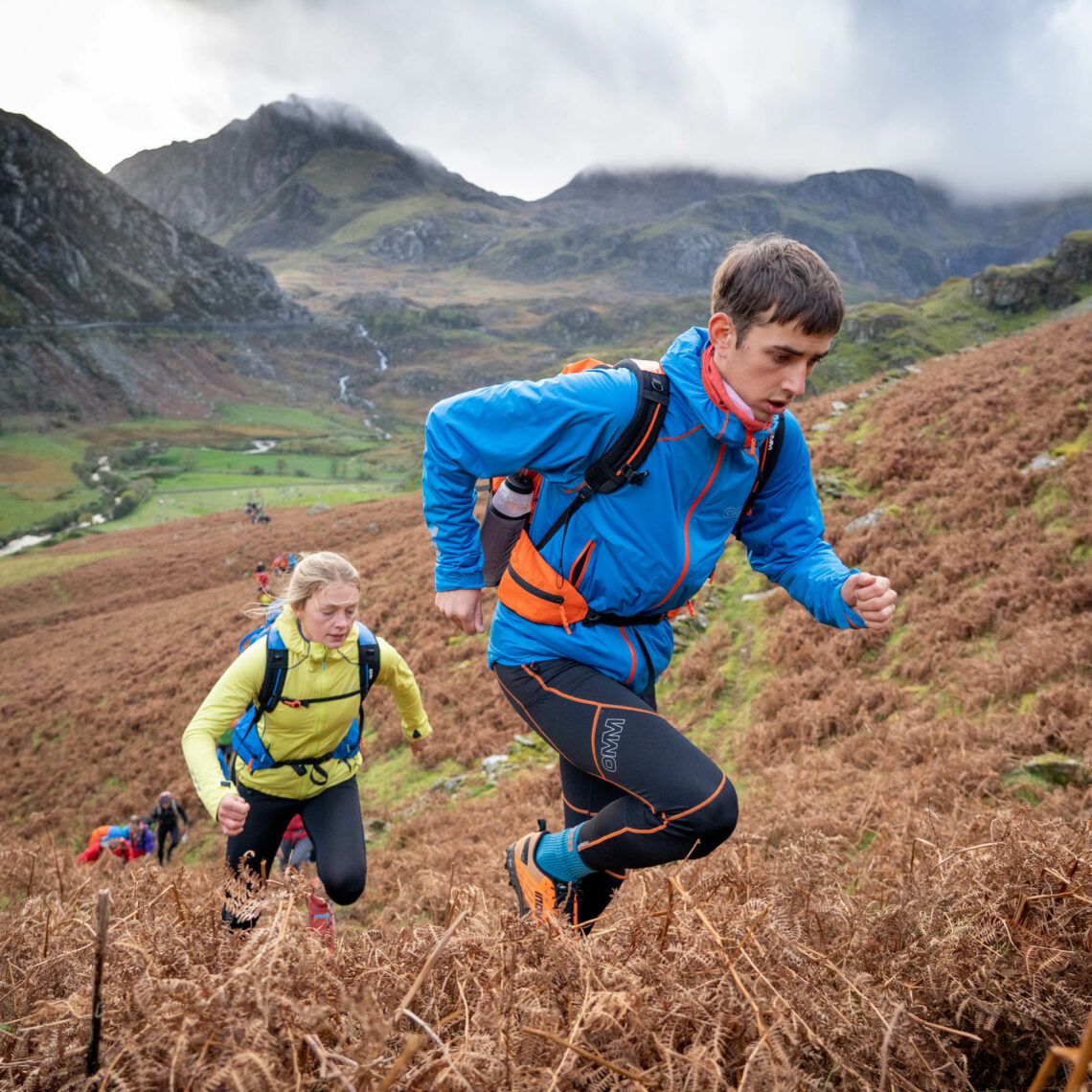 Pendle Forest Orienteers (PFO) hold a long-standing tradition of volunteering and running the Day 1 start and Day 2 finish. They were involved in volunteering at the very first event and have continued to do so for the following 54 years. Without a doubt, the event wouldn't be the same without them.
Catherine Wilson, a member of PFO, remembers being taken to KIMM events when she was 11. She recalled being given the crucial task of handing out well-earned meal tickets to finishers and the excitement of later being promoted to kit checks. Catherine now competes with her husband, while her daughter, Anna, volunteers. The tradition started when Catherine was brought into the volunteer team by her Dad, John Ashton, who took part as a competitor in his first event in 1987 and volunteered for over thirty years.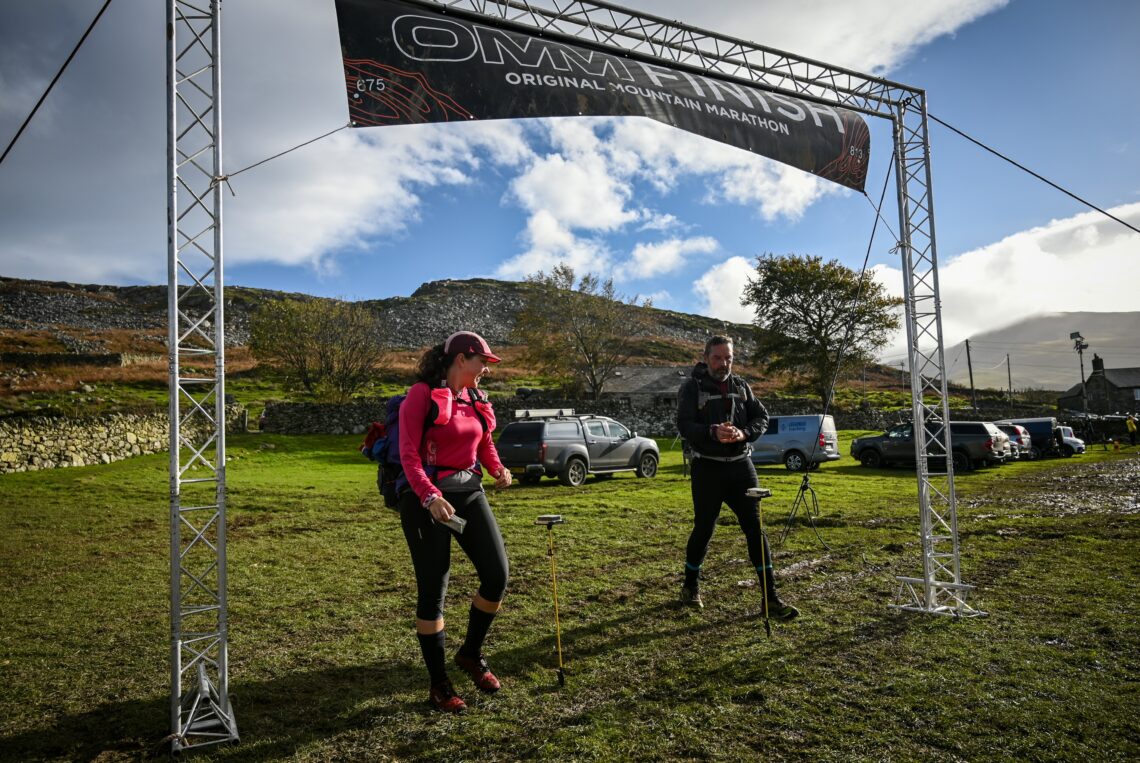 John recently passed the command of day 1 start over to the next generation of PFO members, led by Andy Ellis in 2022. While The OMM is certainly not an event to be taken lightly, the atmosphere created by the volunteer teams will make newcomers feel instantly part of the family. It's certainly an event that I'm itching to return to.
On Sunday evening, myself and Dad returned home with tired legs to a warm cuppa from Mum, she enquires: "Any tantrums?" Luckily we survived the weekend without one, so instead recalled listening to the father & son team, who were camped next to us, share choice words at 2 AM because their tent cover had blown off.
We jest mostly because we know that moment all too well. If there was a way to slam a tent door, 16-year-old me would have found it and it seems the hanger trait is in fact hereditary. To come away having both enjoyed the experience and still talking to each other was a win for us. I guess the years of navigating the fells together really have brought us closer.  
Periodization for Performance: Should Endurance Athletes Adapt Their Training to Their Menstrual Cycle?
By Dr Emily Cartigny "Day 1. Had period pain – did nothing." This is a genuine entry from my Bob Graham training diary. A great start. Instead of the 10k run that I had planned, I was pitched up on the sofa in a blanket cocoon, hugging a hot water bottle and probably extremely sullen. This was part of my monthly routine. A part of being a woman that I'd become accustomed to. Working within the sports industry, articles, books, apps and podcasts started to pop up that encouraged me to adapt my training to the different phases of my […]
Read More Race Reviews: