Standing on the platform at Chester train station, thinking of the journey ahead. Unusually, for a challenge of this size I am calm. The self-doubt, the nerves, and the worry that I had anticipated, it did not manifest, at all. Confident, I knew that no matter what battle lay ahead of me, I was going to make it. I visualised the end goal and I knew that no matter what, I would finish this thing, come hell or highwater, I would finish this for Hope Hospice.
This is it! Thousands of training miles, hundreds and hundreds of hours buried in research, this is where that pays off. This is that point where all the preparations come together to see me to the finish line in 22 days' time.
Alone in the dark heading up to the highest mountain in the British Isles my long-awaited journey began.
I hiked over cow hill and on to Glen Nevis then onwards up to 'The Ben'. As I climbed, daylight took over from darkness and the views became clear, it was only then that I got to appreciate the true size of the mountain. Moving upwards and into the clouds there was a noticeable drop in temperature and as I approached the summit the ice became hazardous, navigating the boulders and sharp rocks at the top of the frozen peak was terrifying. An awesome experience!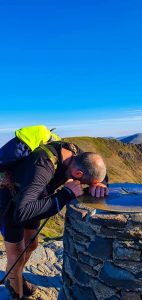 Four hours into day one and I had walked from Fort William to the summit of Ben Nevis! And with the first peak completed I felt so accomplished, but I wasn't daft enough to relax. This was but a fraction of the big picture. I tamed my hubris and calmed my mind. There was an enormous journey still ahead of me.
Right on cue, my GPS watch strap broke, my fitness tracker gave up on me and I snapped my trekking pole clean in two as I pleaded with the rocks to let me have it back; I lost that tussle. As I sighed, accepting my defeat the sun came up and it took my breath away. The scenery was sunning and the remarkable views more than made up for the minor kit failings; as long as I can move, I can finish and so on I went into day two.
Six hundred and forty miles over 22 days, where would I even begin to describe the incredible things that I have experienced and the moments of despair that I have encountered, along the way?
Perhaps I should write a book? I could fill a novella with just a days' worth of unforgettable memories and lifelong lessons that became the Scotland to Wales walk, incorporating the National three peaks.
Walking over the bridge at Inversnajd I remember hearing a strange noise coming from a tree close by. Moments later a huge Golden eagle took off and I became catatonic, awe struck at such a magnificent creature, my first encounter with an Eagle in the wild! It was magical.
At Devils staircase I met with less desirable beings as I sat atop a rock ready to have a bite to eat. Rising from the heather I saw what I can only describe as a huge cloud, though I quickly came to realise that it was not a cloud at all, but a swarm of little monsters. The scourge of the highlands; the midge! Standing quickly and getting on my way to Glencoe, I took my grub with me and left the mini bests to pick on another hiker.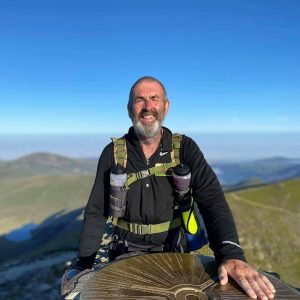 Something that I hadn't anticipated was the volume of social media support I received. Daily posts became a part of my routine. Uploading photos of the trail each day, sharing my words with the world, social media became a diary of sorts. The comments and encouragements offered to me were unbelievable. It felt as though my followers were out there on the trail with me and that made those tough miles a much less lonely place.
Glasgow, and by this point I have not seen another human in days. As I walk from the solitude of the trail and out into the city streets, I am nervous, overwhelmed at the sudden bustle of the big city. Then Janette came from across the street, walking quickly and with purpose she handed me a sweet slab she had made in her shop and a box of macaroons! A welcomed gift and the first of many acts of kindness to follow from strangers along the way.
Day nine, the day I have been dreading, finally in front of me and holding good on its promise to push me to me limits. 640 miles in total but these next 30 were going to be the ones to define me as a person and as an athlete. I knew long before the day, that this was going to be my 'make or break' moment.
2.45AM setting out early so that I could finish the mountain in daylight, I passed along Buttermere to the first hill of the day. 1,460 feet of elevation, the Scarth Gap pass. A straightforward hike led me into the clouds but as the rain blew in, I lost visibility. Managing to navigate over the top an into the valley, ready to climb the 2,299 feet of Black Soil pass.
But I had misread the map and crossing the beck to soon, I had lost the trail.
Scared of heights, alone, tired, with no sense of where I was, I hit a major low point.
Struggling to keep grip on a small rock, I dug my feet into the earth to stop myself from falling down the steep and slippery slope. Trying to stare through the thick clouds for any sign of the trail I reached for my phone, I dialled my partner, Moe.
"Paul take 5 minutes. Look at the map again. You are good at this! This is what you do! You always finish". Her voice giving me a new sense of stillness, with calmer nerves, I was able to take a fresh look at my surroundings and I couldn't believe what I was seeing!
Out of nowhere, three runners sped past me, I tried to call out but to no avail. Where had they come from? Was this another hallucination? Perhaps, but the athletes, a creation of my mind or not, led my attention to a slip of green grass, and I was back on the trail, heading out of despair and on my way to the upwards battle with Scafell Pike (7,000ft).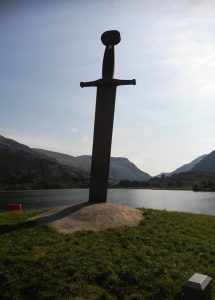 Have you ever witnessed the majesty of lake Windemere in the moonlight? Passing the water as the moonbeams twinkled on the ripples of the lake I was blown away, watching the water dance like I had never seen before. A treat before coming up against the disappearing canals of Kendall.
Kendal turned out to be a pretty rough day, I hit another huge low. The weather was bad, the previous days had been really tough, and I was feeling awful. I wasn't even halfway through the route and I wondered how on earth I would make the finish if I was feeling like this already.
I was staying in an Airbnb in Bolton-Le-Sands, the host called me out of the blue and said he wanted to come out to meet me. On my arrival at the house, I was greeted by the host and his family. Welcomed by a beautiful dinner and a donation to the just giving page, I was amazed. This really lifted my spirits and gave me the boost in moral that I needed to get through the days ahead.
11 days gone, 11 to go. The weather is pretty bad, but it would dampen nothing but my feet!
The radio called and asked me to go live with an update. Great! A chance to get the word out there about hope hospice, my reason for this adventure. I do not have children of my own, but I can only imagine that having a sick or dying child must be the most agonizing pain any human could endure. Hope hospice is close to my heart and every mile I walk, each pound I raise, I am honoured to be able to help, even in my small way. I had all the information close to hand, the only real pressure; remembering not to swear on live radio!
During the challenge, people came from all over to share miles with me on the trail. It was an amazing experience.
Mr. Ian Yates, GB Ultras legend, this man guided me to a finish in the 2017 Ultra Great Britain, I trust his judgment and sense of direction above and beyond anyone's and as I expected his advice got me a safe pass through the canals; Lancaster to Leeds and Liverpool. The first, but not the last time he would come to my rescue during this hike.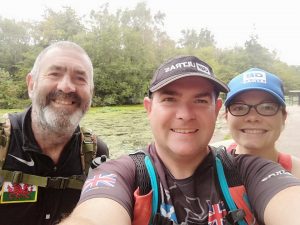 In Runcorn I had the privilege of meeting up with the excellent race director and founder of GB Ultras, Mr. Wayne Drinkwater! We had a lengthy chat about charity work, and I was inspired by his dedication to helping others. An honour to share the trail with him.  It was encounters like these that really kept me plodding along to the finish line.
Crossing Snowdon, every step, now a step closer to my village, I could sense home was near. Meeting dear friends, sharing the last miles, I had almost done this thing!  20 miles to go!

The route home included parts of Offa's Dyke and the familiarity of the forests and the mountains felt so good.
The run through to the finish was incredible. Hundreds of people were lining the streets clapping and cheering as I ran through my village. I could do nothing but stand, frozen, soaking up the unbelievable moment. I did it!
640 miles, 22 days, epic! But the numbers I like the most; £9,618,10p. That's how much money was raised for Hope Hospice and I am overwhelmed by the generosity of everyone who followed my journey. A remarkable total for a worthy cause and for them I would do it all over again!
Written and Interviewed by Sophie Hunt, Ultrarunner Magazine