Nuasan Active body moisturiser- Perfect for after a long day on the trails. Trialled this in the winter on a windy cold day. My skin is usually dry and chaffed when exposed to harsh weather. My skin felt hydrated and nourished and I particularly liked the smooth feel of the moisturiser. Like the rest of the products, it has that pepperminty fresh smell and a fantastic feel about it.
Nuasan Active body wash- I used this product as a shower gel as well as in the bath for a soak after a long run or killer gym workout. The peppermint smell gives the whole room a fresh and relaxing smell and it is gentle to the skin. I have very sensitive skin so finding a product that doesn't cause me any skin problems are important and this product was perfect for me. I used the active body wash regularly instead of the usual Epsom bath salts and my muscles were as recharged if not better. Highly recommend this product for a soak in the bath!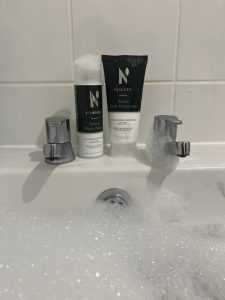 Nuasan Active muscle rub- This is my favourite of all the products, and you can feel the results instantly. I used it first when I pulled my neck muscle. A gentle massage with this rub and within a few minutes I could feel the pain ease and helped me feel relaxed immediately.
Regularly, I have been using this on the day after a heavy gym session and this has helped with the DOMS and with muscle tightness that I usually get the day after. This is crucial for me as an ultrarunner as I want to recover as quickly as possible so I could hit the gym more frequently.
Nuasan Active body wipes- are individually packaged and can fit easily in the small vest/backpack pockets for those long ultra runs. Ideal for refreshing at checkpoints or cleaning yourself on the route. Again, the cooling peppermint is refreshing and really made me feel fresh (less smelly). As it is biodegradable it was also easy to dispose of and kinder to the environment.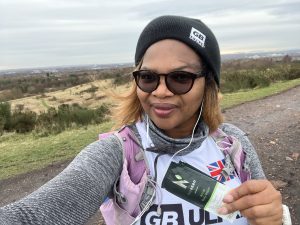 You can purchase Nuasan products by clicking on this link: Nuasan
Ultrarunner magazine would like to thank Aspire PR and Nuasan for sending out the products for testing. We would also like to say a big thank you to our tester and reviewer, the amazing Loveness Scott
The review was done by Loveness Scott.