WHY an ultra? Someone says to me.
That is a very good question, why am I going to run an ultra? Do I think that I am an amazing runner and have reached the pinnacle of every distance below an ultra? No, (laughing a little to myself at that prospect) not at all. Do I think I am a 'good' runner, in the traditional sense and that this is the natural next step? No.
The fact is that I just love running. If being 'good' at running means getting fast times, then no, I'm not very good at it. The last London Marathon I ran (actually in London) in 2017, they were packing the course away when I finished the race in just under eight hours! I did the Virtual London Marathon last year in six hours, forty-eight minutes, which is better, but still not setting the world alight 😉
The truth is that I have signed up for my first ultra in June this year (Greensands Country Trail 50km, Runaway Racing) because my relationship with running has changed. Fundamentally changed.
I showed some promise at running when I was eleven, even though I was by far the smallest height girl in the school. I had just joined senior school (Bournemouth School For Girls) when I shocked my two P.E. teachers by running around 'the block' (around 2.5 km) pretty fast, faster than anyone else by some margin. When asked if I had been training at running, my reply was, "no, but I DO dance a lot". I went on to come third in cross-country running at town sports (showing my age now) and then competed for the county, where I believe I came eleventh. My focus on running soon waivered, but I do have an overriding memory at that age of watching the London Marathon on TV and deciding that I would run it one day.
That day came in April 2013, when I was 35. I couldn't have imagined when I was eleven that the most traumatic year of my life would precede that day. I applied for the ballot around six times before I finally got the coveted 'You're In' letter in the post in 2011. The intention then had been to run in 2012. The year we were going to have the Olympics in London too. It was going to be amazing!!  It wasn't amazing.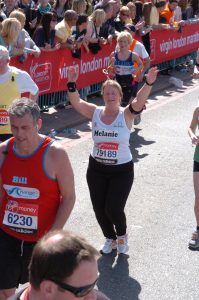 At Christmas 2011 we went to visit my husband's relatives in Aberdeen. I managed to tear my calf muscle, badly. It was going to take me out of training for a considerable amount of time and I reluctantly decided to defer my place to the next year (2013). Then in mid February 2012 I got a call from my mum, from her hospital bed, she had been admitted immediately by the doctors when she went to them in pain earlier that day. We shortly received the diagnosis: terminal lung cancer. Five months later she died.
My relationship with running changed slightly then. I didn't totally understand that at the time, but preparing for my first London Marathon in 2013 became a form of grief therapy. I spent many hours running on my own, trying to process things. Not just my mum dying but the trauma of those months. It was a heart wrenching and stressful time. Trying to make the right decisions about care about funeral arrangements etc takes its toll. Running was my escape.
When I stood on the start line of the London Marathon in April 2013, I was ready to go. I wasn't worried about running 26 miles at all, not because I thought I would 'smash' it, but because running was all I wanted to do. It was my only release. I didn't cry at the finish as I had imagined I would in relief, but the tears came during the race. I think it was around mile 15. I had music in one ear. A song reminded me of mum and I just bawled. The crowds were looking at me cheering me on and I just kissed my charity bracelet (Macmillan Locally, the hospice that cared for mum that I was fundraising for) looked up and ran as fast as I could down the stretch. Not the most intelligent thing to do mid race from a strategy point of view, but it was all I could do to stop the tears flowing.
The day after that race I was hobbling around, but I looked at my husband and said, "I want to do that again", and I did, the next year. I have now run the London Marathon four times 2013, 2014, 2017 and 2020 (virtually).
Then something strange happened in 2019 and although it took a while for me to realise it, it completely changed my relationship with running.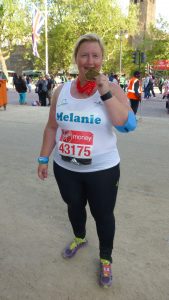 I was watching YouTube and stumbled upon 'Life In A Day' by Billy Yang.  It is a documentary about the Western States 100 and focuses on four different women vying for a top ten finish at this prestigious 100 mile race. I had never watched anything to do with ultrarunning, but I was absolutely hooked. Something completely ignited in me and I started watching many ultrarunning films. This was a completely different challenge, a side of running I hadn't seen before. People were running one hundred miles, two hundred miles and more. Seeing parts of the world that you wouldn't otherwise see, building whole supportive communities around this 'niche' part of the sport.
My fascination was also to do with timing. I had started to develop an interest in hiking in 2017 and then went onto summit Ben Nevis twice in 2018 and 2019. Ultrarunning seemed like the perfect sport to combine a passion for running and hiking.
I had a London Marathon place for 2020 through my charity (Macmillan Locally, Christchurch) and when the pandemic hit last year, with the 'stay at home' advice  I retreated to running in my garage, where I was fortunate to have a treadmill. I set up my laptop out there and would binge watch all manner of endurance films, from 'Toughest Race on Earth' with James Cracknell to films about the Tarawera Ultramarathon in New Zealand and all of Billy Yang's ultra films. I watched The Running Channel on YouTube and listened to RunPod by Jenni Falconer.
All this time, even though I was training for London, the flame in my brain had started burning that I wanted to do an ultra. Me? An Ultra? Really? I kept thinking to myself. I was beside myself with excitement at just the prospect. It wasn't long before I was muting the idea to those close to me. I would casually drop it into conversation, not that I would do an ultra, but how cool would it be. I figured an ultra would be something I would dream about doing 'sometime in the future'. But then, as the meme goes 'oh look another race', I found myself seriously looking at race websites, looking for ultras. After the year or so we have just each had to confront our mortality, I kept thinking to myself, you really want to do an ultra, why are you putting off your dreams?
Then I did it!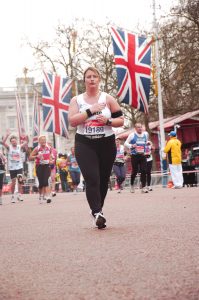 At the end of February I signed up for my first ultra-marathon. 50km on trails on the 13th of June in Bedford. My relationship with running had and has changed. I was in a 'casual' arrangement with running. By that I mean, I know it helps me mentally and physically, but I've never fully committed to it. I'm not sure if this is because when I take things too seriously it normally diminishes my enjoyment, or because I was really scared that if I actually took it seriously, I might set myself up to fail. What about if I really wanted to be better at running, but no matter how much work I put in, I wasn't? So, I run for fun, and then put in enough training to 'get through' marathons.
This year, things have changed. At the age of 43, I am all in.
I have committed myself to more training, I have a plan which I have worked on with a coach (Mind of Running) and I am overhauling my overall fitness and mental strength. I'm taking literary inspiration from ultrarunning books such as 'One Track Mind' by Michael Stocks and have been watching numerous videos on strategy, technique and personal ultra-stories. I am so inspired by the likes of Courtney Dauwalter and Nicky Spinks and think running and ultrarunning are sports which can really empower people, especially women. That area intrigues me and needs more development. I am starting a Masters in Psychology this year and want to build on the link between activity, empowerment and mental health.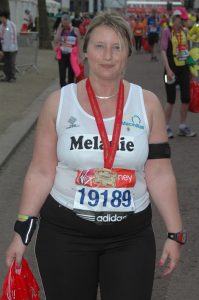 I am not expecting to suddenly be an amazing runner overnight. I do have a base of fitness from many years of running and I will prepare myself for ultramarathons as best I can, but I have a lot of work ahead of me. Fundamentally what I have realised is that I want my ability to meet my ambition and I am prepared to work for it and not fear failure, that is an exciting prospect, but not a conclusion I feel I would have reached if I hadn't discovered ultrarunning.
Written by Melanie Campbell for Ultrarunner Magazine.