Matterhorn Ultraks 2023 Sky Race: The Ultimate Challenge in the Swiss Alps
This Swiss ultramarathon should be on the bucket list race for every trail runner
There are 48 peaks above 4000m in Switzerland, but there's only one Matterhorn. Even if you'd never seen a packet of Toblerone, you'd still recognise its formidable pyramid-like silhouette.
Zermatt, a car-free village in Switzerland accessible only by train, has always been a magnet for adventure seekers. And for the last ten years, trail runners from around the world have gathered at the foot of this famous mountain to test their endurance at altitude in the Matterhorn Ultraks races.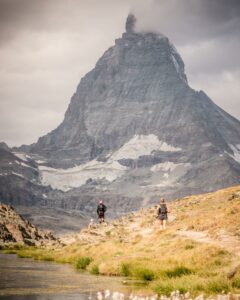 With a history deeply intertwined with mountaineering (Briton Edward Whymper was the first to summit the Matterhorn in 1865), the Ultraks weekend is an appropriate celebration of mountain athleticism, with varying race categories catering to different levels of runners.
The five races on offer in 2023 included a 19km 'Active' race, a 32km 'Mountain' event and an evening 'VertiNight' vertical kilometre race. This year saw the addition of the 'Extreme' for the first time – packing 2876m of vertical into 25km of tough, technical trails.
The flagship event is the 'Sky' race: an arduous test of climbing and descending covering 49 km and a lung-busting elevation gain of 3,600m.
Support the whole team who put all this together
This is premium stuff! Subscribe from ONLY £3.99 for ALL online content!.
Login if you have purchased
Subscribe
Get right to the heart of ultra-running featuring interviews and podcasts with world class athletes, extraordinary race directors, ultra-running coaches, nutritional experts and in depth race reviews from around the globe!
Get your access now
Read this Article
If you've pre-ordered your Ultra Runner Mag you'll have access to 5 Articles whilst you wait for it to arrive.