2022 marks a new entry in the sports nutrition market as the all-new Lyfe Linez brand debuts its new product line. Hydro OG, the OG of hydration! Designed for maximum hydration to help you get the most out of life. The first two thirst-quenching flavours hit the shelves today, a refreshing tropical blend of Mango and Pineapple, and the knockout combo of Cherries and Berries.
Hydro OG, helps you to adapt to the physical demands of sports, activities and everyday life. Each serving is loaded with over 10g of high-quality ingredients to fuel you through your day. It contains a blend of vitamins C, B1, and B12. A dose of essential electrolytes Sodium, Magnesium, Potassium, Calcium and even coconut water for optimum hydration. We added Acai Berry which is a nutrient rich antioxidant and Rhodiola rose to help reduce stress and improve brain function.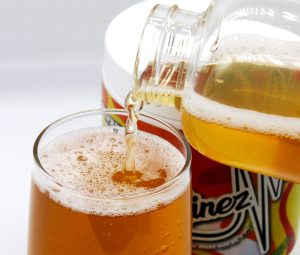 The Lyfe Linez sports nutrition brand is born from a desire to bring the best quality dietary supplements to an audience close to our hearts. We encourage everyone to follow their passions in life and in sport. Exercise is essential to our mental health and pivotal in living a healthy life so grab a 'lyfe line' and let us get the most out of you!
Seeing a gap in the market for a great tasting product to help people get the most out of their day, Lyfe Linez is the brainchild of former Monster Energy Commercial Director GB & Ireland & Entrepreneur of the year for ex-forces in business 2021, Dave Hamlet,
Dave comments –  "I set up the brand after having worked in the sports and energy category for over a decade at every level from sales manager to finally sitting on the leadership team for the fastest-growing energy brand in the world as commercial development director GB & Ireland. I love to compete, I have a huge passion for health, fitness and sport. I have always had a desire to launch something in the health/vitality and sports supplement space. It seemed the right time to finally scratch that itch. We have a very clear vision for the brand's identity, culture and values. I am excited to bring something new and innovative to this category."
Check out their website for further details: https://lyfelinez.com/