Damian Hall's We Can't Run Away From This examines how runners can live and exercise more sustainably
We Can't Run Away From This, by ultrarunner and climate campaigner Damian Hall, explores how running is affected and affects our climate and ecological emergency and what runners, brands and events can do to lessen their carbon footprint.
From food to gear and travel, the book identifies simple changes we can all make to our behaviour.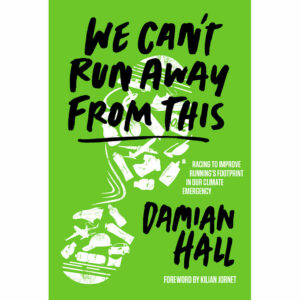 Hall said: ' Though running seems relatively harmless, it really isn't. When my kids ask what I did to try and prevent large sections of our planet becoming unliveable I want to be able to say I tried.'
Hall is a record-breaking ultrarunner who has set records on the Paddy Buckley Round, the South West Coast Path, the Cape Wrath Trail, Wainwright's Coast to Coast and the Pennine Way. He used his 241-mile Pennine Way record to highlight concerns for our climate and ecological emergency: his attempt was carbon negative; he created no plastic waste and he and his runners collected litter as they went while also raising money for Greenpeace.
We Can't Run Away From This is now available to pre-order from adventurebooks.com.