The Country to Capital Ultra is a 43-mile, point-to-point race that takes in a stunning mix of cross-country trails, road, and Canal towpath, as the route makes its way from Wendover to Little Venice, west London. The event, which has been well established as the opener for the Ultra race calendar, has risen in popularity since Go Beyond Challenge took on the course in 2018. 
The UTMB qualifying race saw 300 runners on the start line of the 2022 edition. Amongst them, Richard McDowell and Samantha Amend, the male and female winners of this year's event. 
Starting at the Shoulder of Mutton pub in Wendover, runners have 11 hours to cover 43-miles of mixed terrain, in mid-winter conditions, before crossing the finish line in the heart of London at Little Venice, Canal Basin. 
Simon Hollis, Race Director at GO Beyond Challenge, spoke with Ultrarunner Magazine, to discuss this year's race and offer some top tips to runners thinking of signing up for a Go Beyond Challenge Ultra event! 
"Be prepared to be a part of something special!"
"This year was our first fully tracked and interactive race, so friends and family were able to follow the progression of the runners during this edition. The route is Waymarked, though some self-navigation is required. We have always offered our runners a wealth of material to study and familiarise themselves with ahead of race day. However, this year, we introduced GPS tracking, which added an extra element of safety and made the race more enjoyable for our runners and their supporters".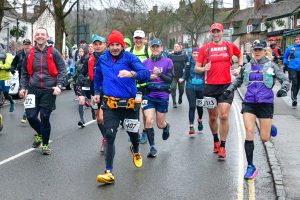 "Our philosophy as event organisers is that we can always do better, and continuously, that is what we strive to achieve. We listen to our runners and their experiences, and we use that to enhance all our events. This was our first fully tracked edition, but it is something that we hope to roll out across all of our Ultra challenges".
"This year, as usual, we had five checkpoints along the route, fully stocked with water, sweets, and sugary goodness, in addition to fruit and our famous Go Beyond Challenge cake! During Covid, much to everybody's disappointment, restrictions did not permit a home-baked cake, but this year, (sigh of relief) … she was back!". 
"The Go Beyond Challenge cake is the best fruit cake you have ever eaten in your life, made by a lovely lady who lives close by and is highly sought after by our runners. I have received emails of concern over this cake and many recipe requests, but that is top secret information". 
"In terms of ability, the Country to Capital Ultra is a great race for every level of athlete. This year's winner, Richard McDowell, came in just under the course record set by Luke Delderfield in 2019 (04:56:35:)". 
Richard said of his race, "It was as much a mental battle as it was a physical one. A solid thumbs up for a very well organised event, which I would highly recommend to both experienced Ultrarunners and first-timers".
"With eleven hours to complete 43-miles and a route packed with interesting, and mixed terrain, the Country to Capital event is a good race for beginners to learn on and explore the world of Ultrarunning. Simultaneously, the course provides a real test of speed and strength for the more advanced athletes to take a bite of!".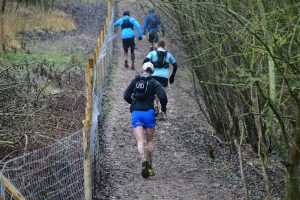 This year's female winner Samantha Amend reported that the Country to Capital Ultra 
"was a fantastic mental and physical training challenge for the racing adventures to come".
Top tips …
"Take a moment to take it all in! When you are out there, don't forget to pause, just for a while, and absorb the environment and landscape around you, especially in those tough moments, after all, that is why we do this!". 
"Our events have community at the heart, and that is what makes them so special. The comradery is never lacking and the intimacy is almost tangible! Come prepared to be a part of something truly special" 
Why not enter the 2023 event which I know Simon is going to make this one an extra special event. Keep an eye out on their Facebook page. Enter here.
Interview by Alex McMunn
Written by Sophie Hunt.