The coast to coast Wainwrights route is a 182-mile long-distance trail in the North of England. Packed with beautiful scenery and plenty of ascents, the route stretches from St Bees, through the Lake District, the Yorkshire Dales and the North York Moors to Robin Hoods Bay.  Ultrarunner Magazine caught up with Sarah Perry about her incredible coast to coast journey!
Sarah Perry, a primary school teacher from Yorkshire, has been running on and off since her own school days and now loves to use her free time to run with her partner and dog in beautiful destinations over the weekends. Although she sees herself as 'just a fun runner', she has built up her distance and has found a love for ultra running by expanding her mental and physical limits by pushing the boundaries further each time she takes on an event.
"I'm motivated by my own drive to see what I can do".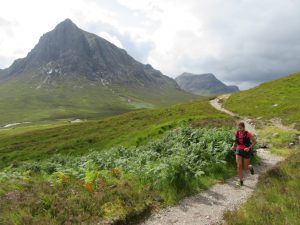 Sarah was looking for a new long-distance challenge in lockdown since there were no races available due to Covid 19. As the travel restrictions in the UK were in place at the time, she decided to take on The Wainwrights 182 mile Coast To Coast route. Since the route was 40 miles more than she had ever run in the past, she thought this would be the best option for a great challenge in terms of both distance and terrain. She recalls having spent a lot of time on holidays, walking with her parents on lots of different parts of this specific route when she was younger and said it had a very nostalgic feel to it both in planning and running.
The initial idea was for her and her partner, Luke, to run it together but as he was nursing an injury he decided to become her crew and drive the van instead. She said that besides Luke, her other crew members and pacers were also ultra runners so they knew how a big attempt felt and what to do when times got tough which was a huge bonus.
Since she was so happy with her choice of support, there was a peaceful sense of mind knowing that she was able to hand the plans over to her team and just focus on her running. When telling me about them, she said "I think support crews get the harder job, honestly. Sitting around, driving and staying awake for that amount of time. They really deserve the medals".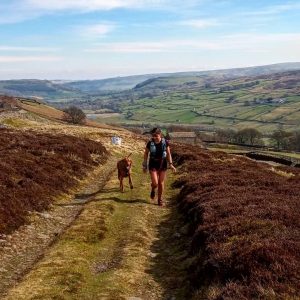 Having previously struggled with sleep deprivation during an ultra Sarah decided that for the Wainwrights attempt, she was able to bank some sleep in the week leading up as she planned it to be within the Easter holiday.
Her efforts paid off and on the morning of the attempt, she was feeling confident with her abilities, excited and eager to get going as she knew this was a beautiful route. Sarah ran most of the route with her friend, Adrian and later Luke took over for the final leg. She said it was nice to have people around her to keep her company and chat to, it kept her spirits high.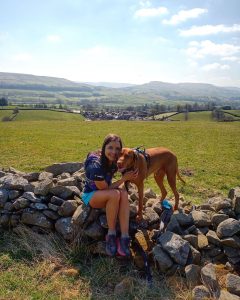 "Make sure that you are making the best of everything because you have dragged people out to help you."
Fuelled by a choice of pot noodles, chia charge bars and chocolate-filled pancakes, Sarah said despite wanting things that she doesn't normally eat, she felt that she did a good job with eating between legs as well as on the go because had enough energy to push through the 182-mile run.
When asked about her struggles during this epic run, she recalled some hallucinations on route! She reported that despite knowing they weren't real, she remembered seeing lots of sheep (which on closer inspection were actually daffodils) on the road, specifically at Littlebeck.
In addition to her own hallucinations, while Luke was pacing her on the last leg, he was also seeing sheep! He even tried to stroke one but it turned out to be a large grassy mound. She also mentioned a point in which she had taken a wrong turn, the wind was howling and she felt bad for her pacer, Adrian, who ran the majority with her. This was mostly due to her own self frustration.
Luckily, I am good at breaking the struggles into smaller sections and I am able to push through them knowing the next positive moment isn't so far away.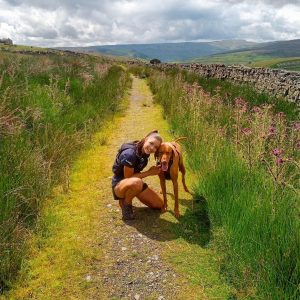 When talking about her highlight from the journey, Sarah said;
"My highest point during the run was coming down from Glaisdale Rig, it was stunning as the sun was setting on the third night. I could just see the sea, which meant the end was in sight and Luke brought our dog to meet me. It was a wonderful moment".
Her finish was a bit of an anticlimax because it was during the night so there was a distinct lack of people but she was happy to have the support crew around her. Despite finishing at night, she said "The silver lining was that the tide was right in so I didn't have to walk far to throw my pebble into the sea". The tradition for this route is to pick up a pebble at the start, carry it across the country and throw it into the sea at the other side which of course, she did!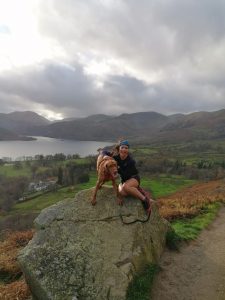 She recalls that the end felt a little odd because;
"you get to what you think is the finish, but since Wainwright wanted to make the route beautiful, you have to take a turn and go the long way around".
This was a mentally tough point for her, the only thing to be done was to get her head down and finish which she did in an incredible fashion with Luke by her side!
Interview and article by Rachel Grant