I put the new TORQ Explore Organic Black Forest Flapjacks and Cola Caffeine Energy Drink to the test.
I'm currently training multiple times a day for an upcoming running challenge and so when TORQ released these new products, it was a great time to introduce them into my nutrition plan and see how they impacted my sessions throughout the week.
Beginning with the Explore Organic Black Forest Flapjacks, I knew after the first couple of times eating them as fuel for my third or fourth sessions of the day that I was definitely going to continue using these in my nutrition plans. I would have one around 20 minutes before a run, and by the time I headed out, I felt satisfied and energetic. I usually wouldn't have any specific snacks before a run and would just rely on my previous meal, so I could really notice the difference.
My favourite has to be the new Black Forest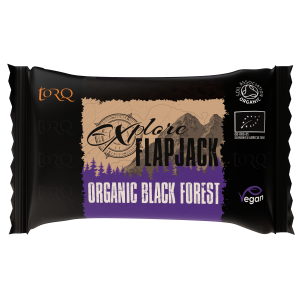 With each flapjack, you get 263 Kcal's with 43g of carbs, which certainly assists with maintaining energy levels during a session. There's a huge range of flavours including Bakewell Slice, Apple Strudel, Ginger Cake and more but my favourite has to be the new Black Forest and as a plant-based runner, it's great to see more organic vegan products available. The taste is vibrant and sweet and the texture is made sticky by the golden syrup coating.
Overall, the new Explore Black Forest Flapjacks are a great tasting product that for me were easy to digest on the move, and they certainly provided the energy I needed on those multiple-session days.
I was running faster and with more awareness of my movements and form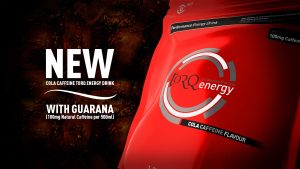 As for the Cola Caffeine Energy drink, this was something that I personally was a little hesitant to try. I don't drink coffee, and usually, avoid products with caffeine simply because I found that I'm quite sensitive to the effects of caffeine. However, this product has changed my mind on that front. With each 500ml serving, you are provided with 100mg of natural caffeine derived from Guarana Extract, alongside 5 key electrolytes and 30g of carbs. 
As I mentioned, I used these products during a training period that had me running up to four times a day, and so introducing this energy drink made a huge difference to my performance, both physically and mentally. I began with just using half of the recommended amount to account for my caffeine sensitivity, and that was enough for me to just simply not feel as tired and groggy as I usually would during my fourth run of the day on a Sunday evening. I was running faster and with more awareness of my movements and form, and overall had a very positive experience with something I had avoided for so long.
In conclusion, as someone who doesn't often use additional fuel sources aside from full meals and snacks like fruit, I found that both of these products had a positive impact on my physical and mental performance. They both tasted great and didn't sit in my stomach like my usual peanut butter and banana wraps, so I will be continuing to use them and recommend them to anyone who is seeking new sources of fuel.
To purchase the above products can be done by clicking here
You can also find out more about the products by clicking here
Test and review by Alex MacDonald