In this series of articles for Ultra runner magazine I plan to highlight to you the runner what a number of well known and not so well-known sports nutrition brands produce for us ultra-runners.
I understand nutrition is a very personal thing and involves a lot of trial and error at times but hopefully I can highlight a few things out there that you may not know a lot about and remind you of a few favourites you may have forgotten about.
In each article I will look at:
Who the brands are and what their philosophy is?
The products they produce.
A real review of how I found them after being in my pack for a few miles!
Mountain Fuel
First off is a well-known brand Mountain Fuel.  Let us start off with who they are and their philosophy.
The company is based in Keswick in the Lake District and their philosophy straight from their website is:
"We aim to provide the best sports nutrition requirements and advice for you as an individual. We simply do not believe in the 'one fix for all' approach. We believe that good nutrition is key, focusing on a well-balanced, healthy diet that ties in with your specific exercise and training regime, with additional supplementation to help you reach your end goal.  'Food first, supplementation second. "
Anyone who has listened to one of the podcasts featuring the owner Rupert Bonnington will have felt his passion for not only the brand but also producing quality products that are suitable for all.
Mountain Fuel have an active presence on social media and are only too happy to answer your queries.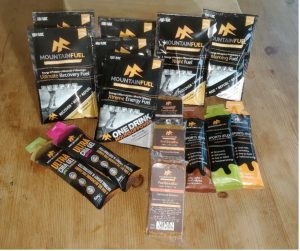 The products
Mountain Fuel do a complete system of products from the night before a race or long run, right through the day to your recovery at the end.
I purchased a taster box to allow me to try all the products but for this I am going to focus on the ones I have personally used, these are:
Morning Fuel –
Sports Jelly (Lemon & lime, Orange and Cola)
Feel good bar (Double Ginger, Turmeric & Orange, Date)
Xtreme energy fuel (blackcurrant, Tropical)
Ultimate recovery fuel (Chocolate, strawberry)
Morning Fuel – this is a 35g sachet of oat powder, whey protein and other good stuff that you either mix with around 350ml of water to make a shake or mix with around 75ml of water to make a porridge to have pre-run.
I have found making this into a shake is a great approach for breakfast when you are short of time or if you are one of the people who cant really eat much before you run.
I have used this on long runs and have had it half an hour before running with the other cornerstone of nutrition – Yorkshire tea and not felt over full but also not hungry.
One thing to point out is that you need to shake well to ensure you get all the good 'bits' and drink straight away.
Sports Jelly
These look like normal gels but please don't call them gels as they are not and Rupert will quickly tell you so!
Each 60g sachet gives you 20g carbs and 82 calories and contain electrolytes.
In use, the consistency is not as liquid as other gels and not like a block of jelly (Clif Bloks style), they are easy to eat and taste really good and don't leave you gasping for water to wash the taste out of your mouth.
I have used the orange when feeling sick and they have managed to stay down when another well-known brand did not!
If you use caffeine on your runs and love flat coke then the cola jelly may be the one for you, it has 30mg of caffeine per 60g sachet and will transport you back to the taste of Rola Cola!
If you don't get on with other gels, then Jellies are well worth a look.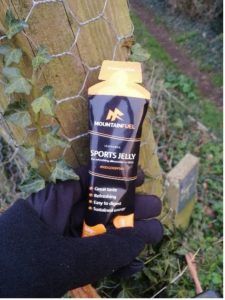 Feel good bar (Double Ginger, Turmeric & Orange, Date )
These are bars that look like a flapjack but as the packaging states they are "more than just a flapjack".
They come in 3 flavours, are vegan and each 80g bar packs between 350 and 373 calories with around 5 grams of protein as well.
I was always a bit dubious of these as I had visions of them falling apart and generally being a pain to eat on the move, however I was wrong and they stayed together well in my pack and were also easy to chew.
I ran a pleasant few mile on the trails fuelled by these and never felt uncomfortable.
My favourite by a country mile is the double ginger and if you love a ginger nut biscuit these are the ones for you.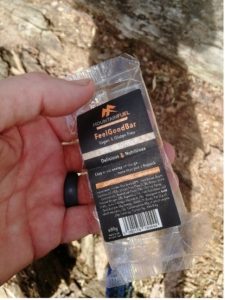 Xtreme energy fuel (blackcurrant, Tropical)
Like most ultra-runners I heard about these magical nutritional fuels a few years ago and I have realised through experience, that everything in moderation is the best way forward and have come to use these during longer events or when it's really warm.
For me I would dilute these supplements to the upper ceiling of what they recommend (750ml) for no other reason than I don't like them too strong and if you just tip a sachet in a 500ml or 600ml bottle it's just too much!  All personal preference.  The kids always moan I make squash too weak!!
My own preference is for the tropical one, which has a great taste and is easy on the stomach.
Each 50g sachet gives you 179 calories and 39 grams of carbs.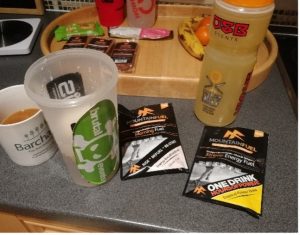 Ultimate Recovery Fuel (Chocolate, strawberry)
Now, everyone loves a recovery shake and there are so many out there to choose from, this one however is not just pure protein it has a mixture of protein, minerals and vitamins to really aid recovery and has been created as all the products for endurance sports not just muscle building.
The strawberry one is nice enough, but the chocolate is easily my favourite. It mixes well and tastes delicious.
A shaker with around 400ml of water and a sachet of this combined with a packet of McCoy's salt and vinegar crisps is a great after run treat!
Each 50g sachet gives you 167 calories, 31g of carbs and 11.5 grams of protein
Overall Verdict
I found the Mountain Fuel products easy on the stomach, easy to carry and great tasting.
The products are well packaged, clearly labelled and for you elite guys they are all batch tested.
If you head over to the Mountain Fuel website there are some other products and some interesting nutrition guides for different sports.
On a personal note, I am really pleased to have the jellies in my pack and a sachet of recovery fuel waiting in the van for me!
Keep safe and hopefully I will have some more products for you to see from a different company very soon.
Article by Jez Willis for Ultrarunner Magazine