Looking online I decided to try out a size UK 9 EU 43 which is half a size up my usual size. This was recommended by the La Sportiva team due to the toe box width. If you want a little extra room in this area I would highly recommend going a full size up as the toe box does feel a little tight. On receiving the item I was super happy with how light they felt. Weighing in at 300grams put this trainer up against the best trainers out there. 
 Upper
I found the shoe to be breathable with a lot of overlays which add to the durability with a mesh front. There is a gusseted tongue that I like as it kept the debris out and a solid toe bumper that I find beneficial as I do tend to kick objects with my toes as I become fatigued during a run. 
The laces were soft and the right length for me to secure a good lockdown. The heel collar was stiff but didn't cause me any discomfort or rubbing which is great as this trainer but they did feel really firm, to begin with. After the break in period that all changed and this trainer started to really impress me.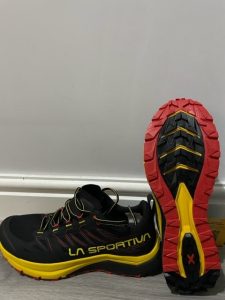 Midsole
On my first 8 miles, the midsole felt really firm to what I am used but I still felt I had enough cushioning to support me on my longer runs. The sole was super responsive with enough protection for longer distances.  After running a total of 40 miles in them I can conclude the midsole has softened and feels great underfoot from road to trail.
Outsole
Looking at the 3mm multi-directional lugs I was initially apprehensive as they look very shallow. My fears soon disappeared as I ran through every surface on an 8-mile run (road, woodland, mud, rock) and not once did I have a problem with traction. They were excellent and gave me confidence on slippy descents to push the pace.
 Ride
The shoe felt firm and stiff with a low profile that lets you feel connected to the ground after my first initial run. There wasn't a feeling of any bounce in the shoe and they didn't feel fast. They were good at absorbing impact on rough terrain and the rock plate was noticeably giving you underfoot protection. Update after 40 miles and the ride is totally different giving you a comfortable underfoot feeling and I felt more confident to push the pace and a superb ground feel with your foot feeling locked in.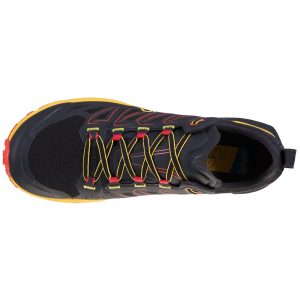 Conclusion
The Jackal is a well built and robust shoe that will allow you to run hundreds of miles in them. They feel closely connected to the ground and offer adequate protection. They don't have that step-in comfort feeling in them straight away due to the firmness at first but I'm not sure that is what trail shoes should feel like as you want to feel the underneath. They do require a break-in period of at least 40 miles and they then feel a different ride, one that I thoroughly enjoyed. The sizing is something to be careful of as they do run short.
I went a half size up from my normal size trail shoes or a full size up from my road shoes. This depends on the brand. They have a handy sizing chart on their website that I fully recommend you look at before purchasing. I would conclude that they are for a normal foot shape if there is such a thing as they do fit snug on your foot. I would recommend this shoe and I intend to run my next ultra in them around lake Windermere.
If your looking to purchase a trainer that can handle the rocky stuff then the Jackal might just be for you. For further details click here: 
La Sportiva description of the Jackal:
Jackal is the mountain running shoe dedicated to off-road running over ultra distances and for training long-distance workouts on medium distances thanks to the exceptional cushioning guaranteed by the innovative Infinitoo™ high energy return technology. Every detail, from the uppers to the sole, is designed to enhance the comfort of the foot over long distances: wide, comfortable fit designed for use in ultra-marathons, comfort fit, enveloping and soft elastic tongue for maximum freedom of movement with internal bellows to protect against stones and mud. The lacing sees the loops incorporated directly into the side panels of the uppers: a solution that facilitates the adaptation of volumes during long distance runs in which the foot tends to swell. The lateral Net-Mesh promotes ventilation and climate comfort. The heart of Jackal, however, lies in the innovative EVA sole/midsole package with internal cushioning pads in high Energy return polyurethane Infinitoo™ Technology. The front element increases the cushioning, the rear insert contributes to the stabilization of the run. The midsole also incorporates a high-density EVA Rock-Shield for a more stable run with rock-guard effect. The Frixion Red tread with differentiated Impact Brake System lugs and longitudinal FLEX grooves enhances the flex of the sole along the fold lines. The lightweight, shock-resistant, thermo-shaped toecap contributes to the overall lightness and protection of the shoe while the dual compound FriXion Red sole guarantees maximum grip and durability. A concentration of technology inspired by those who run in search of their own limits and in search of themselves. Jackal: find your ultra.
Tech Specs
Uppers:
Sandwich mesh (toe and tongue) + thermo-adhesive TPU reinforcements + side panels in mono-burr Nylon + Lycra® cuff
Lining:
Abrasion resistant micro-fiber
Footbed:
Ortholite® Ergonomic
Midsole:
EVA with polyurethane Infinitoo™ Technology + rock-shield in high-density EVA + additional internal cushioning platform
Sole:
Dual compound FriXion® Red with lateral IBS lugs
Weight:
300 g (half pair)
Article by Neil Toner
.