On the 23rd of March 2020, the world paused and braced itself for the "biggest threat we had faced in decades" our imaginations were left to wander every eventuality. However, one thing that was unforeseen in the beginning, was the true scale of the impact that the global pandemic would have on our mental health.
Deemed a mental health emergency by the charity Mind, the pandemic saw a 62% increase in adults reporting anxiety. One in four people reported struggling with loneliness and there was an alarming surge in the number of adults reporting feelings of hopelessness and/or suffering with suicidal thoughts (view the full report here).
Great Britain Trail runner and founder of TRS Training, Kyle Greig, along with his partner Debbie, became aware of the challenges that people were facing consequent of the pandemic. Concerned for the well-being of the community, Kyle and Debbie decided that it was time to put aside their personal training goals for a while, and instead focus on the running community at large, creating a race series, aimed at bringing people together, helping people to stay motivated and boost mental health.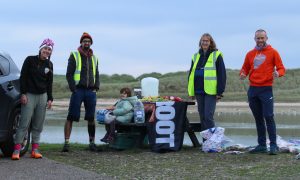 The couple focused their efforts on race directing as they designed the Moray Way Ultra series, Kyle told us …
"We created The Moray Way Ultras Series during Covid as a way to give back to the running community and encourage people to keep training and venturing outdoors, as there were too many stories about people struggling with mental health issues and stopping training because they had no goals anymore.
"My partner Debbie and I felt their pain because I am a runner, at a top level (top Brit for Team GB at the 2016 World Trail Running Champs), and Debbie is a professional triathlete, so we changed our goals from aiming for a race to planning a race with the challenge of putting it on around all the government restrictions".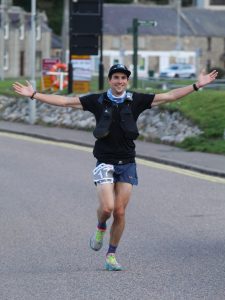 "Our trial race was the Speyside Way Classic race in 2020, which was very tough to plan at the height of the pandemic and its restrictions, but runners all seemed thrilled to have anything to train for".
"We did it in waves and were very strict with aid station rules and finish line rules. We took what we learned from the race and – as athletes constantly striving to be better – thought, why not make the full Speyside Way distance and add a 100km race to the original, that has been literally running for decades. And then the Moray Coastal could be 50miles, another great distance for an ultra-runner to tick off".
The benefits of exercise on mental health have been well-established, with further data on the positive impact of belonging to a community and getting back to nature.
What better place to combine endorphins, community spirit, and trail therapy than on the stunning Dava Way in Scotland!
"Recognised as one of Scotland's Great trails the Dava Way winds its way from sea level on the Moray Firth to the Dava summit at 1050 feet", taking in a blend of "farmland, woodland, and moorland with views of the Cairngorm mountains, on a clear day!" (Dava Way.org)

Kyle told us, "I am from Forres and am in love with the trails up here. Not enough people know about them, but you can get from the mountains to the sea in just 22 miles (Dava Way), go over coastal trails where you can see dolphins while running through coastal forests (Moray Coastal trail), or follow the River Spey on a disused railway line with so much history, through whisky country (Speyside Way). Put 3 together and you get just over 100 miles of so much epic breath-taking scenery Scotland has to offer!".
"The Dava Way 50k is a phenomenal runnable route which is a great transition to ultrarunning from road running and marathon running, and then the true nutters can add them all together for the summer Moray Way 100 race, tackling all routes that join in a sort of triangle formation".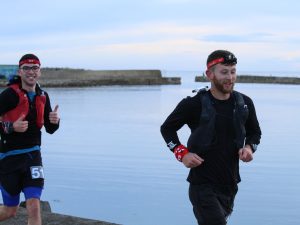 The Moray Way Ultra race series includes: the Moray Coastal Trail 50, the Moray Way 100, the Speyside Way Ultras and the Dava Way 50km, "this is a series where runners can tick off a 50km, a 50 miler, a 100km and a 100 miler", said Kyle.
Kyle added, "We also wanted to accommodate all runners in 2022, so have added a relay (the Moray Way 100 Relays) format. Up to 4 runners per team, run 3 times each in the 24-hour cut off period to achieve the full Moray Way 100 distance. As long as you can cover 18km in a 24-hour period, you can take part!".
The Dava Way was an incredible success and proved extremely popular with the runners who took part, sharing his experience James said …
 "The Dava way training was something that kept me focused when I had the potential to derail. It's been a tough 18 months for all, and personally I have experienced true loss for the first time. My perception on life has been flipped around and left not knowing answers. Being perceived as a fixer person for so many, I needed fixing myself. The training, the race day experience, the whole process of using running for far more than just running had never been so important".
We gathered at the school. Kyle introduced the signs we were looking out for. Yellow and black, purple, and white and red and white. What could go wrong. The race brief was brief "if you haven't watched the video watch it in the first 2-3km" … that's what makes the racing ultras so pleasant. Safety was in no way compromised as a brief then took place but the easy and reassurance from Kyle and Debbie over the whole course of the events has been warm and all encompassing. Racing from runners for runners.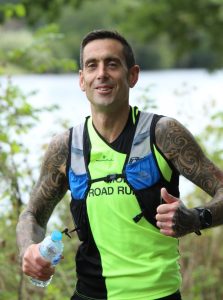 "Thank you, Kyle and Debbie, – great race, great atmosphere and great passion for running that spread across all the runners who attended".

"Life is short, do what you love, love what you do. Appreciate the journey you're on, this race was merely a station on my journey. I won't forget the journey on the Dava Way". (You can read James's full review by clicking here)
'Marathon runner and aspiring dinghy sailor', Neil Mapes noted that …
"The organisers trailed the event for some weeks on their podcast and a week out from the race, there was an email inviting me to attend a live Q&A webinar race briefing. That was a first for me and a nice modern twist, making sure all runners were prepared. Getting to meet and hear directly from the race director a few days ahead of the event and with a fairly reliable weather forecast enabled all the runners to get to the start line as prepared as they could be".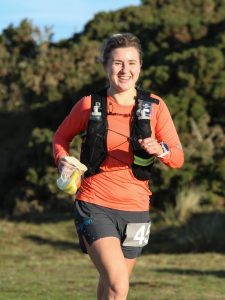 "There was a cruel hill added in the final mile as we headed up Nelson's tower in Forres before the relief and elation of the finish line at Grant Park. Along with the assembled families, friends, and supporters were Kyle (and his partner Debbie) with a beer ready for every finisher and a nice large wooden medal. Much to my utter surprise, I had run a negative split including a glorious section of running between miles 21 and 28. Not only had I run pretty much the whole way bar a few farm gates, aid stations, and the hill up to Nelson's tower, but I had loved it!". (Read Neil's full review here).
While the global pandemic of 2020/2021 was a time of great trepidation and loss, it was also an era of discovery. As the clocks became irrelevant, we were granted pause to re discover our passions, try new hobbies, and explore our interests. And with a record number of people lacing up to hit the roads and trails (some for the first time!) running became a vital part of our healing journey as a nation. Kyle concluded,
"We started the series to bring the community together during a very troubling time, and it seems to have taken off. We want 2022 to be bigger and better! We genuinely believe this is some of the best scenery in the country, if not the world, and would love the Moray Way Ultras to turn into an international event".

You can sign up for any of the events in the Moray Way Ultra Race Series by clicking here.

Written by Sophie Hunt.