On the 23rd of March 2020, the world paused and braced itself for the "biggest threat we had faced in decades" our imaginations were left to wander every eventuality. However, one thing that was unforeseen in the beginning, was the true scale of the impact that the global pandemic would have on our mental health.
Deemed a mental health emergency by the charity Mind, the pandemic saw a 62% increase in adults reporting anxiety. One in four people reported struggling with loneliness and there was an alarming surge in the number of adults reporting feelings of hopelessness and/or suffering with suicidal thoughts (view the full report here).
Great Britain Trail runner and founder of TRS Training, Kyle Greig, along with his partner Debbie, became aware of the challenges that people were facing consequent of the pandemic. Concerned for the well-being of the community, Kyle and Debbie decided that it was time to put aside their personal training goals for a while, and instead focus on the running community at large, creating a race series, aimed at bringing people together, helping people to stay motivated and boost mental health.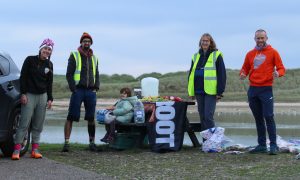 The couple focused their efforts on race directing as they designed the Moray Way Ultra series, Kyle told us …
"We created The Moray Way Ultras Series during Covid as a way to give back to the running community and encourage people to keep training and venturing outdoors, as there were too many stories about people struggling with mental health issues and stopping training because they had no goals anymore.
Support the whole team who put all this together
This is premium stuff! Subscribe from ONLY £3.99 for ALL online content!.
Login if you have purchased
Subscribe
Get right to the heart of ultra-running featuring interviews and podcasts with world class athletes, extraordinary race directors, ultra-running coaches, nutritional experts and in depth race reviews from around the globe!
Get your access now
Read this Article
If you've pre-ordered your Ultra Runner Mag you'll have access to 5 Articles whilst you wait for it to arrive.