Laura Hutchinson assistant race director of GB Ultras gives us this honest review of VOOM Nutrition's latest bars. But before we do let's give you an insight into who VOOM Nutrition are.
"We have been on a two-year mission to provide a tasty, portable and stomach-friendly alternative to sports gels, with twice the energy and zero mess. Drawing on core expertise from 20 years working in nutrition product development, we considered the key areas of palatability, portion control, energy delivery, stomach comfort and handiness. In short, we wanted a highly functional product that was enjoyable to use. VOOM Pocket Rocket energy bars deliver on every level." -VOOM Nutritions vision.
The Review
I was given the opportunity by Ultra Runner Magazine to put a variety of VOOM Nutrition bars to the test over the last few weeks. I received the beta blast, electro energy and caffeine kick bars. They come in bright clear packaging with clear instructions on when the bar should be used throughout your run and the benefits you should receive from each one.
This was great from a grab and go point of view and not having to read through a leaflet or website to see what I needed to do.
One major issue I have on runs is tummy trouble, especially just before setting off so I was a bit cautious when it came to trying the beta blast. 1 bar is to be eaten 15-20 minutes before you start as a pre-workout. I found this quite difficult, the flavour of the bar was great, a nice orange flavour, however, I struggled with the texture and felt it was quite heavy and thick and I found it quite difficult to eat a full bar before my run, especially early in the morning.
That said when I had eaten it, I felt energised, focused and ready to go with no tummy issues once I'd set off.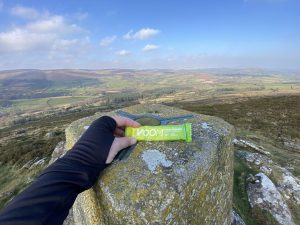 The electro energy bar is to be taken during a run, it is 1 bar sectioned into 4 segments. It's caffeine-free and has 40g of carbohydrate and 100mg of electrolytes. With this bar, you're to eat one segment every 15 minutes and one full bar is equivalent to 2+ gels. I like this bar, it had fresh lemon and lime flavour and although the texture was the same as the beta blast it was by far easier to eat 1 segment every 15 minutes than a full bar.
I had no tummy issues after eating them and I felt the energy injection as I munched my way through the bar. I think this bar will make it into my nutrition plan on a regular basis.
The Caffeine Kick is for when you need that extra boost in the long run, with 175mg of caffeine and 100mg of taurine a boost it certainly gives. I felt more alert soon after consumption and felt it helped give me the push I needed to continue. The berry flavour is fruity and strong but not overpowering and the bar was generally easy to eat and left a pleasant aftertaste. But, as with the beta blast, you're to eat the full bar in one go and with the texture and consistency this took me a little longer than it probably should, although I'll do anything for a good walk break!
Overall, I was happy with the bars they are a great size to fit in a small pocket and the packaging is robust enough that they don't split open when moving. They are not sticky which was a huge plus for me, there's nothing worse than having your fingers keep sticking together thanks to your nutrition exploding on you, nor do they get stuck in your teeth. Other added benefits are that they are Gluten Free, vegetarian and Vegan so they're suitable for a broad range of diets.
To purchase or for more details on VOOM products please click here.