After a realisation that the dreams she had chased were not feeding her soul, Rachel embarked on a journey with Yoga, teaching others through the practice that had helped her since she was nineteen years old.  Leaving her job in publishing during her mid-twenties Rachel Walsh pursued a new career in teaching yoga.
Later, partnered with the phenomenal ultra-distance runner, Ellis Bland, Rachel saw the correlation between the two sports and identified how Yoga could benefit the Ultrarunner. Rachel stopped by to share her thoughts and tips with Ultrarunner Magazine!
"Though it may not be obvious at a first glance there is a correlation between Yoga and Ultrarunning. Being in the solitude of the fells, with yourself and your breath, placing one foot in front of the other as you travel through the landscapes, it mirrors the experience on the mat. The missing component is that ultrarunner's do not necessarily link the experience with the esoteric, while a Yoga practitioner knows that it is because that is how we understand this ancient spiritual practice".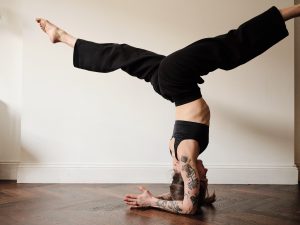 Yoga originates from Hindu philosophies, rather than being based on any religion, Yoga is an idea, a concept. Often, people are quite surprised to learn that Yoga is a spiritual practice as it is sometimes misunderstood as a 'stretching exercise', which it is not! In fact, Yoga is quite a poor form of stretching.
Yoga is about following the breath. We start by concentrating on the inhale and the exhale for a 60-minute session, and with consistent practise, we can form much more than a habit of conscious breathing, and there we drop from concentration to meditation.
"Once we are meditating and moving, that is when we are on a path, the goal of meditation is enlightenment, and while it may take many decades to get there (or longer) that is the spiritual element of a Yoga practice. Though, you needn't be spiritual in order to practice or to feel the benefits of it!"
I teach a few different styles of Yoga; Vinyasa, Yin and Rocket. The latter is the more acrobatic kind, entailing a lot of handstands! This style of Yoga is the one that most ultrarunner's look at with their tight shoulders and tight arms and think, no, thank you!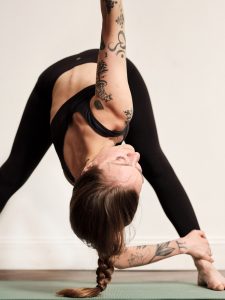 Most ultrarunners tend to lean towards Vinyasa style Yoga because they are used to moving their bodies for large periods of time, though the poses might be challenging, the constant movement of the body for one hour is not, when you are used to running 10 hours or even days at a time!
"Vinyasa means 'breath with movement', (often referred to as Flow Yoga), in this style of practice each inhale and exhale is accompanied by physical movement, for example, inhale and lift the arm, exhale, and drop the arm. Vinyasa can be very energetic, very aerobic, or very slow and is probably the most commonly practiced style of Yoga in the West".
At the other end of the scale is Yin Yoga, which unlike Vinyasa isn't related to Indian philosophies but rather Chinese. This style of practice is less about the breath and more about holding poses for longer periods of time in order to lengthen connective tissues, it is very deep work. While it is not a workout in any traditional sense of the word, Yin yoga can leave you feeling as though you have done a few rounds in the boxing ring! Yet, it is a very supportive practice (most poses are done lying or sitting down) and the benefits, both physically and spiritually, are immense!
"Yin Yoga is probably the most challenging style of practice for the ultrarunner to undertake as it involves stillness, little movement and holding poses for up to five minutes that may be alien to the body. My experiences with Ellis have taught me that ultrarunners don't do very well at sitting still for long periods of time!".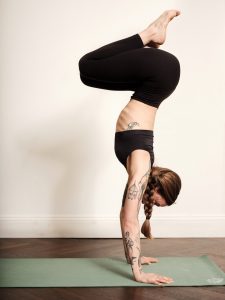 We can look at the benefits of yoga to the ultrarunner in two different ways. Firstly, not just long-distance runners, but runners in general, tend to move forwards, generally speaking, and so that is where their mobility lies, in putting one foot in front of the other and powering their arms. I have noticed over my years of teaching that runners and cyclists as well, have very little flexion (very little side bend). When we run, we look to compact the body and so there is an inability to lengthen it, in that respect Yoga can help to correct that, as well as open ourselves out, improving our ability to inflate the lungs and control the breath.
"An Ultrarunner could find a stretching routine that would help and benefit their running and performance, they do not need to necessarily undertake a Yoga practice, however, if they do, there is a double benefit to be reaped!"
What I have observed with Ellis (and bearing witness to crazy long-distance running!) is that ultrarunners tend to miss a stillness because running is quite the opposite of it! When you run the mind moves with the body, it can be quite confronting. When Ellis has practised Yin style Yoga, he has reported having had experiences that he did not know where possible, feeling the calm, quiet and grounding effects of Yoga on the mind, body and spirit, it's not something that he would get anywhere else outside of Yin Yoga practice.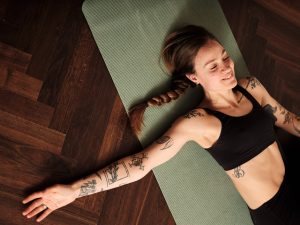 Over the years my yoga practice has been my constant. I have watched my body grow strong and I have moved into a space where I am entirely comfortable in my own skin, and without Yoga, I might have never reached this point. When we utilize our bodies, we gain a huge appreciation of it and through Yoga I have been enabled to banish the body hang-ups!
"Practice in all is coming", albeit a really cheesy motto, it holds great truth. To me, this means the evolution of self, strong by mind, strong by body! Yoga is a grounding practice that leads us to discover who we truly are, beyond the conditioning of who society says we should be. Yoga is an awakening!"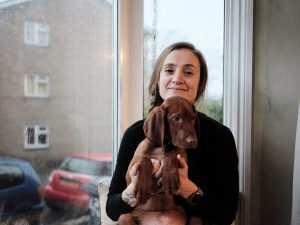 The self is a constant evolution, a path that will never be smooth sailing! Yoga has been a vital tool on my journey of self-discovery, physically and otherwise. The lessons that you learn on the mat are the lessons that help you out in the 'real' world, the teachings reflecting everything outside of that space.
When you can drop into a sense of constant meditation you really open your eyes to who you are and the world around you, consciously able to strive to be a better version of yourself, and if we can all do that, we can live in a better and more conscious world. Yoga has many benefits for the ultrarunner but I would recommend it for every individual out there, runner or otherwise!
Interview by Rachel Grant
Article by Sophie Hunt