The weather report hadn't been looking good all week.  It was the end of October after all, and mid-week we had the sort of downpour that would have made Noah nervous.  As usual when I have a race coming up I was checking the forecast daily, and mentally adjusting what kit I planned to use.  This however, was the first I'd ever had to plan for 2 races in one day…
Earlier this year it was announced that Cornwall Council were not renewing the lease on the United Downs Raceway, our local track which has been the home to go-kart, stock car, and banger racing in Cornwall since the 1960s.  As such, the track was due to close and the local news started to report that plans were in progress for developers to move in and build a rum distillery and "visitor center" on the site.  In protest and to raise awareness of the issue, 2 local runners (David Andrewartha and Gino Crawford) ran laps around the track for 10 hours (1 hour for each of the 10 years of lease the council reneged on!)
When David announced later that he'd be organising (he's the RD for Bys Vyken Events, well known in Cornwall for putting on excellent and slight a 24 hour race around the trackly quirky races) on the weekend of the final ever track meet, it was a no brainer: I had to do it.  There was only one problem – I had already organised a team from my karate cub to run the Kernow Killer (a very muddy 10 mile obstacle course race) the same day!

Not to worry, the track race (dubbed the UDR 24) was going to include the option to run for either 12 or 6 hours instead I could do the Kernow Killer, and have a few hours to eat and rest before doing the UDR 12 – how hard could it be?
Despite the ominous forecast and torrential downpours from earlier in the week, we awoke to a bright and sunny Saturday morning.  The forecast looked pretty decent for the rest of the day, although with a weather warning for the evening with heavy rain and 40+ MPH winds predicted.  Oh well, I figured I'd cross that bridge when I got to it, and at least it looked like we might get a few hours of reasonably pleasant weather before it turned bad.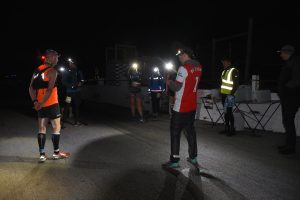 A quick breakfast, drop the kids at the in-laws, and my wife and I arrived at The Kernow Killer in plenty of time to meet the rest of the team before our 10:45 wave start.  The sun was out, and spirits high, and we were even treated to a huge double rainbow in the sky as we warmed up to get started.
While I've done other "Tough Mudder" style OCR events in the past I'd never done the Kernow Killer, but I had a good idea of what to expect: lots of things to climb over, crawl under, clamber through… and lots of lots of mud!  The heavy rain earlier in the week had certainly raised the water levels, in fact I estimate we spent about a quarter of our time on the course wading through mud or muddy water ranging from ankle to waist deep, in addition to the water obstacles themselves.  While it was a lot of fun (these type of obstacle course runs always are, especially when you do them with a group of friends) the sheer amount of water on the course not only slowed us down, but it also made us cold.  After 4 and a half hours of climbing, crawling, wading, scrambling and shivering we eventually made it to the final obstacle and collected our medals.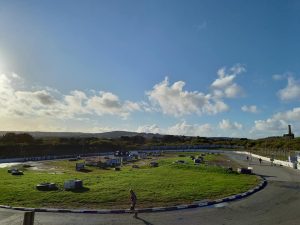 Now of course the usual way to celebrate finishing a race like this, the sensible way to celebrate, is to get changed into some warm clothes, maybe grab a nice cold beer and some food, then head home for a night on the sofa – preferably with a good movie and a Chinese takeaway!  I of course had other plans – I had just enough time to collect the kids from the in-laws, dash home, grab a quick shower to rid my body of most of the mud and try to warm up, grab a quick bite to eat, change into another set of running gear, and head straight down to the track.

When I arrived, the 28 or so intrepid runners on the UDR24 had already been running for 12 hours, and it was now dark.  Thankfully the sky was clear though the ground was wet and it was quite muddy in places, and there was a definite chill in the air (though I suspect I hadn't really warmed up properly from earlier in the day so I may have been feeling it more than most).  I got kit checked, had my temperature taken and showed my proof of vaccination (standard stuff these days to keep everyone safe) and had just a few minutes to stash my kit box, say hi to a few of the other runners and watch some of the 24 hour runners amble past before a brief pre-race safety briefing.  At a couple of minutes before 8pm we were lead down onto the track, and at exactly 8 O'clock David lead us out on our first lap around the track then left us to it.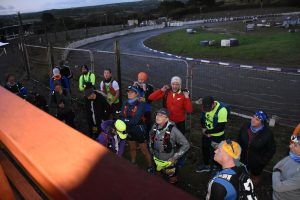 As to be pretty much expected I started out too fast.  That's pretty much a given in any race but there were a couple of specific reasons for it this time.  First of all, I was cold and I needed to warm up.  Secondly, it was a very small field of only 7 runners doing the 12 hour race (8 signed up but only 7 made it to the start line) including only one other male.  So he and I ended up going at about the same speed for the first couple of hours.  As it turned out though he was definitely faster than I was and I started to slow as the evening drew on, while he slowly built up an ever increasing lead.

Those first few hours were quite enjoyable.  The weather at that point was still fairly pleasant and despite still not quite feeling like I had warmed up from earlier in the day, I felt quite comfortable on the track, slowly tallying the laps.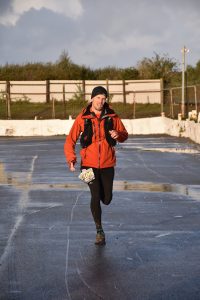 The course itself was just a fraction under half a mile (0.47 miles to be precise) and at the start/finish line was a big digital countdown clock, ticking down from 13:00:00 when we started. The reason it was 13 not 12 was because it was 20th October and the night the clocks changed back from British Summer time, so while most sensible people were getting a nice extra hour in bed, we were getting an extra hour plodding round a track.  David said something about it meaning we were getting "extra value for our money" during the pre-race briefing, but I'm unconvinced of the logic!
As we pushed on through the night, the weather began to turn.  Slowly but surely the clear skies clouded over and the drizzle started, then the wind started to pick up.  I'm not sure what time it really got bad, partly I think because it happened slowly, and partly because those hours through the middle of the night are a bit of a blur but I think it was around 1am when I began to realise that I was starting to get really cold and my "waterproof" jacket really wasn't living up to its name in the now heavy horizontal rain caused by the force 8 gale!  Thankfully I had a heavier jacket in my kit box.  A quick pitstop and the addition of a fleece snood gave welcome relief and allowed me to warm up slightly, but it didn't last long.  Within an hour or so I was cold through to the core again.  The problem was with such as short loop, we were running head first into the wind for half a lap every few minutes, and the wind was so strong that even with my hood cinched up as tight as I could get it, I was having to hold the top with my hand to stop it blowing back and that was allowing water to run down my cuff into my arm.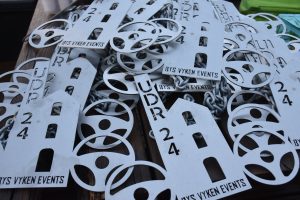 I was also getting tired by this point and in a futile attempt to keep the worst of the wind and rain out of my jacket I was hunching, in a faint endeavour to gain some degree of shelter from my own shoulders.  While that might work for a few minutes, after several hours it merely creates stiff and sore muscles..

Time at this point genuinely started to feel like it was standing still.  On more than one occasion I passed the clock on the start/finish line and was convinced it was showing the same time as it had on the previous lap.  All I could think was "why the hell am I doing this? Why didn't I go for the movie and Chinese takeaway option?"  While I've run through the night before, this is the first time I've run for so long in the dark in such bad weather, and it really does mess with your head.

Of course all things pass, and eventually the weather did start to ease off.  I'm not sure what time the wind dialed back from strong gale to a fresh breeze, with the rain starting to fall vertically instead of horizontally, but I think it was around 4:30am. 
I do recall thinking around that time that maybe I could make it to the end at that point if I could just keep moving and had the bright idea of getting a cup of coffee (I'm not sure why I hadn't done so before because I was freezing cold and I knew there was coffee available, I just don't think my brain was quite up to the task during earlier in the night).  The coffee definitely did the trick, and I had a second cup not too long after and also managed to cram in a couple of slices of cold pizza, then eased up the pace of my slow shuffle to a medium shuffle as my body slowly began to warm up.  I suspect I hadn't really eaten or drunk enough and had allowed myself to get far too cold during the night, since once I started to warm up I began feeling a whole lot better.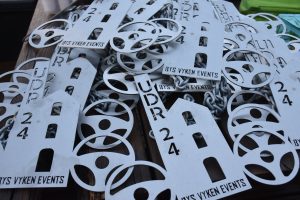 Once dawn broke, the race started to really become enjoyable again.  For hours we had all been running past each other in the darkness, hoods pulled tight around our faces and barely able to see each other through the rain.  Now, as the sun began to peek through, and we were able to drop our hoods and turn off head torches, and we were suddenly able to see each others faces.  While a few of the 24 hour runners were clearly struggling (but showing amazing grit by still moving no matter how fast or slow!) most people started to smile again.  It's amazing what sunlight can do, especially when combined with the knowledge that the end is now in sight!

Generally on an ultra you meet a whole bunch of people along the way, have a quick chat, and then don't see them again for the rest of the race.  Here though we had all passed each other many, many times through the night, yet it wasn't until now that we could even see each other properly let alone exchange words.  The whole vibe around the track seems to change, with the runners, marshalls, and a handful of spectators who had arrived to support their friends offering words of encouragement and spurring us on to finish strong.

A couple of the 24 hour runners were pushing hard to try and make the 100 mile mark before the 8am finish time which helped add to the vibe as everyone was rooting for them.  Huge congratulations to Tracy Waite and Paul Ainsworth who smashed 100 miles with 215 and 232 laps respectively!

The last 30 minutes or so seemed to pass in the blink of an eye, in stark contrast to the passage of time just a few hours earlier.  About 15 minutes before the end my wife and 2 young boys appeared on the far side of the track and seeing them gave me a huge boost, allowing me to even muster a sprint finish on the final straight… and then, it was over.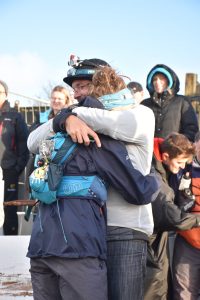 Medals and trophies were unique and awesome in typical Bys Vyken fashion.  Known for his medal designs, the RD really pulled out all of the stops and presented everyone with an ENORMOUS laser cut steel medal of a Cornish engine house and 2 go kart steering wheels that would not have looked out of place if worn my Flavour Flav!  And the trophies were awesome hand-made upcycled go kart tyres.

Everyone left with big grins on their faces, knowing they had survived a brutal but truely unique race.  Personally I finished 3rd overall (sure there were only 7 people running the 13 hour race so it's not as impressive as it sounds, but hey I'm not likely to ever "podium" in an ultra again so I'll take it!) and was very glad to finally get home for a well deserved sleep.

This was definitely a race that I will remember for a long time, and I'm sure all of the other runners feel the same way.  I believe the DNF rate was around 25% which shows how bad that weather was through the night, and there were definitely moments where I desperately wanted NOT to be running around that track, but I wouldn't change it for the world.  And isn't that one of the reasons we all run?  To face adversity and push on through. To test ourselves, and fight our own demons, and hopefully come out stronger on the other side.

And of course, I still got my Chinese on the sofa the following night (although I did fall asleep during the movie!)
Billy Deakin
@theactiongeek