Running across America: I have been incredibly privileged taking part in races all over the world, from the sub-zero temperatures of the Arctic to the dense Jungles of South America, I have seen it all and had some amazing adventures.  In 2008, I ran from Land's End to John O'Groats, setting a world record for the fastest female, a record I held for over 10 years, and ran the female World Record for running the length of Ireland (345 miles).
I have achieved what 36-year-old Mimi never thought possible and my ultrarunning career has been extreme and wonderful!  Running across America beckoned.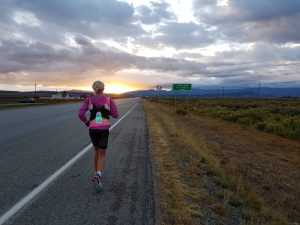 Planning 
Two years planning the trip soon rolled into three, when I was forced to postpone the challenge by one year to undergo knee surgery. I had spent so much energy, time, focus and money on planning the run across America that, when the time came, I was more than ready to take on the USA!
Digging into the logistics and scrutinizing every fine detail, I was promised one of the most phenomenal adventures of my running career.  Los Angeles to New York. My dreams starting to take on life as the route loaded on Google Maps before my eyes. An idea and an internet connection married to help plan the navigation across America!
At the earliest stages of research, it became clear that the routes would not be as straight cut as Google GPS had made them appear. It was never going to be that black and white. As an example, the quickest way from Kingman to Flagstaff in Arizona was along the I-40, the equivalent of a motorway in the UK, which unfortunately you could cycle on but it was illegal to run on. Working under Guinness guidelines to set a world record and being acutely aware that they disqualify criminality, the flat tarmac would have to take on trails and a necessary diversion to make it across adding additional unwanted miles to the run.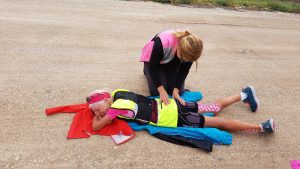 After years of longing for this vision, I finally arrived in America for the challenge! Heading out with my team to collect the large Recreational Vehicle (RV) that was to be our home for the next 53 days, I was incredibly happy to be in the USA and excited to finally be so close to the start line!
I had planned a schedule to run 57 miles per day for 50 days but gave myself a buffer of 3 added days to complete the journey.  I thought if I told the world 53 days it would give me a Plan B, take some of the pressure off me and give me some leeway.
You make a plan so that you know what you need to achieve, but you also know when running 2852 miles, that the chances of getting an injury or having a bad day are quite high so any plans that you have will need to be adapted as you go along, and this could happen several times during the trip.
Race Across America
Waking at 4.30 a.m. each morning, my kit, high-vis vest and headtorch were ready to go having been laid out for me by my team the night before.  Unable to stomach solid foods that early but needing sustenance to kickstart the day, Jan would make an amazing 1,000 calorie smoothie to send me on my way, but coffee was also an essential part of my morning ritual!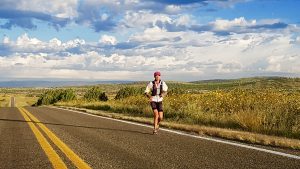 Jenny and Jan stayed with me for the duration of the event, from beginning to end they were by my side. Quick thinking and fast acting, Jenny was constantly making the correct choices for me and my health. And Jan's cooking was out of this world! I have never tasted food quite like the dishes she would craft and in such a small space, and I still miss her cuisine to this day. The food that they would produce out of the tiny kitchen was amazing.  While I was out running, Jan and other members of the crew were preparing the food for everyone, nutrition was an essential and important part of the daily planning.
The day before the World Record attempt began the crew were arranging everything in the RV, they worked tirelessly until midnight when Jenny told them to stop and get some rest before the start the following day.  The remainder of the sorting out was done while I ran on the first day.  There was no point me helping them to sort the RV out as I didn't need know where everything was, my job was to run my crew did everything else.
My husband flew out to see me with Sophie and it was wonderful to have them with me for the remainder of the challenge. It was also an honour to be a part of Becky and Paul's special journey. The couple tied the knot in 2016 and had decided that their honeymoon would be spent supporting me running across America!  I had been forced to postpone the trip and so they rescheduled to align their celebrations with my run and join me on the road, we nicknamed it their 'running-moon'.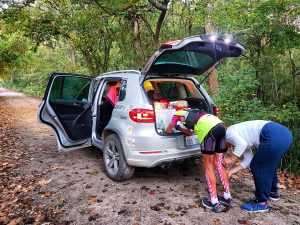 Becky had been crewing me since my JOGLE World Record in 2008 so out of all the crew she knew me the best. The night before the start they had a crew meeting where Becky told the others how I worked, signs to look out for and what I did and didn't like! (thankfully I wasn't allowed to go as I'm not sure I would want to hear everything she told them!)
Strategy
My strategy was to cover more of the distance in the early parts of the day, psychologically, it felt better for me to go at it that way.  The run to the finish of the day, back to the RV for the night, would be the lesser of the miles.
Each morning, I set off at 5 a.m. with a member of the crew running with me for anything between 10 and 20 miles. The RV would set off later having done a few chores to our lunch location where I would have a 20 – 30 minute lunch break. This was usually anything between 30 – 32 miles from where we started.  After lunch, I would head out again, heading to the final stop of the day where the RV would have found somewhere safe for us to spend the night.  This was the routine that continued day in day out.
I had two support vehicles, one that would recce the route ahead or do much needed errands such as food shopping and laundry, and the second one was my support car that would meet me every 5 miles or so, carrying food, change my water bottle and giving me access to 1 of 3 of my rotating physiotherapists that made up my team during the journey.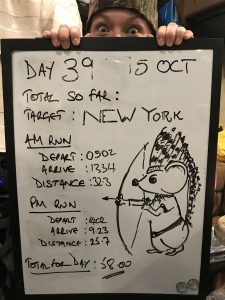 The team was a well-oiled machine after a couple of days.  Getting 'home' to Monty (the RV) at the end of each day, I would shower or just have a wash and my physio would then give me a massage.  As she was doing the front of my legs' I would eat my first course and then I would turn over onto my stomach while she did the front of my legs and I would eat my pudding.  It was great, worked really well and didn't waste any time allowing me to get to bed as quickly as possible.
Each fresh sunrise brought so many new and wonderful surprises.  One specific dawn some real-life cowboys came by the RV, packing coffee and large cinnamons buns, a real morale boost for me and the team.  I also remember a lovely lady, who I will never forget because she had followed the dot on my tracker all the way to the RV and greeted me with homemade signs as a show of support. I was touched so deeply that I burst into tears!
Several groups of women came out and ran with me, people who heard me being interviewed in the UK followed my dot and would join me for the Day.  A lovely lady called Breanna came and ran with me for a couple of days with her dog Sophie and I was also lucky enough to run with a couple of marvelous youngsters.  People were incredibly generous, with their time and what they did for us.  It was lovely, they couldn't have been nicer.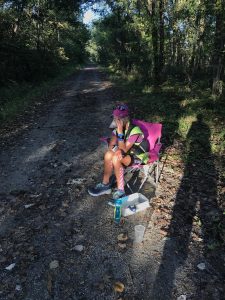 Challenges on the way
There was no hard shoulder on many of the roads, just the white line, and from a safety point of view I would run towards the traffic.  Due to the amount of traffic on some of the roads it was incredibly dangerous, I found it mentally and physically exhausting.  You're constantly watching the traffic heading towards you wondering whether they were going to drive around me or at me.  A few of them came straight at me and I had to jump off the road onto the verge. Most of the time it was because they were on their phones and on several occasions the drivers were drunk, it was pretty scary.
For each low point on this challenge, such as running into oncoming traffic on incredibly busy roads, wondering if the next one will hit or miss me, there was always a special moment, outweighing the heavy emotions.
One such occasion I was running along one of the many endless roads when a lorry came towards me then stopped, consequently halting the traffic behind him.  He stepped out of the lorry, walked towards me and gave me a can of veggie juice and a hug, told me that I was doing amazingly, then turned around and got back into his cab! Its little things like that which made me smile.
America provided me with a catalogue of these small but extraordinary moments that offered a greater reward than any title, record or status ever could do. It reminded me of my JOGLE record breaking journey in 2008 where two young children said they wanted to be like me when they grew up. There are no words for something like that.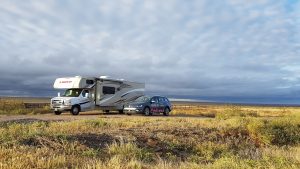 I was running through 12 states. 36-degree heatwaves in California saw me imposing on a homeowner for a few moments of relief, under the cool waters of their sprinkler system. I had to be careful of dehydration.  And with altitudes of 10,000 feet in Colorado denying my lungs the incoming air it needed, my chest struggled under the pressure of climbing the steady inclines.
I couldn't get enough air in so running was slow, but the views were beautiful, absolutely stunning.  Each new state another challenge, each climate a hurdle and things began to get pretty tough.
There were a couple of days that I did lower mileage, 44-45 miles.  I said to Jenny (my head crew) at the lunch break that I was really shattered and I'm not sure I can do the mileage that day.
This is where plans need to be adaptable, Jenny would then do the figures and gave me the reassurance I needed saying that I was doing really well and ahead of your schedule so I could afford to have a shorter day.  But from a psychological point of view, she insisted that I needed to go out after lunch and do another 10 miles and she was absolutely right.
It would have been so easy to sit it out at lunchtime but the fact that I got up and out after lunch and did another 10 miles was a real mental boost. It also gave the Monty (RV) the chance to go 10 miles ahead to find a safe and secure spot for the night.
The Injury
I began to feel some significant pains in my right leg. It was a jumping pain, roaming over the area. My physiotherapist would treat and tape up the affected area, and it would feel manageable, then during the next day, it would have leapt to my hamstring, and then the calf was tight. This cycle continued until the agony became continuous, vast and inescapable.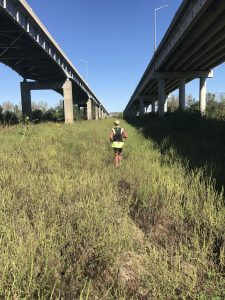 Eventually the pain became so great, that I felt I had to concentrate on my balance otherwise I felt a though i would fall over. My body leaning to the left to relieve the pain on my right side. The lean in turn as affecting my back, my pace had slowed.
I had never been in that sort of pain before, it was indescribable and the only way I could cope with it was to go inside myself, I did not have the energy to think about friends or family. I had no energy to think at all, I had to be in the moment and had just enough in the reserve tank to practice mindful miles. Being present rather than thinking about the past or the future and concentrate on putting one foot in front of the other.
The situation deteriorated to a point where Jenny intervened. She set me up an appointment with an osteopath. I was pricked with needles and underwent every treatment he had to offer and the next day, feeling so much better, I ran 58 miles!
Although, this new boost was short lived and on day 40 I could barely walk. Frustrated, disappointed and really suffering, Jenny said "lets get this sorted out".
The MRI scan discovered that I had bone edema and I had no cartilage left on the right side of my knee. I was suffering and I was warned that continuing with the challenge could cause multiple stress fractures up and down my leg due to the condition and that it was possible I might return to the UK in a wheelchair and need a total knee replacement.
The Decision
I spent the next hour making the hardest and most devastating decision I had ever had to make. Making the decision to stop was the toughest decision I have ever had to make, I was totally broken, disappointed and ashamed of myself for not completing what I had set out to do 40 days previously.
I had hoped to run 2,852 miles in 53 days, beating the 1979 world record set by Mavis Hutchinson, by 16 days. I called off the attempt 2,215 miles in, because my body just could not take it any longer, the remaining 635 miles were simply not worth the long-term risk to my health.  I had basically run three quarters of the distance across the United States, but my body just couldn't continue.  I was on track to break the world record but it wasn't to be.
Forever Learning
Back home, it was so difficult to take it all in and begin to process and accept what had happened. Everything seemed to happen quite quickly.  I had focused for such a long time on America and then suddenly it was all over.  I was distraught and I felt like an absolute failure.  The messages I received on social media privately were lovely, I even had a book made, so that I would never forget those comments.  It meant a huge amount to me and the ultrarunning community was unified and so very supportive.
I sought advice from two independent consultants who confirmed my fears, my running career was over. It was hard to hear. The realization was like a punch in the stomach, over and over again. I still enjoy the occasional run of 5 km or 10 km but anything more than that and I can feel my knee which then impacts everything else that I do so it's just not worth it.
Gradually, as time passed by, I pulled myself together and confided in close friends who were a massive support.  I then entered a cycling race called Ride Across Britain (RAB).  I absolutely loved it, I realised that cycling was a great alternative to bring the adventures back, something I had been missing.
I am still taking on the trails today, though rather than on two feet, I am storming on two wheels, and while it is not the same as running, cycling still offers me the adventure I crave, and I am completely in love with this sport.
Even when you feel you've reached rock bottom there are alternatives.  It's the classic saying, when one door closes, another opens.  Sometimes you have to look really, really hard but if you look hard enough there is always another door waiting to be opened.
What I find so fascinating about life is that you are constantly faced with challenges, and they seldom present as the full picture. If I had succeeded in leaving the City Hall in LA and making it all the way to the City Hall in New York, I would have never learnt to do the front crawl, I would never have discovered the cycling world to the extent that I have and while I grieve the loss of the run, I am enchanted at the view of the world from cycling! I would never have done that if I had still been running.
It's shown me a different path and other things that you can do.  You never stop learning.  You find something that gives you purpose, a reason.
We are never done learning, growing or experiencing, 20, 30 or 55 years old there are always things to explore and purposes for the soul to discover. Life is not about avoiding adversity, but embracing it, adjusting to it and rising to explore, never yielding!
I started to run on a treadmill at 36-years-old, as a mother of three, to get 'skinny' legs.  Looking back, I am filled with absolute gratitude at where those legs have taken me. I am so lucky to have had the most remarkable and beautiful running career.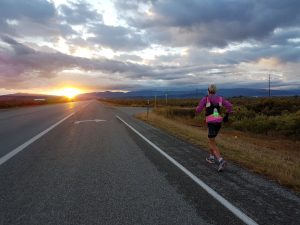 Coaching Advice
As a coach, my advice to someone new to ultrarunning is to build up your endurance slowly, creating a good base.  Similar to an Oak tree, if it doesn't have solid foundations, it's not going to grow and flourish.  Once you've got a good solid base then you can start to build on it.
Find a race that makes you excited, perhaps sign up with a friend, someone you can do the training with as it will keep you motivated.  Always listen to your body.  Enjoy the process, there is nothing better than being outside and running.
My advice for people who are already on that journey is that you can do anything if you want it, never be afraid to try.  A big part of any challenge is having the self-belief, the belief in yourself that you can do something.
Working towards any goal is going to be hard work so make sure that each session counts, quality over quantity. Ensure you give yourself enough rest and recovery as these are also a very important part of training. You can find out more about coaching with Mimi at https://marvellousmimi.com/contact-mimi-anderson/ .
Book Release
You can read all about Mimi's journey in her new book called Limitless due out on the 11th March 2021 and available to purchase at Amazon.  Its certain to be a best seller and is Mimi's 2nd book release after charting her journey to ultrarunning in Beyond Impossible (also available on Amazon).  Both books are also available directly from Mimi.
Interview by Wayne Drinkwater
Article by Sophie Hunt