Blaenau Ffestiniog is a mining town that sits in the Meirionethshire county, under the shadow of the Moelwynion mountain range.  Visitors might see the town as grey and uninviting, although the residents, the people that decide to settle there, and the people that can see the layers of Blaenau Ffestiniog would disagree.  Blaenau and the surrounding areas, up into Tan Y Grisiau and beyond have a quality steeped in history and feeling; a certain magic that you need to spend time understanding, to be able to witness.  During the windswept winter months, through to the scorching hot summers days, the town, the rocks and the mountains here have a distinct, wild and unique quality.
Up above the streets and houses, in the bogs and the mist, up on the peaks of Moel Yr Hydd, Craig Ysgafn and Moelwyn Mawr, is where only the select have passed through, to experience both the joy and the pain that an FKT attempt on the desperate Paddy Buckley Round can provide.  Russell Bentley is one of those elite few.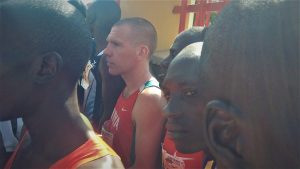 Ultrarunner Magazine's Chris Davies had the privilege of talking and running with Russell about all things running, although in particular, his recent winter, unsupported FKT attempt on the Paddy.
'I have been running competitively for 30 years. I was 9 when I won a race at sports day, beating a bully. From there I ran every junior race going, and it was a natural progression to track for me. I loved the 800m and that was my number one focus until about the age of 27, when I realised that I wasn't going to make the Olympics in the 800m. I started focusing on 10K, then half marathons, and then, having sworn I'd never run a marathon distance, I gave Wrexham marathon a go in 2016. I loved it!
My running has taken me to Kenya a dozen times in all, and to Australia for a year to work on resetting and learning better running form. I got very familiar with Kenya, particularly Iten and the Rift Valley province. I learnt the language and made some lifelong friends there.  I first went for 3 months in 2001.  I was lucky as this was before there was any setup for tourists. I got to really experience the culture; weddings, parties, politics, slums, farms, religion, tribalism, riots, poverty, hunger and burning ambition.  There is so much we could learn from the Kenyans.  Techniques and knowledge that they have developed over the years – they know so much, yet it's has never been written down.  There is such a wealth of knowledge.
'Running was a small (but very important) part of why I fell in love with Kenya. The ethos, the day-to-day way the people conduct themselves and live. I didn't just benefit physically from the temperate weather and the high altitude.  There was a time when I was sure I would move there permanently, but I haven't been back since a holiday in 2016. Kids, work, lockdown have kept us very much in the UK for now.  I do miss life over there; the beauty of the 6am drills and friends.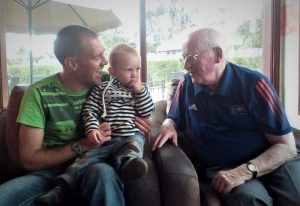 The rhythm of the mirrored workouts, led by the elite with the other runners following behind, copying the movements and footfalls to create an almost therapeutic, mesmerising quality.
Maybe I'll move back out there, but not with a young family.  There are so many issues with education, and health care.  A friend I had out here died from an infection in a broken arm – tragic.  It would be so hard to ensure health care and education, but yes – maybe in a few years.'
Historically, I've always been attracted to the shorter races; a quick, clean fight with laser sharp focus.  But my body and mind are suited to endurance. From that first marathon, I started to see the benefits that longer distances can bring. Running local fell races gives you the experience of getting up and down a mountain or two in a short amount of time, with a lot less gear than a hike. And it's exhilarating. I found that you never regret a run in the mountains – it always seems like the very best way to spend hours of your life'.
I have loved the fell running scene in Snowdonia, ever since we moved here in 2013. We had originally moved to the mountains to run in them, and it's hard to leave that experience. You get used to looking out at the hills every day.  I guess the lockdown and the pure freedom of running in the hills all led to my Paddy Buckley project last year. We had moved to Blaenau Ffestiniog in 2017 and the Paddy passes over the Moelwynion that provides the stunning backdrop to our mountain town'.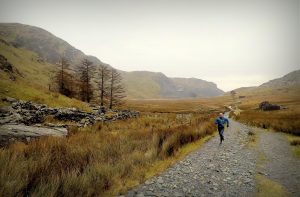 The Round
'Fear of failure is a big part of what gets me out the door to go training when it's dark and raining.  I'm competitive'.
'Initially, I wanted to do the Paddy Buckley in the summer – I tried it solo three times. Each attempt, I really thought I was going to do it, although as I watched the close of the Summer window approach, I was having a problem with my knee (after I whacked it with a rock during a recce). You can't afford for any part of you to be dysfunctional when you try that sort of run. And I wasn't up for hobbling to the finish, whipping myself just to complete the round, doing permanent damage. I felt that both myself, and the challenge deserved better.
There were lots of reasons for wanting to do the round solo. Covid regs were making it very tricky to run with other people. Also, living right here in Blaenau meant I could pick any day, with the best weather forecast. If I'd had to organise pacers this would have been harder. But the main reason was just the sense of excitement. Solo and unsupported. Getting round with nothing but the food on my back and the water from streams.  For this attempt, I was running 100-mile weeks over the training block.  I got to the point where I could sit, close my eyes for 30 minutes and run through the entire round.  Visualising every twist and turn, every gate and style, without disruption.  That's when you know your ready.
I had decided to go anti-clockwise before having done a single recce of the Paddy. The Ras y Moelwyn, the Blaenau Ffestiniog fell race, is a part of the Paddy and it runs anti-clockwise. I have run that loop so many times I can do it in the dark, in snow etc with a high degree of confidence. So, I did all my recces anti-clockwise, and never found a good reason to change. I think Tryfan is much easier that way, although Pen Llithrig Y Wrach is probably where I would potentially suffer most for my contrary decision – it is a real grind anti-clockwise'.
'I had hummed and hawed about the winter round. When Chris [Smith] died it woke me up. I remembered how short and fragile life is and all my excuses, wanting to sleep in, being afraid of the dark; they all sounded unbearably inadequate. I was inspired to go back out into the hills and get that adventure in my life.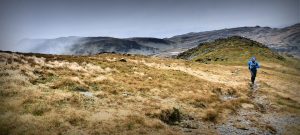 The FKT had drifted in and out of my mind in training and during the attempt. Having had the experience of failing 3 times in the summer, and the stark reminder of how quickly things can go seriously wrong in the mountains.  I had my ego knocked into shape. I knew that even completing the round would be achievement enough in the winter. However, I also knew that from recent recces that if the stars aligned, the weather was kind and I was running well and injury free, I might be able to challenge the FKT'.
'Fear of failure is a big part of what gets me out the door to go training when it's dark and raining. I'm competitive. I get inspired to train by competition. I go into daydreams about how I'm going to run a race.  Also, I've always been very lucky with my friends and family. I get nothing but love and support from all of them all the time. I was sad when I'd had to quit in the summer, as I felt like I let them all down. But really, if I have tried my best, they are always proud of me and it was a massive advantage having that in my corner'.
The FKT Attempt
'I found myself standing on a precipice, staring down'.
'During the round, every descent I was concerned about my knee. I was having doubts about my ability to fuel properly and I was finding it very hard to stick to my schedule of 2 gels every hour, and constantly swallowing wine gums.  I consciously always thought two peaks ahead. I would look sideways or backwards as much as possible to enjoy the scenery. But never too far ahead. A quick glimpse of Snowdon (looking impossibly far away) would demoralise me terribly.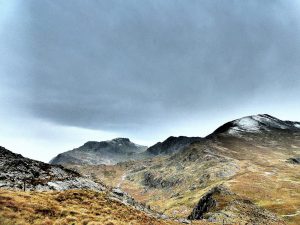 Mile 34 was incredible. Out of nowhere I had a memory of Chris, from way back when we were just kids pretending to be men. No family, no responsibilities; our lives wide open in front of us. I was transported right back there. The sun was setting, the otherworldly rocks on the Glyderau plateau were glowing and I got very emotional (I'm not going to lie). From that point on, I knew that nature was going to let me finish the round'.
'Despite the positivity up on the Glyders, and the Moel Eilio ridge being nice and calm, as I approached Snowdon the weather got worse. With reflections off the mist, I could hardly see five feet ahead. The wind whipped up into a frenzy as I get nearer the summit. I was going off muscle memory up Garnedd Ugain, reading the contours. The descent should be great for me, but again, I couldn't see anything. The path was infuriatingly hard to find and in my frustration, I try to run anyway. I was basically walking down the mountain, wasting so much time.
When I ascended Nantlle Ridge and it was in clag, I knew it was going to be a very difficult traverse for me. The rock was wet and in white out conditions, I could hardly see anything. I was getting lost, climbing false summits, stuck in rocks. It was dangerous and painfully slow. I didn't consider stopping but I knew that, unless the cloud miraculously lifted, the record attempt (which this had become) was gone'.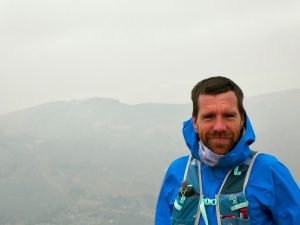 'Unfortunately, the mist kept on coming, and with a failing headtorch coming up to Moel Hebog (the final main peak of the round) I could barely see my own feet.
On the descent, I had 15 minutes to get the record but out of nowhere, I found myself standing on a precipice, staring down.  I'd gone the wrong way. There was no more record. I had to let go of my disappointment and quickly accept the new challenge: getting down the hill safely.
I found the trod that led me to Bryn Banog and was then in very familiar terrain. Past Oerddwr Uchaf, and the low cloud finally lifted.
I stormed through the woods that I know so well, I hit the road for the most glorious half mile of running I've ever felt. My body was booming, Nina had seen my headtorch and was cheering. I had finished in 22hrs 45mins, although that last leg took me 4hrs 40min'.
What Comes Next
Another attempt?  Ah man – it tortures me! I feel like I have the fitness and knowledge to do it right now. But it's very unlikely I will get the chance this winter with the current regs' in place.
The rules say that exercise has to start and finish from your house, and the round is only 3 miles away from me. So, if I were to take a very liberal definition of the rules, I could attempt it. But it would be bad form, I know my friends at Mountain Rescue would be annoyed with me, if only because it may encourage other people to do similar things.
Also, there is always a risk when you are out in the mountains, and with the health services stretched as they are, I just can't justify it. These things would play on my mind during the round.  There are other races I have my eye on, but they will probably all be cancelled by the time this goes to print. The Wrexham Marathon, Marathon Eryri.  Maybe a crack at the summer round, who knows!
FKT
Despite this being Russell's first complete round, the sheer determination in the face of severe conditions and adversity placed him with the 3rd ever fastest time on the winter, unsupported round.  Considering only 20 people have achieved a winter round, it is simply an incredible achievement.  Russell finished behind Damien Hall (current holder), shortly behind Jim Mann and ahead of Tom Phillips to achieve the ranks of the Elite of the Paddy Buckley, a title we can only aspire to.
Support
Russell is supported by Noble Pro, for those treadmill miles!  Current choice of weapon – VJ Sports IRock (killer over the Glyderau!).
Interview & Article by Chris Davies