Founded in Zurich in 2010, 'On' entered the market and immediately became a firm favourite with runners due to the technical, adaptable designs. On have generally stayed away from the Ultra market, until now. The Cloudultra is designed, as suggested by its title, for ultra-distances so it seemed only right that we checked it out!
I completed a 56 Mile run in these through the fells in Cumbria in fine, dry weather. The following week when a storm hit, I decided to venture out to test them in more challenging conditions and completed a 35-mile run taking in 3 local peaks. I've also worn them for multiple shorter distances on road and local trails to gain a full and detailed impression of their abilities.
First impressions
Straight out of the box, the On CloudUltra are good to go for long runs without any niggles or breaking in period. With generous cushioning, they're comfortable yet not cumbersome or unresponsive, somehow maintaining a precise feeling. Anyone already familiar with the brand knows that they are very attractive, yet understated shoes, normally adopting a muted approach to their colour schemes as opposed to some other brands for whom the brighter the better. This is no different. I trialed the Moss/Eclipse colour scheme which is a duck egg blue with grey trim.  The other colour option for women is traditional Black/White while for men you have the choice between the Black/White or Limelight/Eclipse (black and yellow).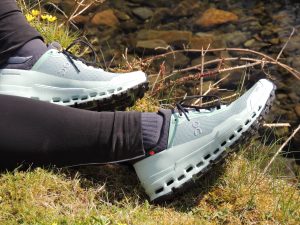 Comfort
Having little exposure to On shoes, I was limited in my impression of the CloudTec technology but concerned about the claimed firmness of the new Helion midsole.  I generally favour a well-cushioned shoe, especially when running long distances so wasn't sure how this would suit my style.
"The Cloudultra feel very different from any other trail shoe I've worn. The shoe is specifically designed in every way with no corners cut, from the sock-like, two-layer sandwich mesh upper to the dual-layered Cloud pods that are smaller and said to provide more cushioning and long-run comfort than in their other lines. Despite my reservations, I was an instant fan.  The shoe was comfortable, felt responsive and extremely secure.  The more I have worn these, the more they are creeping up the rankings of my favoured, go-to shoe, especially for the longer and more technical courses I like to do."
I initially found the fit to be a little narrow, especially for a shoe designed for ultra runs, and one that specifically targets the swelling which is associated with time on feet. This said, despite feeling snug, in a first run of 56 miles, I had no discomfort, rubbing or blisters so it may simply be that I need to get used to a different style than I am used to.  Having returned to one of my much loved pair of trainers recently, I found myself tightening the laces on them because I missed the snug feeling of the On…looks like I'm a convert!
"The shoes upper is on the stiffer side, but definitely not in a bad way – I felt that this added further to the supportive nature of the shoe and regardless of which terrain or weather conditions I faced, I felt stable and safe; a must for anyone tackling an ultra on the less predictable surfaces that trail offers up."
Design
On's neutral colour schemes are extremely clever in that they are smart and versatile for use other than the trails.  The Cloudultra is no different and these ooze as much style as every other model in their road and trail range.  The beauty of them is that however far you go in them on the trails, you're still going to want to slip them on for dog walks and everyday life. This is definitely an area where ON excels. These shoes will look as good with leggings or jeans as they do on the trails.
Weight
As a race-day option, this is a shoe you'll definitely reach for because it's very light, weighing in at just 295g.  Cloudultra gets the balance right here as they're sufficiently lightweight and have a generous heel to toe drop of 8mm with no compromise on comfort or technical innovation.
The technical bit 
The On Cloudultra has a fully-featured spec list to provide that extra level of comfort and protection required for runs of 50km and above. The bigger stack height, 8mm heel-to-toe drop and supportive upper mean you're as well equipped for the rigors of an ultra as possible.
"Instantly noticeable are the dual layer of CloudTec in the midsole – the distinctive holes that offer both comfort and a springy take off – as well a generous helping of Helion superfoam, On's EVA foam that promises more energy return and cushioning. During testing, I was impressed by the lasting comfort throughout quite technical and hard terrain.  Having worn them in a variety of conditions, the comfort certainly wasn't impacted in the slightest."
 The ride of these, in reality, does indeed match up to the theory. There's a generous amount of cushioning for longer runs, but without feeling remotely spongy or clumsy, and you feel nimble and precise on your feet too. The ride of the shoe has been really well-executed, and they're comfortable right out of the box (proven with a maiden outing of 56 miles in shale heavy trails).
Turning to the outsole, On have used their own Missiongrip rubber which in the dry, I found to be exceptional.  However, in the wet, I personally found the grip wasn't quite as good, particularly in an urban environment on cobbles, bricks, paving slabs and manhole covers.  In the fells, the grip didn't feel much different overall, the only time I felt less secure was on large shale surfaces.  Given how slick this surface gets in wet conditions, this isn't hugely surprising, but it definitely impacted my speed and confidence in these settings.  Whether this is the Missiongrip itself or a possible lack of surface area in contact with the floor due to the wide channels and grooves on the outsole is hard to say, but I would definitely recommend some caution.
The upper is ever so slightly stiff, but this doesn't impact comfort, it actually makes your foot feel well supported and protected. It's nicely breathable thanks to perforations, but not too large so debris will still be kept out.
"A particular feature I liked was that, unlike most shoes, the tongue isn't independent, rather it's a continuous piece of material integrated with the rest of the upper liner, with a sock-like fit around your ankle. This offers additional support, helps to keep annoying debris from getting into the shoe, and means there's no slipping of the tongue off to one side, definitely an excellent design concept and it meant I didn't feel the need to wear my gaiters as I normally would on trail and had no annoying stones slipping down into the shoe. Happy Me!"
The one downside of this is they're less quick and easy to slip on and off because the space that your foot enters the shoe via is a set diameter. Albeit there is 10% spandex offering some stretch, it is still a two-handed job. Not a deal-breaker in my eyes as there shouldn't be any reason to have to take your shoe off during a run given the aforementioned advantages, but worth noting.
On the lower part of the laces, you'll notice a small plastic tab, a new system from On called the FlipRelease. By flipping it around 180 degrees, it releases the laces to give more room to the lower part of your foot, without needing to undo from the top and feed slack down. I didn't find this particularly useful while running, but when stopping for a water break, I tried it out and found it to be a quick way of offering some respite to swollen feet, so it definitely goes into the list of the advantages for me.
All in all, both upper and sole are great, with good design, quality materials and craftsmanship, combined in a great looking package.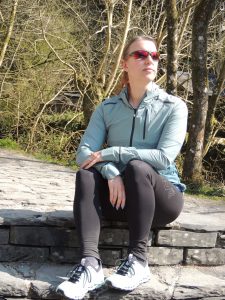 Cost
"At a retail price of £160, these may be a little pricey for some (whoever said that running was a cheap sport clearly wasn't a runner) but I honestly think that they are worth every penny.  Overflowing with positives, they give everything you need and more.  Ultimately you get what you pay for, and these certainly earn their keep."
Who would it suit?
As On's first ultramarathon specific shoe, they're a great first effort that will work well for most runners
The Cloudultra is a premium trail shoe; you're getting a lot of tech and these are versatile shoes that will feel just as comfortable on pavements, or over shorter distances, as they will on technical trails and longer races.
The Cloudultra's feel light, supportive and have a snug, firm fit from heel to toe. It may be worth sizing up an extra half size if you prefer a more roomy shoe, though remember, the FlipRelease allows the shoe to open up as your feet expand, too.
"Even though lockdown has limited the extent I could test them, they have performed really well on local trails and are easy to run in. They are comfortable, responsive, capable and armed with loads of ultra-oriented features without feeling chunky or cumbersome in a great looking package!"
So there we go, overall this shoe is a definite must for me and I cannot recommend it enough. My main concern about comfort was unwarranted and the only caution I would raise would be to take it easy in very wet conditions.  With summer fast approaching though, I would definitely reach for this as a favoured option.
Check out the On range at https://www.on-running.com/en-gb/
Article by Louise Tidbury