Harrier, the fast-growing, UK based kit manufacturer, has been rapidly rising in popularity throughout the Ultrarunning communities since its birth in 2020. Designed by Trail runners for Trail runners, Harriers offer quality products, focused on great design and affordability. Ultrarunner Magazine took the Harrier 'Ultra Bundle' for a test drive and this is what we thought!…
What is the Harrier ultra bundle?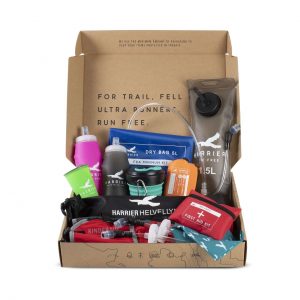 This very comprehensive box of kit is ideal for an experienced Ultrarunner looking to take on those longer distances, incorporating more technical terrain. In the box, you get a choice of three race vests -the 10L Kinder, the Curbar 5L or the Stanage 10L, as well as a set of the Helvellyn Carbon Z-poles, two soft bottles, a 1.5L bladder, two long straws, a soft cup an Ultra cup, tube scarf, an emergency survival bag and whistle, mini runners first aid kit, a dry bag and a waterproof phone case!
Harrier Ultra Bundle review.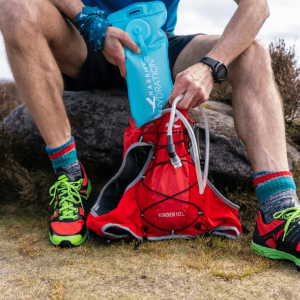 Curbar 5L pack –
The pack is small and neat, with lots of good-sized pockets! The XS was a very comfortable fit on me (size 8 female), unlike other brands that I have tried in the past, it does not move around on a petite frame, a huge plus! Although out of the packet it looked very small, I was able to fit every item from a 200-mile kit list into it with ease, the main body fabric is stretchy but sturdy!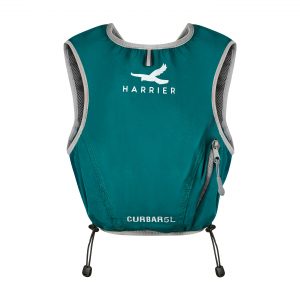 There is an inner pocket for the bladder but can also house a map, compass and chargers perfectly, ensuring that your navigation tools are kept together! The side pockets are perfect to store your cards, phone, or money without the worry of them falling out and getting lost due to the handy zips! The front pockets are a good size and easily hold water bottles, a snack and any other bits and bobs that you would want to keep handy and in an easy to reach place! Overall, the pack felt very comfortable to wear. After wearing the pack for 15 hours non-stop in the rain, I was pleasantly surprised to find no chafe or irritation. The pack was undamaged by the rain, despite it being incredibly lightweight. I would definitely recommend this pack!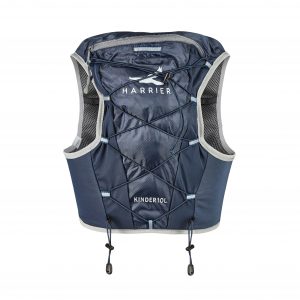 Kinder 10L pack –
The Kinder pack immediately felt lighter than some other packs, with the same capacity that I have tried previously from some other leading brands, this made me wonder, would it stand up to long-distance running? The pack has a lot of pockets and when full, it still sat nicely around a woman's figure, which I've struggled to find in other packs in the past. Made from a comfortable material it hugged the body while I ran 100km, free from any rubbing or chafing!
Despite having a full kit list, plus some added extras, the pack was not damaged or stretched during the run, which is impressive considering the very rugged trail (that included a navigation mistake, leading me and the pack through the bushes and trees!). The only negative that I could find was that it seemed a little floppy in terms of zips and fasteners, however, it did not present a problem for me but I can imagine that it might be a little frustrating for some to fiddle around with on the trails. All in all, the pack is great value for money and I would definitely recommend it to any of my Ultra friends!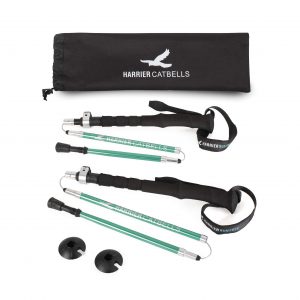 Helvellyn Carbon Z-Poles –
The poles come in a lovely little carry case, which I thought was a nice touch! Out of the packet, the poles were folded and I spent some time trying to figure out how to set them up, however, it was incredibly simple once I realised that all I had to do, was to pull the handle and secure them in place! The poles came with easy to follow instructions and adjusting the height was really simple, perfect for someone who is brand new to pole ownership!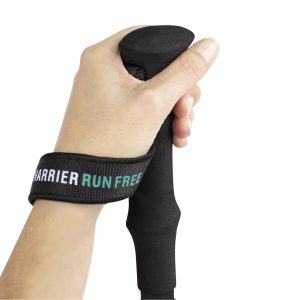 The poles came with me on a trip to the Lake District, their first outing was up Scafell Pike. The poles are extremely lightweight, which was surprising in comparison to some sets that I have owned in the past. As a runner with a knee injury, I gave the poles a real test, adding lots of weight while ascending/climbing and they proved incredibly strong, with lovely thick wrist straps making a comfortable climb for the user.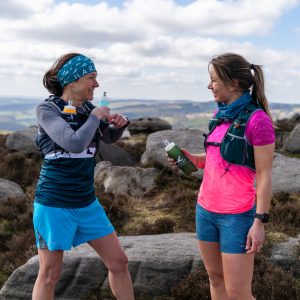 Soft bottles and straws – the bottles are bold and bright, standing out against any backdrop, and with many colour choices, you could even match them with your running kit! They're a slightly different shape from the standard soft bottle. They have rounded edges and are made from a smooth material which means they go into the front pockets of a pack without a struggle, saving a lot of time and frustration while on the go.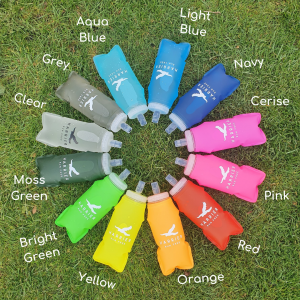 The neck is also wider than a standard bottle which means you can fill it without removing it from the pack and you can add fuel or electrolytes through the neck with less chance of spilling powder everywhere! The long straws are a great length for drinking on the go without having to remove the bottle from the pocket.
Cups-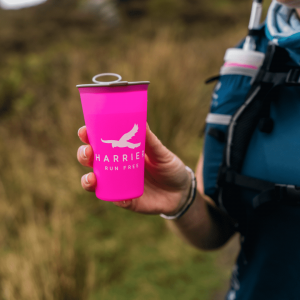 The soft cup has a 200ml capacity and comes in a range of colours, and is a bonus for plastic-free races! The Ultra cup has three extendable sizes; 250ml, 350ml and 550ml and is suitable for hot drinks during longer races.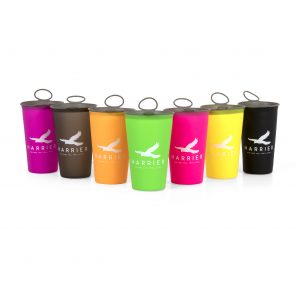 While I did not get the chance to take the cup out on a long run, I did have the opportunity to sip some tea from it and it proved great quality! The cup folds down and will fit comfortably into your pack too!
Survival bag, first aid kit and drybag –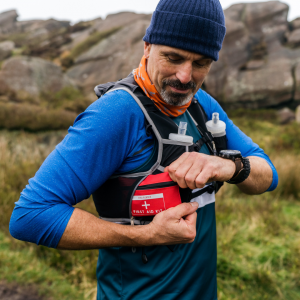 These items, often found on an Ultramarathon kit list, are very handy things to include in a kit bundle. The survival bag weighs 129g, which feels extremely lightweight and doesn't take up much room, is ideal when your pack is full to the brim of other kit essentials.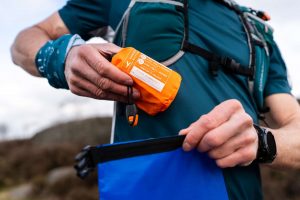 The first aid kit comes with a range of items that every trail runner would need to have, saving a lot of pre-race preparation time.  The drybag has a 2L capacity and I found I was able to fit my base layer, hat, gloves and socks inside. All of the items I'd like to stay dry when I'm out on the trail. Having a smaller dry bag is a great idea because it allows you to keep the regularly used items separate. These items are pretty standard but offer peace of mind, with minimal effort!
Waterproof phone case –
The case that is included was a good size, I managed to fit an iPhone 12, a Huawei P30 Pro and a Samsung S21 in the case. During the rainy days on the fells I kept my phone inside of the case and the product did what it said on the tin!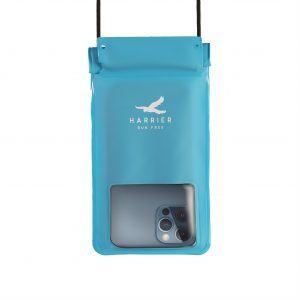 However, wanting a more vigorous test of the item I took it swimming with me to see if it really was as good as they claimed. I swam for around 45 minutes, with my phone around my neck and after the exercise, I found that the case had kept my phone completely dry! The only minor issue I had was that the front of it has a clear window for the camera but hides the lower half of the screen and consequently, the buttons too! That aside, I rate this product very highly and would recommend it to anyone.
To summarise, the Harrier Ultra Bundle is a fantastic purchase and you'll save 15% of the price of all of those items if bought individually. Highly recommended for any ultra runner looking to push further than they've ever gone before. Peace of mind with well made sturdy and colourful products.
Harrier Ultra Bundle Test and review by Rachel Grant
Article by Rachel Grant
Check out other Kit reviews HERE