The Fire behind the Ring O Fire: James Bingham is one of the Race Directors of Ring O' Fire, a 135-mile three-day ultra-marathon which circumnavigates the Isle of Anglesey in North Wales.  A love of adventure has taken James all over the world and led him to Afghanistan and Syria where he is using grassroots sport to break down barriers and provide opportunities.
Ultrarunner Magazine spoke to James to find out more about what led him to Afghanistan, create the Marathon of Afghanistan, alongside his ongoing work with the Afghan Sports Trust, and his current charitable work in war-torn Syria.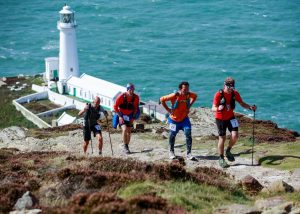 What initially led you to Afghanistan?
I had never really thought about going to Afghanistan but in 2010 my friend Q (Quentin Brooksbank) a fellow Race Director of the Ring O Fire, sent me a message asking if I fancied climbing in the Hindu Kush.  That was the catalyst for it all really and at that stage it wasn't anything to do with setting up a marathon it was to go mountaineering.
Myself, Q, another friend from school in North Wales and an Alaskan salmon farmer who I had met whilst climbing Mount McKinley, went to climb Mount Noshaq which is the highest mountain in Afghanistan at nearly seven and a half thousand metres.
How did you feel about going to Afghanistan and how did this change once you were there?
I had a sense of trepidation initially because the media picture you get is obviously fairly bleak.  There are risks going to these countries but there is a whole other side to them which often isn't reported.
I fell in love with the country, with the people, it's an amazing playground for adventurers; there are deserts, rivers and huge snow-capped mountains but no one's really climbing there.  We were on Noshaq for several weeks and we didn't see a single other climber it was just the four of us and we had these huge peaks to ourselves.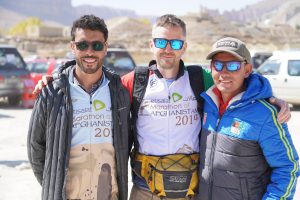 In 2015 James helped to set up Afghanistan's first marathon 'The Marathon of Afghanistan' alongside Gul Hussein Baizada and James Willcox, six years later the marathon is still going strong and has grown in popularity year on year. 
How did The Marathon of Afghanistan come about?
I went back to Afghanistan a couple of times on other expeditions and got to know people in the country; I met an amazing local guy called Gul Hussein Baizada who is one of the co-founders of the marathon.  Gul knew about the Ring O' Fire and that I was a keen adventurer who kept coming back to Afghanistan. He initially told me he was thinking that a marathon could be a good idea, and I had been thinking about putting an adventure race on in the country.  James Wilcox runs an adventure travel company and also became involved, so it is really the three of us all bringing different skills and motivations that made it come together.
The marathon has been running for six years now, how have things changed?
Since the first race we've seen the numbers grow a lot; the first event was about a hundred runners including one Afghan female and over recent years we are getting close to a thousand runners and about forty percent are female.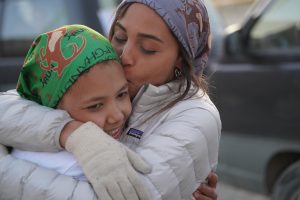 I really wanted women to be part of the race, I didn't want to go ahead if women were not allowed to participate.  The reality in Afghanistan is that women in many provinces still cannot participate in any kind of sports events, in some provinces the women are very rarely seen unaccompanied outside the house, so it was breaking quite a lot of cultural norms.
We chose to hold the race in Bamyan province, a beautiful valley in the Hindu Kush which is a UNESCO world heritage site and has long been one of the safest provinces in the country. The Governor was open to women taking part in the race and it has served as a blueprint, now there are regularly other different sports going on in the province and some other areas of Afghanistan.
Today we are determined to ensure that the race is as inclusive as possible, that women and girls are welcomed as well as men and boys, and that we try to bring together people from different regions and ethnic groups within Afghanistan, as well as those from other countries.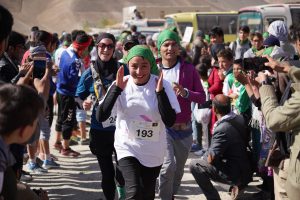 Is it at a stage where you have handed it over to the Afghan team now?
2020 was the first year I didn't travel to Afghanistan and that decision wasn't linked to COVID-19, it was a decision that was taken before that.  After five years as Race Director, I felt that the Afghan team was fully equipped and experienced to organise the event themselves.  My view is that it can be useful for internationals to come and help make something happen, but I do not necessarily think that you should prolong your presence.
It was a challenge funding the event last year because it is a hundred percent non-profit event. None of the local Afghan runners pay to enter the race, yet everyone gets a high-quality t-shirt and medal so there is an expense there.  One of the funding models is that we charge internationals to come as part of a travel package and they pay a fee to enter the race which helps, and we get other support from corporate sponsors inside and outside Afghanistan and some foundations.  The income was down quite a lot because we did not have the internationals due to COVID travel restrictions, but we organised a virtual race to plug the budget deficit.
In spite of all the challenges the 2020 Marathon of Afghanistan was successfully held, with approximately 600 runners taking part, all in a Covid-adapted way and with the support of the local community and authorities.

The local team led by Gul did an amazing job in very difficult circumstances and I have total confidence that the race will continue to grow under their stewardship.
How did you get involved with Frontline Children?
I got to know Frontline Children through Jordan Wylie who is heavily involved in the charity; he came out to Afghanistan to run the marathon as part of a fundraising challenge that he was doing.  Frontline Children liked what we were doing in Afghanistan and they were particularly interested in supporting an event that was linked to children, so we came up with the idea to do a mini marathon for children and they funded it.  To find out more about Frontline Children please visit www.frontlinechildren.org.
How did The Afghan Sports Trust come about?
I initially started to think about setting up a charity to support the Marathon of Afghanistan and that led me to think a bit more widely about supporting other sports clubs and events in the country.
Many grassroots sports clubs in Afghanistan do not have access to equipment, funding or other resources, so I started to think about that as a concept which that led me to approach several people that I knew from my work in Afghanistan.
I knew I couldn't do it all on my own, but luckily they were all happy to get involved and signed-up as trustees. We then went through the long process of getting a charity set up through the UK Charity Commission followed by an even more arduous process of finding a bank that was happy for us to send cash to Afghanistan.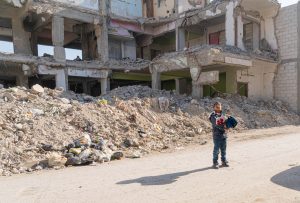 The Afghan Sports Trust is now established as a UK registered charity and we use that as a platform for fundraising and supporting grassroots sports clubs.  Although we are a new charity, we were the main fiscal sponsor of last year's Marathon of Afghanistan and have subsequently issued grants to several other sports clubs and organisations, including:
Drop And Ride via the Peace and Freestyle Organization "PFO". Our grant will allow the club to purchase much needed new equipment for their bikes, including new tyres, handlebars, bike stems and hydraulic brake sets.
Kabul Boys Parkour. Our grant will allow the club to purchase much needed training and safety equipment.
Free to Run. Our grant will help fund a sports programme connecting able-bodied and differently-abled participants in three locations across Afghanistan.
There are so many organisations that we can support, the only thing that is stopping us is just not having enough money at this stage.  As much as we are handing this stuff out, we also need to find means of bringing more money in as well.
I am excited to have set up the Afghan Sports Trust and to be supporting not just the marathon but all these small sports clubs in Afghanistan who have little funding and a dire need for equipment.
You can find out more about The Afghan Sports Trust by visiting www.afghansportstrust.org.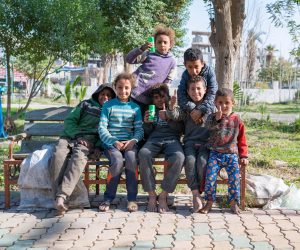 What led you to Syria?
I had previously travelled to Syria in the summer of 2019 and wanted to return and try and do something useful to help. In December 2020, I travelled back as an Ambassador of Frontline Children, a UK charity, who focus on helping children access education in conflict and war zones. I agreed to undertake a fact-finding mission on behalf of the charity and visited several refugee camps and travelled to Raqqa, the former de facto capital of the Islamic State.
It is hard to explain how tough life is in these camps and especially in towns like Raqqa which have been decimated by years of war. The civilian population and the children have suffered immensely.

In Raqqa I found many young children wandering the streets, often without shoes or warm clothes, even though it was winter. I witnessed kids rummaging through street bins looking for food or things to salvage and sell. The city remains in ruins after years of war and the situation is terrible for those who remain.
I hope by sharing my photographs and experience I can increase awareness and raise some money to help the children. I am realistic of course, in that we can only do so much, given the scale of the problems in this area.
But if we can do something for one school in one camp, it is worth it.  Our focus to start with will be the children of Raqqa and those in refugee camps in the surrounding areas.
To donate to this worthwhile cause please visit www.givepenny.com/childrenofsyria.
Interview by Wayne Drinkwater
Article by Kelly McIvor