The Cheviot Goat is one of my favourite races, it's tough, the terrain is unforgiving, and it's normally held on the first weekend of December so very few daylight hours. The organisers (Cold Brew Events) are very clear that you need to be capable of looking after yourself in the cold and dark. It was my first proper winter ultra in 2018 when I was still a newbie to the ultra scene, I took on this race to test myself mentally and physically and it did not disappoint. When I reached the finish line, I swore I would never do it again but somehow found myself back for more in December 2019. My excuse to go back was, that it would be good training for the Spine Challenger in January 2020.
I felt a lot more confident in 2019 and ran the full race myself (a lot of people look to pair up during the night), I wanted to see how I would cope without any company, and I wanted it to be 100% at my pace. 2019 was the year of the storm, the night before the race the organisers made the safety decision to run the route in reverse so that we would do the highest point (The cheviot) before the storm really kicked in.
Northumberland dealing with the after effects of Storm Arwen
It meant I would get to see The Cheviot in daylight hours and get over the boggiest section too, being able to see the bogs was definitely easier than trying to find a route around them in the dark. I finished the race quicker in 2019 which I was pleased with and once again I said never again!
I'm not normally a fan of doing a race more than once so why I was on the same start line for the third time I do not know. I've still not worked out why I keep going back to it, maybe because it's tough, maybe because every time it feels different, or maybe it's down to the fact I'm so nervous about drowning in one of the bogs that I go back over and over to confront my fear.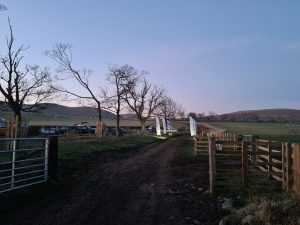 This race normally takes place on the first weekend in December but unfortunately due to a major incident getting declared by the authorities in Northumberland dealing with the after effects of Storm Arwen, the council requested that the event be cancelled. It must have been heart-breaking for The Cheviot organisers who had worked tireless overcoming obstacle after obstacle in the lead-up to the race to be told less than 24 hours until the start that it couldn't go ahead. It was devastating for us runners too as it looked like the conditions were perfect for a tough winter ultra.
We had the option of going ahead with the deferred March date or postponing it to the December 2022 date. With Race Across Scotland in the diary for August, I didn't want to postpone to December so I went for the March date hoping that we would still have winter conditions.

Registration opened at 5 pm on the Friday and I decided to register then so I didn't have to get up as early on the Saturday morning when registration was between 4 am and 5:30 am. The registration process was quick and easy, it involved showing Mountain Rescue my sealed bag of emergency clothes (leggings and long sleeve top) along with an Emergency Survival Bag, collecting my race number and tracker, and getting my photo taken. This year's event t-shirt and buff in hand I headed back to my accommodation in Wooler for the usual pre-race restless sleep.
As I stood at The Cheviot start line just before 6 am there wasn't a head torch in sight and there were signs all-around of a beautiful sunny spring morning ahead. We had just been warned by the Race Director there was to be no talk of sunshine and if we were banned from posting photos of clear blue skies on social media, the race's reputation would be destroyed.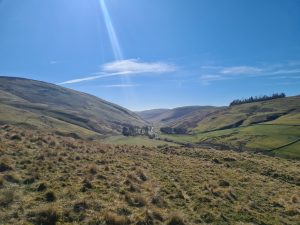 The race starts and finishes at Ingram Village Hall, at 6 am on the dot and we were off. I'm not a fast runner and I know how tough the second half of this race is so I wanted to pace myself from the start. I slowly climbed out of Ingram and apart from some little downhill sections, it felt like 10 miles of pushing up to Wether Cairn, not long after here I enjoyed one of the best downhill sections of the route.
when you reach here the fire will be roaring and you know not to sit down
When I reached the self-service water point at 13 miles, I topped up my water bottles and forced myself to run slowly along the short road section. For some reason when it comes to road sections my legs want to stop working which is crazy as it's an easy few miles, I just don't like tarmac. Thankfully there are less than a couple of miles of tarmac over the route.
After enjoying the downhill section, it only meant one thing, a climb was inevitable. The sun was shining, and I completely switched off, I was enjoying the views that I'd never got to see on this route before and I was looking forward to reaching the first checkpoint in Barrowburn at 20 miles.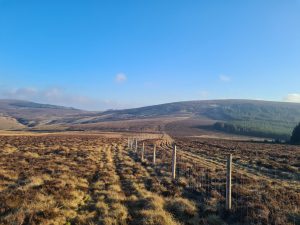 In previous years Barrowburn is normally reached at the halfway point in the race and is the only official checkpoint. Everyone that has done this race before knows that when you reach here the fire will be roaring and you know not to sit down or you might never move again. It was very different this year, I didn't even enter the checkpoint, instead, I opted for a table outside to enjoy the sunshine.
Topped up with leek and potato soup and a cheese sandwich from my drop bag I was on my way again. The next official checkpoint wasn't until 40 miles, so I decided to break the miles down into manageable chunks, 27 miles to Windy Gyle, 32ish to The Cheviot, and then the 40-mile checkpoint. Windy Gyle lived up to its name, is it ever calm up there!

A quick chat with the awesome mountain rescue team and I was on my way to The Cheviot, the first out and back of many summits to come. I'm not a massive fan of the flagstones en route to The Cheviot but as soon as I hit the rough wet ground around Bloodybush Edge I was wishing for them to reappear.
I slowly worked my way up to Cushat Law before crossing the fence line and working my way back down to Salter's Road. There had been 3 runners not far behind me but when I looked back, they had disappeared, I'm still not sure where they went, hopefully not stuck in a bog. My watch was telling me I was still on track but I got the map out just to make sure it wasn't me that had taken a wrong turn.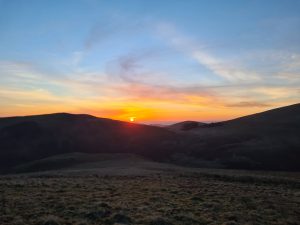 With the map confirming I was on the correct path, I enjoyed the runnable section down to Salter's Road where a Mountain Rescue guy was standing. I stopped and had a blether and got my head torch out as it was starting to get dark, I didn't plan on using it before the checkpoint in a couple of miles but equally didn't want to be fumbling around in the dark looking for it. It was all downhill from Salter's Road to the second and last checkpoint of the day and I was looking forward to some proper food that I had in my drop bag waiting for me.
It felt a bit of a luxury to have two official checkpoints and drop bags this year. I didn't want to hang around for long at the checkpoint as it was outdoors, now dark and I didn't want to get cold. After a quick cup of coffee and food and with only 15 miles to go I was on my way again. I always look forward to the night sections when I'm racing as I love being out in the hills at night, it gives me a sense of freedom and I love the quiet.

After leaving the checkpoint I got chatting with a guy that had left the checkpoint about 10 minutes before me but had taken a wrong turn. I'm not normally one to look for company during a race as I enjoy the solitude of the hills, but it was nice to chat and I wasn't feeling the need to push, we agreed to stick together for a bit but there was no pressure if one of us wanted to push-on alone. We slowly made our way up to Coldlaw Cairn, another short out and back before heading towards High Cantle and then upwards to Headgehope Hill.
The climb to Headgehope Hill was really, really, tough, we were pushing through knee-high heather with no path in sight, so it was painfully slow and energy-zapping. We tried veering left and right on the climb up to see if we could find a path and sure enough, we finally found one.
The moon at this point was absolutely stunning, it was blood red and a sight I will never forget. I wish I'd taken the time to take a photo but the thought of taking my gloves off in the wind that was now cutting through me was just too much.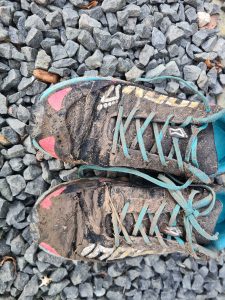 With the last out and back complete and 50 miles clocked on my watch, there was only one thing left to do and that was to end up thigh deep in a bog, I really need to work on my long jump. Thankfully I was able to pull myself straight out of it but my legs were now soaking and freezing. It was a good incentive to up my pace though.
I would not sacrifice on grip on the Cheviot Goat.
We finally made it down to the road section, this is where the race organisers are cruel and give you one final test. Do you carry on along the road to the finish and try and ignore the race map (cheat) or do you follow the map to take in a 3-mile diversion and the final 1,000ft of the race? Thankfully this last 3-mile section was on a track that was easy to navigate so it was just the case of one foot in front of the other.
Reaching The Cheviot finish line hours after I had planned still felt amazing, this race to me is all about the experience, and although I was slower than 2019 I have another medal to add to the collection, and once again I survived the bogs.
The navigation on this route can be tricky and in previous years I've used a combination of map and compass, and OS Maps on my phone. This year I decided to finally put my Fenix 6X watch to the test and I can't fault it. There were a few occasions I wasn't convinced I was going in the right direction, but a quick check of the map always confirmed I was where I should be. According to my watch, the race was 56.95 miles and 13,363 ft so not only did it keep me on track but it gave me extra mileage and elevation to what the race organisers quote. Maybe another little joke of theirs.
I stuck with more or less the same kit as previous years, when I find a kit that works, I end up just buying the same thing over and over. Inov-8 X-Talons 212's are perfect for this race and apart from sinking into a bog there were no slips or falling over. I normally opt for comfort overgrip on anything 50+ miles but I would not sacrifice on grip on the Cheviot Goat.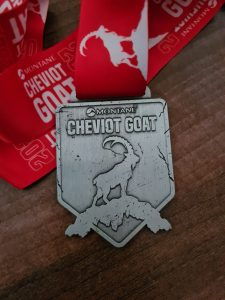 With the soft ground conditions though there is no need to worry about comfort and my feet felt good throughout. I had planned on changing socks and trainers at the checkpoints and had spare x-talon's in each bag (I have a trainer obsession!) but even though my feet were wet from the start they felt good so I didn't bother changing.
The thick layer of Vaseline on my feet at the start did the job and not a blister in sight. I did debate over legwear as I knew it was to be hot during the day but decided to stick with the Montane Thermal Winter Tights. On the top half, I went for the Craft Active Intensity long sleeve top, and a tech T-shirt, and as the night went on I added a Montane Prismatic Jacket.
When the wind picked up and the temperature dropped I then added the Montane Ajax Gore-Tex jacket. I always suffer from cold hands so I had fingerless merino wool gloves on for almost the full race and then added the Montane Prism waterproof gloves. I ended up carrying too much, as usual, I had enough layers and food in my running pack to live out in the wild for a week.

I carried it all in the Montane VIA Dragon 20L which packs down nicely if it's not full. Will I go back and do this race for the fourth time? I'd like to say three is enough, but I've now completed the wet one, the storm one, the sunny one and I really want to complete a snow one. I've also just read that the route will be different in December, how much I do not know but different surely means I should go and try it out?
The first weekend in December is always appealing too, it's the perfect end of the year. When you're handed that big chunky shiny medal you feel that you can lay off the early morning runs and start getting into the Christmas spirit unless, of course, you have the Spine race booked in January.
The only thing I would change about this race would be the percentage of female participants, come on ladies we can do this!
Article by Gillian McColl