I am here to give an honest review, from a runner's point of view, on all the things that truly matter to us, from those new to the sport, to the more experienced racers.
Black Diamond has been a favourite among trail runners for years. They are renowned for specifically targeting those taking to the mountains for their adventures and focus on durability and comfort with this in mind; making their products ideal for runners needing supportive items when they are pushing themselves out of their comfort zone. 
As usual, I have taken to the fells of the Lake District to fully test out the pack over multiple terrains and in interchangeable weather conditions. It definitely didn't disappoint. 
First Impressions:
At first glance, this pack stands out in how it differs from others in the market. It looks more like a conventional daypack for hiking. Where traditional running packs are front-loaded, with pockets across the flank and in the shoulder straps the Distance 15 seems to be focused on the back with a large blitz pocket therein and only limited storage in the shoulder straps.
This naturally raised concerns for me that I was about to have a lot of discomfort due to weight distribution and bounce. However, as they say, never go on appearances and assumptions; Black Diamond allayed any fears and the performance of the pack rose to the occasion through an adjustment system that holds the pack securely and comfortably in place while running even with a significant load.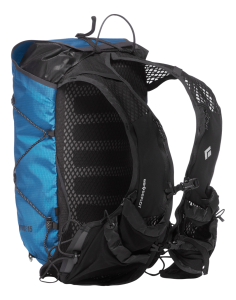 Comfort
:
The Distance 15's comfort stems from wide shoulder straps are comfortable for running and allow the larger compartment size which is ideal for multi-day ultra-events. The positioning and shape of the adjustment system found on the ribcage help distribute the weight of the pack to reduce any bouncing or rubbing; instead of simply using webbing or continuing a stretch material across your flank, it features highly reinforced and breathable fabric held snug with strong elastic cord — a design that allows for ample adjustments and compression. 
Elastic closures across the sternum can then be repositioned to the best point of comfort, accommodating more body types. 
As a female, one of the things I have struggled with the most in the past is finding a pack that fits comfortably to the contours of my body and for multiple-day ultras, does not leave me with painful chaffing. The adjustment system provided by Black Diamond in this pack was revolutionary for me and given the amount of kit I was carrying, once I had found the perfect settings to align with my personal shape and preference, I had zero hotspots even after prolonged use. A definite win for the ladies out there. 
A preference for me would be that the sternum straps could have more adjustability and the elastic cording on the sides could be easier to tweak while on the move. However, despite these small shortcomings, I appreciate how easy this pack is to simply throw over your shoulder, (unlike many hydration packs that you have to contort your body to get into; the last thing you need especially when days into an event with tired and aching muscles). 
The Distance 15 benefits from some of the cross-over technology from Black Diamonds climbing and alpine skiing equipment. They have taken edge taping from their mountain harnesses and applied it to the pack, making the edge of the pack super strong but also low profile and very comfortable against the skin. When I completed the Race Across Scotland 200 mile event, a fellow runner's pack broke at 140 miles.
He had to tie it so that it could still be worn; the outcome being not only physical through chaffing at the knots and displacement of the pack's weight distribution but also psychological due to having so far still to go with a piece of kit which was now ore of a hindrance than a help. From this, I have always been mindful of how important strength and durability are so this feature is a huge tick for me.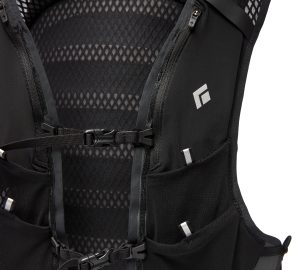 Features:
Black Diamond brings their mountain heritage into the design of the Distance 15. This running pack is built for long mountain missions, and it has the durability and water resistance to withstand most any adventure. 
The Distance 15 boasts some unique selling points. While I cannot credit this pack with having more features than others for running, it certainly holds its own against competitors and I feel that for some of the extreme events such as the Spine Race, it would definitely be a contender. 
This pack is featherweight for a 15L running pack that is far more durable than the standard. I absolutely loved how light it was and how much capacity it had. I easily packed in the usual mandatory kit for a multi-day event along with a few extras such as my camera. The pack barely moved about regardless of the terrain and I had no muscle aches the following day, unusual for me as I tend to suffer from discomfort on my shoulders and upper back following long events. 
A large, fully waterproof main compartment with a blitz opening (quick pull) simplifies accessing all of the gear you need to keep dry. Inside that main compartment is a mesh zipper pocket for storing valuables. Six other pockets are located on the shoulder straps, with a secured zipper pocket higher up on each shoulder and two mesh pockets on each strap intended for snacks, headlamp, gloves, and soft flasks.
I thought this design was great for fast-packing and easy access; however, I'm used to a lot of storage on the chest area and did miss it. An argument could be made that it forced me to become more efficient as limited storage on my front made me prioritize only what I needed access to rather than anything and everything being at my chest. 
For safety, the pack features reflective accents for easy visibility and a safety whistle that is quick to access at all times.  
There is easy storage for collapsible poles in the pole quiver sleeves, although it is important to note that the pack has to be removed in order to pop them in. I was unable to put the poles in on the move. 
In addition to pole quiver sleeves, the Distance 15 is equipped to carry two ice axes, appropriate for those of you who also enjoy running and scrambling in a climbing helmet. Another nod to its versatility.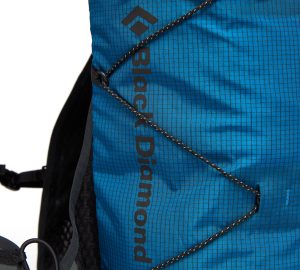 Hydration:
For me, this was the one area where by I felt the pack did not perform as I would have liked. There is no hydration system included, with the flasks and bladder being sold separately. 
The chest pockets were too tight at the top to allow me to swiftly refill bottles and slide them back in. In one pocket, I had a gel slotted in with the bottle (common for me on long runs so I can get to my electrolytes quickly) and I found that this actually caused even more of a problem as I had to take the gel out to get the filled flask back in I then couldn't slot the gel back in place until the flask volume was reduced, In addition, the soft flasks are positioned well below the mouth. This meant that I struggled to get to the flask and had to lean down quite far which in a race would increase the potential for tripping up, especially in low visibility.  
Inside the main compartment is a bladder sleeve with an attachment to keep it upright and a port for the tube to run out from the pocket and route along with the shoulder straps. This option may be easier to use than the soft flask pockets on the chest and would likely suit those going long distances better. (I did not test the bladder as its not my preference on events)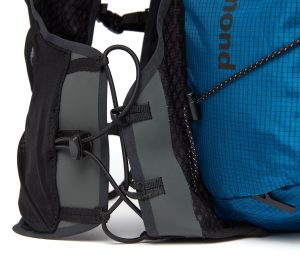 Value for money:
There is inherent value in a pack as versatile as the Distance 15 because you are likely going to use it for far more than just running. With a comfortable and ergonomic shape and constructed of durable materials, you can carry anything that will fit in this 15L bag. If you're looking to broaden your horizons and take on a multi-terrain event or one in more extreme conditions, I think this would be an obvious choice.  
Conclusion:
There is a danger that in trying to be a 'Jack of all Trades' you miss being the Master. I think it will ultimately come down to personal preference and need for most runners as to how desirable this pack is. For me, its durability and comfort put it among my favourites and I shall certainly be using it in races to come. It's an anomaly for a 15L pack with this shape to carry so well and run as smoothly as it does. While I didn't feel the hydration system was a strength, I am confident that the Black Diamond Distance 15 will perform for runners looking for longer and more rugged mountain missions. 
For further information and to purchase this pack click here
You can also read our latest review on the Black Diamond 4 litre hydration vest here
Product information from Black Diamond:
Dynex (Nylon 100d + PE 200d) body material with Dynex Ripstop yarns for bomber tear resistance that is 10x stronger than steel per weight
Quick Blitz-style main opening with slash pocket to tuck all excess skirt cording
Stitch-less Edge Taping Technology for superior shoulder strap comfort, movement and weight reduction
Dual side compression with reflective ticking
Dual Piolet / ice tool carry with metal dogbone for secure pick attachment
Dual Z-Pole Quiver Sleeves to securely carry trekking poles while running and scrambling
Adjustable elastic cording side compression system for a more secure ride while running and scrambling
BD.dry™ vapor barrier back panel lets sweat vapor escape while keeping pack contents dry
Fully water resistant main compartment for high altitude / 4-season running and climbing
Dual 4-way stretch zippered chest pockets with expandable volume and locking zipper pullers
Dual soft flask pockets with BD branded HydraPak® 500ml SoftFlask™ (sold separately) made of ultra-durable, abrasion resistant TPU & RF welded seams for superior durability and elasticity
100% BPA & PVC free
Dual front stretch pockets with elastic closure for nutrition storage
Deploy pocket for the new Deploy Wind Shell
Interior stretch mesh divider wall to hold alpine cordelette / water bladders
Interior zippered security pocket for wallet and key storage
Review by Louise Tidbury